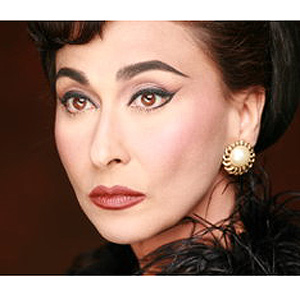 ---
After playing the iconic role in 2008, Philippine showbiz's respected television, film and stage actress Cherie Gil will once again portray renowned opera singer. It will staged at the RCBC Plaza in Makati City beginning this Thursday, July 29.

The Tony Award-winning Terrence McNally-penned play, which was first produced by the Philadelphia Theatre Company, is proudly presented by the Philippine Opera Company. It originally opened at the Golden Theatre in New York City, United States in 1995. Locally, Cherie brought the late Callas back to life in a very rare and critically acclaimed performance, directed by Michael Williams, two years ago.

"I don't know what it is in my destiny or my fate that I just have to come and meet Maria Callas again. Maybe because I just fell in love with the words that I wanted to take on the challenge," shared Cherie when asked about doing the project again. "And I really needed to have something that would awaken my insights to love what I do all over again, because I understood a bit of music, of what she did, seeing it through other people's experience. I wanted to emulate that and borrow a little something of her. There must be some signs, some messages from her spirit out there... Something about her just doesn't want to leave me and the other way around."
SYNOPSIS AND CAST. Master Class takes spectators back to 1971 and 1972, in one of Callas' famous master classes held in New York.

The glamorous, commanding, larger-than-life, caustic and surprisingly drop-dead funny mentor makes snide comments about other opera singers. She is alternately dismayed and impressed by—even demands passion and fervor—from three student vocalists who parade before her. She then retreats into recollections about the glory of her own life and career.
ADVERTISEMENT - CONTINUE READING BELOW

As the play runs, she is seen making musings about her young, ugly-duckling years, her fierce hatred of her rivals, the unforgiving press that savaged her early performances, her triumphs at La Scala, and her affair with wealthy Greek shipping line owner Aristotle Onassis.

The story culminates via monologue about making sacrifices, all for the sake of art.

According to directorMichael Williams, "Master Class talks about so many things, not just about the life of this amazing woman, Maria Callas, who was a force to reckon with in the opera world and who revolutionized the theater world. It also talks about art in general. It talks about passion - for art, for love, for love of life, for an artist's existence, which is the driving force of this life. On another level, it talks about things that drive us forward. And the play does that eloquently and succinctly and in no uncertain terms that people can understand."

Joining Cherie in the cast are Juan Alberto Gaerlan as Anthony Candolino and Al Gatmaitan (alternate), Florence Aguilar as Sophie de Palma, Ana Feleo as Sharon Graham and Kay Balajadia-Liggayu (alternate), and Francis Amora as Manny, the pianist.
A 'MUST-SEE'. "[Master Class] is a must-see, on the level of its story and, on top of that, the fantastic cast that we have," asserts Michael, who believes that the mounting again of the production is so important "at this time when people need to sort of reconnect to what is important to us, in our daily lives."
ADVERTISEMENT - CONTINUE READING BELOW

As for Cherie, she just hopes that she can bring in new elements into Maria Callas: "fresh insights into the words that she had put through me to you so that I can express to everyone her love for the arts and for life. I've been able to borrow from her even just a little of that passion and awaken that in me every now and then."

Master Class will run with 10 performances on Thursdays, Fridays and Saturdays at 8 p.m. and Sundays at 3:30 p.m.


Performance dates: July 29, 30, 31; August 6, 7, 8, 12, 13, 14 and 15, 2010.

Venue: Carlos P. Romulo Auditorium, RCBC Plaza, Ayala Avenue, Makati City

For ticket inquiries and other information, call TicketWorld at 891-9999.