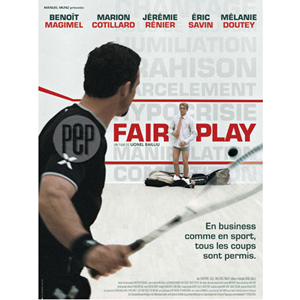 ---
The University of the Philippines Film Institute and The Embassy of the Republic of France will screen select films of Lionel Bailliu as part of the French Spring Film Festival 2007 in Manila.
This event, dubbed as An Afternoon with Lionel Bailliu, will be held at the UP Film Institute in UP Diliman, Quezon City, on June 14. The award-winning filmmaker, screenwriter, and editor, will present his first feature-length film Fair Play (2006) as well as his short films.
Lionel will also be at the UPFI Videotheque (at the back of the Cine Adarna) for an afternoon of interaction with students and enthusiasts, and to present his short works, Microsnake (2000) and Squash (2002).
He is also expected to discuss in his lecture the current situation of the French film culture—new trends in films, film producing, and film consuming, the continuations and ruptures of contemporary French cinema from its rich cinematic history; and his personal film practice within these cultural and historical contexts.
The two short films—Microsnake and Squash—will not be screened in the French Spring Film Festival 2007 and in other venues in the country, except at the UP Film Institute.
Lionel Bailliu filmography:
Fair Play (2006)
- winner, Best New Director, San Sebastian Int'l Film Festival 2006
Squash (2002)
- nominated, Best Short Film, Oscars 2004
- winner, Best Writing, Aspen Shortsfest 2003
- nominated, Best Short Film, Cesar Awards 2003
- winner, Best Live-Action Short, Toronto Worldwide Short Film Festival 2003
- winner, Golden Moon, Cinema Jove-Valencia Film Festival 2002
- winner, Audience Award, Clermont-Ferrand Int'l Short Film Festival 2002
- winner, Audience Award, Cork Int'l Film Festival 2002
- winner, Jury Award, Leuven Int'l Short Film Festival 2002
- winner, Audience Award, Palm Springs Int'l Film Festival 2002
Microsnake (2000)
- winner, Special Jury Award, Avignon Film Festival 2001
The schedule for the event will be as follows:
ADVERTISEMENT - CONTINUE READING BELOW
June 14 (Thursday)
(1) Lecture-Forum / Screening of Short Films (1-5 p.m.)
(2) Repeat Screening of Short Films (6-7 p.m. / 7-8 p.m.)
Venue: University of the Philippines Film Institute, Magsaysay and Osmeña Avenues, UP Diliman, Quezon City