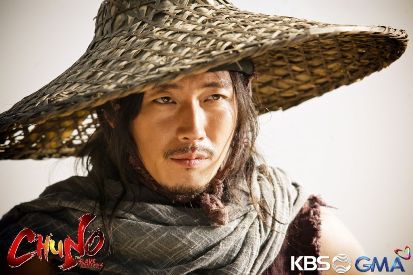 ---
After introducing Filipino viewers to the journeys of Queen Seon Deok, Jumong, and Jewel in the Palace, GMA-7 presents Chuno, another enthralling Korean period drama. The show will premiere this Monday, May 7, after I-Witness.


Set during the Joseon Dynasty, Chuno tells of Lee Dae Gil, a noble by birth, who falls in love with one of his family's slaves, Un Nyun. Displeased by his son's choice, Dae Gil's father punishes Un Nyun, which causes her brother to burn down their masters' house and run away with her.


Meanwhile, Tae Ha, a former military officer who becomes a slave, is on a mission to find and reinstate the rightful Crown Prince to his position. On his journey, he meets and develops feelings for Un Nyun, and eventually finds himself as a target of Dae Gil, who now lives as an embittered slave hunter dedicated to seeking revenge and finding the woman he loves.


How will Dae Gil move past the difficulties as a slave hunter? Who among Dae Gil and Tae Ha will Un Nyun choose and give her heart to? Can love still heal wounds caused by many years of bitterness and anger?


Filled with both drama and suspense, follow the gripping story of Chuno starring Jang Hyuk, Oh Ji Ho, and Lee Da Hae, beginning May 7 weeknights on GMA-7.