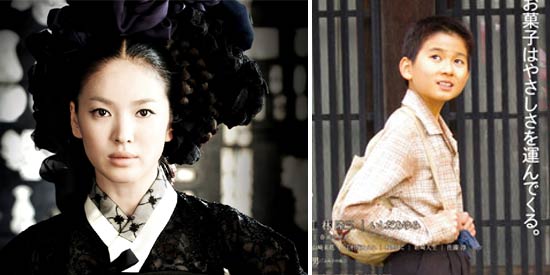 ---
PHOTO CAPTION: The Korean film Hwang Jin Yi (left) and the Japanese film Éclair are some of the free films to be screened as part of the 1st Asian Film Festival in Manila.



For the first time, Manila plays host to a film festival showcasing movies from its neighboring countries as Shangri-La Plaza unreels the 1st Asian Film Festival from May 17 to 21, 2012.
A joint project of the Asian Society Philippine Foundation, the Film Development Council of the Philippines, and Shangri-La Plaza, the festival aims to unite Filipinos with their Asian neighbors through common stories of love, history, faith, and resilience.
"Films can unite people. Through this festival, we hope the entire region will reach an understanding," said Harvey Keh, Executive Director of the Asia Society.
Viewers will be treated to free screenings of film entries from China, Indonesia, Japan, Korea, Laos, Sri Lanka, Vietnam, and of course, the Philippines.
The festival kicks off with Dinig Sana Kita from the Philippines on May 17 at 7:30 PM. Mike Sandejas' film tells the story of a deaf boy and a troubled rocker girl who find a common ground in their love for music. Halaw, a film about the adventures of a Badjao and his daughter as they illegally cross the border of Malaysia and thePhilippines, will close the festival on May 21 at 8 PM.
ADVERTISEMENT - CONTINUE READING BELOW
Indonesiapresents three films this year, starting with 3 Doa 3 Cinta which revolves around the lives of three emotionally troubled students,on May 18. On May 19, Laskar Pelangi (The Rainbow Troops) will take viewers through the struggles of marginalized people hoping to achieve their dreams, while Jakarta Maghrib (Jakarta Twilight), which will be shown on the last day of the festival, binds six separate stories taking place in the country's capital.
Chinawill be proudly represented by Forever Enthralled, an inspiring story of a stage actor who brings Peking Opera to the global stage, on May 18. The Founding of a Republic, which revisits the story of the unification of the Communist Party of China and other Chinese democratic parties,screens on May 20. Capping off the Chinese lineup is Glittering Day, which tells stories of residents who are forcibly moved out by the government, on May 21.
From Laos is Only Love, the story of how university graduate Souvanh tries to improve living conditions and farming practices in his town despite a sabotage from a rival, to be screened on May 18.
ADVERTISEMENT - CONTINUE READING BELOW
Vietnamalso presents films that highlight love for home. Mua Oi La Saison des Goyaves (The Guava House), traces the journey of peaceful Hanoi through the years on May 18, while Thoung Nho Dong Que (Nostalgia for Countryside), to be screened on May 20, follows several characters who leave and return to their home and realize that home will always be locked in a special spot in their hearts.
Japanlikewise showcases the best of its film creations, first with the story of a family who are evacuated when MountOyamaerupts in Wanko: The Story of Me, My Family, and My Dog on May 19. On May 20, Éclair will inspire viewers through the story of an orphan boy who finds the joy of living through sweets and a song.
The historical film Hwang Jin Yi, a story of a young woman who works to gain favor with the noble classes, will represent Korea on May 19. It will be followed up on May 20 by Speedy Scandal whereNam Hyun-soo, a former teen star, undergoes a PR crisis after a radio listener of his popular radio show claims to be his biological father.
ADVERTISEMENT - CONTINUE READING BELOW
Sri Lanka completes the roster on May 19 with Agni Dahaya, which revolves around the lives of an exorcist, his assistant, a woman called Kirimenike and her partner Herath, as their stories unfold amid the political turmoil in 1664. Following suit is Dheewari on May 21, which portrays the harsh realities of life in a Sri Lankan fishing village.
Catch the free screenings of all these films at the Shang Cineplex in Shangri-La Plaza, Mandaluyong, from May 17 to 21, 2012.


Here is the schedule for the 2012 Asian Film Festival:

May 17 Thursday

Philippines: Dinig Sana Kita (8PM)
Running time: 88 minutes

May 18 Friday

Indonesia: 3 DOA 3 CINTA (12:30PM)
Running time: 114 minutes)

Vietnam: The Guava House (3PM)
Running time: 100 minutes

Laos: Only Love (5:30PM)
Running time: 125 minutes

China: Forever Enthralled (8PM)
Running time: 138 minutes

May 19 Saturday

Sri Lanka: Agni Dahaya (12:30PM)
Running time: 119 minutes

Indonesia: Laskar Pelangi (3PM)
Running time: 125 minutes

Japan: Wanko - The Story of Me, My Family, and My Dog (5:30PM)
Running time: 123 minutes

Korea: Hwang Jin Yi (8PM)
Running time: 141 minutes

May 20 Sunday

Vietnam: Nostalgia for Countryland (12:30PM)
Running time: 116 minutes

Japan: Eclair (3PM)
Running time: 107 minutes

Korea: Speedy Scandal (5:30PM)
Running time: 108 minutes

China: The Founding of a Republic (8PM)
Running time: 140 minutes

May 21 Monday

China: Glittering Day (12:30PM)
Running time: 95 minutes

Sri Lanka: Deewari (3PM)
Running time: 124 minutes

Indonesia: Jakarta Maghrib (5:30PM)
Running time: 72 minutes

Philippines: Halaw (8PM)
Running time: 75 minutes
ADVERTISEMENT - CONTINUE READING BELOW