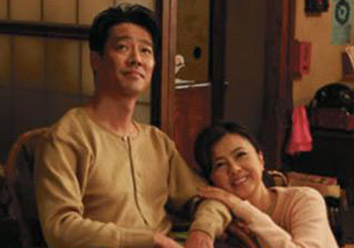 ---
The annual Japanese film festival Eiga Sai sets the stage for this year's Philippines-Japan friendship month.
Anchored on the theme of connecting thoughts to the future, Eiga Sai 2013 features 14 films that depict the contemporary situation in Japan, through periods of prosperity and hardships, said Shoji Takatori, director of the Japan Foundation in Manila.
"These films show how the people of Japan try to live and cope with difficult situations, especially in the rural areas," said Takatori. "It's always a mix of good and bad, but most of these films have a message of hope."
These films, all made from 2005 to 2012, will be screened at the Shangri-La Plaza from July 3 to 14.
As the Japan Foundation has also partnered with the Film Development Council of the Philippines (FDCP) for this year's festival, some of the films will also be screened in Davao from July 19 to 28, in Cebu from August 7 to 11, and at the University of the Philippines Diliman from August 19 to 25.
ADVERTISEMENT - CONTINUE READING BELOW
The festival opens with About Her Brother (Ototo) by award-winning Japanese filmmaker Yoji Yamada. Always known for his humanistic films, Yamada unravels a tale of Ginko, a widow, and her unconditional love for her prodigal brother, Tetsuro.
A highlight of the festival is the three-part comedy Always – Sunset on Third Street, about a small working class town in Tokyo, during the country's prosperous rise after the war. The first installment tells the interweaving stories of community residents at the time the famous Tokyo Tower is being constructed, and particularly focuses on Chagawa, a writer who struggles to bring up a young boy, Junnosuke, who is entrusted to him.
In Always – Sunset on Third Street 2, Chagawa tries to secure a stable life in order to prove himself to a girl he loves and get back Junnosuke from his real father, as he also struggles to write and win a literary prize. In the last film, Always – Sunset on Third Street 3, Chagawa faces more troubles as a writer and later receives some dreadful news from his home in Nagano.
ADVERTISEMENT - CONTINUE READING BELOW
Japan's entry for the 83rd Academy Awards' Foreign Language Film Category, Nakashima Tetsuya's Confessions is a gripping film about high school teacher Moriguchi Yuko, who believes that one of her students murdered her daughter.


In Rinco's Restaurant, the heartbroken Rinco moves in with her mother and opens up a restaurant. Because of her carefully prepared meals and heartfelt cooking, her place soon became known for bringing happiness to customers.
Directed by award-winning Nishikawa Miwa, Dear Doctor stars Shofukutei Tsurube, who gives an emphatic performance in his first lead role as Ino, a well-loved village doctor. After examining widow Kazuko, Ino learns she has a terminal condition. Kazuko asks him to lie about her illness, but before long, he mysteriously disappears.
Adapted from the classic Ninja comic by Shirato Sampei, Kamui is a live action period film that portrays the fierce escape of the young Kamui from the Ninja world, hoping to find his own freedom. Meanwhile, Castle under Fiery Skies, which takes place in 1575 in Feudal Japan, depicts how Oda Nobunaga's forces defeated Takeda Katsuyori when the Nagashino Castle was besieged. Years after, Oda Nobunada builds a lavish new castle to symbolize his unification of various factions. Named Azuchi Castle, it will be built high enough to be seen from the Kyoto capital.
ADVERTISEMENT - CONTINUE READING BELOW
Parade is a dark coming-of-age film adapted from Yoshida Shuichi's novel, a winner of the Yamamoto Shugoro Prize. Director Yukisada Isao brilliantly conveys how repeated incidents of violent assault cast a shadow on the superficial relationship between a group of five young men and women who live in an apartment together.
Rounding up this year's films are two award-winning animated films. Mai Mai Miracle is a nostalgic full-length, animated film adapted from the autobiographical novel by Akutagawa Prize winner, Takagi Nobuko; while Japan, Our Homeland, a multi-awarded animation is based on an original story by director Nishizawa, describing life in a class of sixth graders in Kiba downtown Tokyo, some ten years after the Second World War.


All films will be shown with English subtitles at Cinema 2 of the Shang Cineplex, Shangri-La Plaza.


Free admission.

(View: Screening schedule of Eiga Sai 2013 Japanese Film Festival)