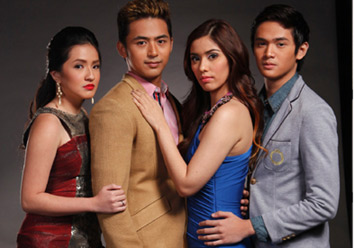 ---
PRESS STATEMENT FROM GMA-7:


"Prepare for an outburst of suspense-filled plots and twists as GMA Network offers its newest weekend series Dormitoryo. It will air every Sunday afternoon beginning September 22 after Sunday All Stars.

"Dormitoryo is topbilled by GMA's teen stars Lauren Young, Joyce Ching, Wyn Marquez, Ruru Madrid, and Enzo Pineda. Completing the cast are Mayton Eugenio, Annicka Dolonius, Ash Nordstrom and Mel Kimura.

"The series focuses on the search of Hazel Mendoza (Lauren Young), an incoming freshman Mass Communication student at Branwood College, for answers on the death of Maika Benitez (Wyn Marquez) who died in the same dormitory she's staying at—the Holy Spirit Manor. It may just be a mere accident for the police but the dormers have a different speculation on Maika's death.

"Tickling Hazel's curiosity more is her snappy roommate Weng Dimagiba (Mayton Eugenio) who believes that Maika's ex-boyfriend Burn Chavez (Enzo Pineda) was the one who pushed Maika into committing suicide.

"On her way towards unraveling the cause of Maika's death, Hazel eventually meets Burn who used to have a secret relationship with Maika. As he tries to help in the case, this heartthrob varsity player soon develops feelings for Hazel. Will he be able to get a shot or is this just his way to distract Hazel?

"Ready to comfort Hazel is her batchmate Charlie Chavez (Ruru Madrid). Bringing light to Hazel's serious personality, this aspiring film director always radiates a positive and friendly vibe. Despite being fearful, boy-next-door Charlie is an avid fan of horror movies. But, will he be brave enough to admit his feelings for Hazel?

"Because of the attention Hazel is getting, here comes Airiz De Ocampo (Joyce Ching) all set to take the spotlight. She wants to be noticed and is quite a snazzy dresser. Despite being the talk of the town, this 19-year old flirty girl loves to be at the heart of a scandal. Will she also lure the attention of Burn towards her? And what is her connection to Maika's death?

"Surprises and revelations are yet to be disclosed as Hazel moves closer towards solving the mystery. Will she be able to discover the truth behind Maika's death or will she suffer the same fate as Maika?

"From the original concept of and helmed by the award-winning director Jun Lana, Dormitoryo is supervised by the Officer-in-Charge for Entertainment, Lilybeth G. Rasonable; VP for Drama, Redgie Acuña Magno; AVP for Drama, Cheryl Ching-Sy; Program Manager, Ali N. Dedicatoria with Senior Executive Producer, Mona Mayuga and Associate Producer Jan Navarro.

"The creative team is composed of Creative Head, Jake Tordesillas; Creative Consultant, Kit Villanueva-Langit; Headwriter, Robert Villela; Writers, Jules Katanyag, Borj Danao, John Kenneth De Leon, Liberty Trinidad, and Maria Acy Quintos-Ramos.

"Unlock the mystery in Dormitoryo airing every Sunday beginning September 22 on GMA."


Ed's Note: When content falls under "Press Statement," this means that the material is fully and directly from the company issuing the press release. The use of open-and-close quotation marks to envelope the entire text shows as much. This also means that PEP is not the author of the statement being read. PEP is simply providing the information for readers who may be interested.
ADVERTISEMENT - CONTINUE READING BELOW