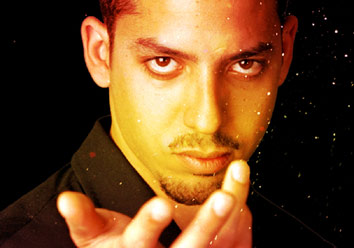 ---
Is he for real? Or is he a con job? Filipinos can decide for themselves when the world's most intriguing magician David Blaine hits Manila for a one-night-only live show.


David Blaine, who has been wowing and spooking audiences worldwide with his trailblazing brand of magic for almost two decades, is set to cast a spell on Philippine audiences in a 90-minute live show on September 12 at the Araneta Coliseum, according to promoter Renen de Guia of Ovation Productions.
This is not an entirely new venture into the world of magic by Ovation Productions, having promoted another very popular magician in Manila in 1989: David Copperfield!
Dubbed Real or Magic, Blaine's first ever show in the Philippines will feature a slew of tricks that have blown the minds of anyone who has ever seen videos of his 'street magic' performances. The 41-year-old magician's Manila stopover is part of his first Asian tour.
The show's title references Blaine's TV special last year in which he performed inexplicable tricks to the stupefaction of celebrities such as Will Smith, Kanye West, Ricky Gervais, Katy Perry, and a very freaked-out Harrison Ford — who jokingly told Blaine to "Get the f*** out of my house."
Born in New York to Puerto Rican-Italian and Russian parents, Blaine became an overnight success at 24 when he debuted his Street Magic in 1997. The show, in which he performed minimal yet enigmatic tricks for impromptu audiences on the street, was a success.
Eschewing the glitzy Vegas-style showmanship of magicians like David Copperfield, Blaine's less-is-more approach, lazy Brooklyn drawl and ultra-cool manner—not to mention his dark, brooding looks—won him a great league of fans across the world who just can't seem to believe what they see.
Later, Blaine expanded his magical repertoire by featuring himself in a series of spectacularly staged death-defying endurance performances, some of which were inspired by his idol Harry Houdini.These endurance performances have seen Blaine: sealed in a coffin-like box at the bottom of a three-ton tank of water for a week; encased in ice for 63 hours; standing unsecured on top of a 30m high narrow pillar for 53 hours; and dangled in a plastic cube above the Thames for 44 days with only water to sustain him. He even managed to break a Guinness World Record in 2008 live on The Oprah Winfrey Show when he held his breath underwater for 17 minutes and 44 seconds—the record has since been broken. Meanwhile, the last spectacle saw him being zapped by a million volts of electricity produced by eight Tesla coil towers for 72 hours.
ADVERTISEMENT - CONTINUE READING BELOW
While the magician who's been called our generation's greatest probably won't replicate such endurance tests for his live show, audiences can be assured that they'll be feted to other head-scratching Blaine specialities—from how-did-he-do-that card tricks to pushing needles through his arm to twisting off a chicken's head and putting it back on. But is it magic? Is it real? You decide.
David Blaine 'Real or Magic' LIVE in Manila, September 12, 2014 at the Araneta Coliseum is presented by Ovation Productions in cooperation with AXN, Philippine Star, Manila Bulletin, BusinessWorld, ABS-CBN, MYX, Philstar.com, Inquirer.net, Manila Concert Scene, Philippine Concerts, WhenInManila.com, Rappler.com, SoundCheckManila, PEP.ph, 105.1 Crossover, 96.3 EasyRock, Retro 105.9, Monster Radio RX 93.1, and Mellow 947 .

Ticket prices are P6500, P5500, P4500, P3500, P2000, and P1000. Available at Ticketnet outlets or online www.ticketnet.com.ph or call Tel. No. 911-5555.