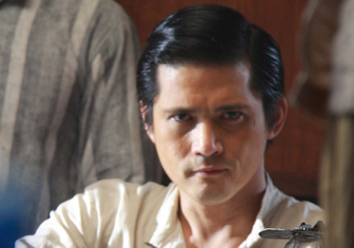 ---

PRESS STATEMENT:


Historical films, once considered unexciting, have now crossed over to mainstream pop culture thanks to the unprecedented success of the movie Heneral Luna. The film has sparked a yearning and curiosity among Filipino filmgoers for movies with a similarly rich historical and cultural value. Among the films that have gained renewed attention is the 2014 epic Bonifacio: Ang Unang Pangulo.

Directed by Enzo Williams, this historical film is a stirringly dramatic telling of the story of the controversial hero Andres Bonifacio.

He is the founder and leader of the Katipunan, a revolutionary movement to liberate the Philippines from Spanish colonial rule in the late 1890s.

Bonifacio is presented as a fierce fighter and brave leader, a compassionate brother and loving husband who endured personal tragedy and sacrificed himself, all for the love of his homeland.

Anchored in present-day Manila, three high school students learn from a museum curator that the history they've been taught is perhaps incomplete at best, inaccurate at worst.

Jasmine Curtis and siblings Daniel & RJ Padilla portrayed the students while Eddie Garcia was cast as the museum curator.

Objects in the museum become windows to the past while the interweaving of time periods shows how a historical figure can continue to inspire in the modern world.

Robin Padilla brings a quiet dignity to his role as the philosophical and charismatic hero, while displaying his action prowess in the battle sequences. Bonifacio: Ang Unang Pangulo illuminates a historic figure with an impassioned relevance to today's world.

Bonifacio: Ang Unang Pangulo won Best Picture at the 2014 Metro Manila Film Festival as well as this year's Star Awards and FAMAS. It is also the unofficial kick-off to the historical wave that Heneral Luna started. The film even featured a mid-credit teaser of Heneral Luna during its cinema run.

With the same producers behind both films, movie fans will now have a chance to relive the revolution and see Bonifacio: Ang Unang Pangulo this November, with the limited theatrical release of the international version.

Featuring English subtitles, the movie's local release coincides with the U.S. premiere in New York City on November 30 in time for the celebration of the birth anniversary of Andres Bonifacio.

Bigger, better, and more action-packed, this particular version features fresh footage and new content delivered by its lead star Robin Padilla.

Earlier this year, the international version of Bonifacio: Ang Unang Pangulo was honored with a standing ovation during its European premiere in Barcelona.

Bonifacio: Ang Unang Pangulo (International Version) is produced by Fernando Ortigas for Tuko Films Productions and Eduardo Rocha for Buchi Boy Films.

Distributed by Solar Entertainment, the film is currently being screened in cinemas in SM Megamall, SM North EDSA, SM Manila, SM Fairview, and SM Sta. Mesa.


ADVERTISEMENT - CONTINUE READING BELOW