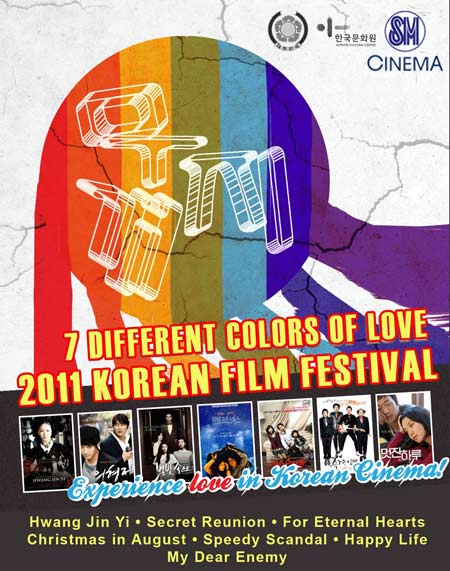 ---
PRESS STATEMENT:
"As part of the ongoing Korean Tourism Month celebrations, mall-goers will have the rare opportunity to watch popular Korean films as the Korean Cultural Center and the SM Cinemas showcase a Film Festival this September 2011.
"Focusing on themes of love, the Korean Film Festival unreels on September 20-25 at the SM Mall of Asia and SM City North EDSA and at SM City Cebu from September 28 to October 2.
"The movie Secret Reunion will be screened during the festival's premiere nights in Manila on September 19 and in Cebu on September 28. Scandal Makers, A Happy Life, My Dear Enemy, Hwang Jin Yu, For Eternal Hearts, and Christmas in August will also be featured in the festival road show. All films will be free and open to the public.
"Scandal Makers is about Nan Hyun Soo, a much sought after celebrity and DJ who is worshipped by teens. One of his listeners, Jung-nam sends him letters telling him of her willingness to see her father whom she never met. Her story becomes a hit and catapults the show's ratings. But one day, Jung-nam knocks on Hyun Soo's door saying that he is the father she never met. Cha Tae Hyun, Park Bo Young, and Wang Suk Hyun star in the film.
"Secret Reunion, which stars Kang Dong Won and Song Kang Ho, is about Song Kang-ho, an ex agent of National Intelligence Service who is very careful about his actions. Paired with Kang Dong-won, a former spy from the North, both men keep their identities hidden from each other.
"A Happy Life's plot revolves around three former members of a college rock band, Volcano, who are reunited by the death of their leader. At the funeral, a young jobless guitarist, Gi-Young suggests that they re-form the band with him as the front man. Jang Geun Suk, Kim Yun Seok, Kim Sang Ho, and Jung Jin Young star in the film.
ADVERTISEMENT - CONTINUE READING BELOW
"My Dear Enemy is about Hee-Soo, who is living a miserable life as a single woman in her thirties. She sets out to find her ex-boyfriend Byeong Woon, who owes her $1,000. Byeong Woon is also penniless, but knows that girls are willing to give him money. Hee-Soo follows him as he visits many girls for money, and starts a one-day journey that will change her life again.
"Hwang Jin Yi, which stars Song Hye Kyo and Yoo Ji Taw is a film based on the story of Hwang Jin Yi, the most renowned courtesan of the Chosun Dynasty. Beautiful, talented, and intelligent, she has no choice but to become a gisaeng because she is illegitimate. The movie shows how she used her position and her charm to gain favor from the upper class.
"For Eternal Hearts is an ordinary boy meets extraordinary girl story. Their love however, does not last long as the girl, Pippi, dies in a student demonstration. While trying to get over Pippi, he is hired as a tutor for a girl named Su-young. He almost gives up because of her peculiar personality, but he soon falls in love with her and bizarre things start to happen.
"Christmas in August, starring Han Suk Jyu and Shim Eun-Ha is about Jung-won ho falls in love with Da-Rim while suffering from an unnamed illness. He hides the fact from Da Rim, and continues living as usual, spending time with his friends and family."