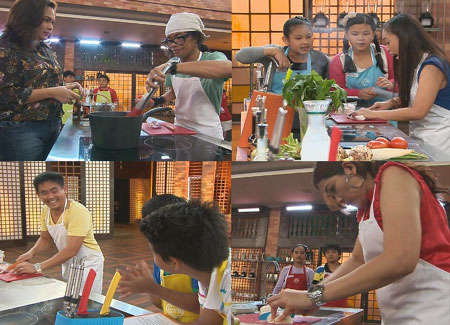 ---
The eight remaining kiddie cooks of the Junior MasterChef Pinoy Edition will face the challenge of guiding, step by step, comic celebrities Jason Gainza, Tado, Rubi-Rubi, and Kakai Bautista in preparing their own sinigang dishes this Saturday (January 14).
Serving as coaches and keeping their hands off their kitchen utensils are Acee, Caitlin, Emman, Jobim, Kyle, Mika, Miko, and Philip, who will instruct the comedians to cook sinigang using different base ingredients namely tamarind, camias, guava, and green mango.
On Sunday (January 15), meanwhile, five bottom placers will have to proceed into another elimination round where one kiddie cook will lose the chance to become the Junior MasterChef grand winner. To escape elimination, the kids will go through a two-part match and prepare tasty on-the-go snacks and siopao.
Watch Junior MasterChef Pinoy Edition this Saturday (January 14) after Wansapanataym and this Sunday (January 15) after Goin' Bulilit on ABS-CBN.