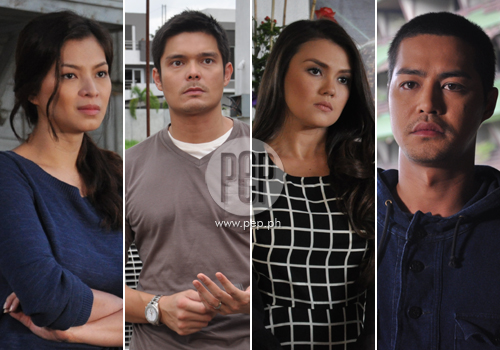 ---
Star Cinema's One More Try asks tough questions. The resulting ethical dilemmas are set up for tragic circumstances, but it only has a minimum pay-off at the end.
One More Try is about Grace (Angel Locsin), a single mother whose child is terminally ill. The only cure left is to get a bone marrow transplant, but Grace is not a match. She then reconnects with Edward (Dingdong Dantes), the child's father with whom she had a fling years ago.
When results arrive and Edward is also not a match, Grace's doctor (Carmina Villaroel) advises Edward to impregnate Grace, in hopes that the child will have the matching bone marrow.
Edward, however, is married to Jacqueline (Angelica Panganiban), and Grace is engaged to Tristan (Zanjoe Marudo). Pretty soon, the doctor's suggestion creates turbulence in the two's romantic relationships.
With One More Try, Star Cinema and ABS-CBN continue its approach of tackling taboo concepts in its entertainment media.
On TV, the Kapamilya company produced Dahil sa Pag-ibig, which tackled celibacy in priesthood, and Ina, Kapatid, Anak, which tackled surrogacy and in-vitro fertilization.
This direction is admirable, as it predilects the topics that will be talked about in the coming months, and their products will be the points of reference.
But despite this, Star Cinema still employs the safe route in its treatment for these issues. One More Try, for instance, is rated R-13 by the Movie and Television Review and Classification Board, and feels like it was made for that rating, perhaps to garner a higher number of audiences at the tills.
ADVERTISEMENT - CONTINUE READING BELOW
Rendering a tale that tackles a taboo topic on an R-13 script is obviously not the wisest decision. Tales of infidelity need the heat and maturity in order to hit hard and be relevant. It needs to be like In The Realm of the Senses, more than it is like The Notebook.
As it is, One More Try succeeds only because it employs the broadest cliches on how romantic movies work. Sure, both Jacqueline and Tristan get angered with jealousy over Grace and Edward's new arrangement, but there's no sexual tension to deepen this rage. This is probably why everything can easily be whisked away to a predictable happy ending.
What's most praise-worthy about One More Try is the performances of its actors. Angel Locsin and Angelica Panganiban are formidable as women who will do anything for the people they love. Had Thy Womb not make it to this year's MMFF, there is no doubt that either of the two would take home the Best Actress plum. (Nora Aunor deserves the award for a brilliant take on a silently suffering childless woman in Brillante Mendoza's opus.)
Both Dingdong Dantes and Zanjoe Marudo give intense performances, but Dingdong is more believable. In the packed theater that this reviewer watched the movie in, the audiences laughed whenever Zanjoe went into a crying fit.
All in all, One More Try featured four credible actors in a controversial story that tackles tough ethical issues. You'd wish it had more bite, though.