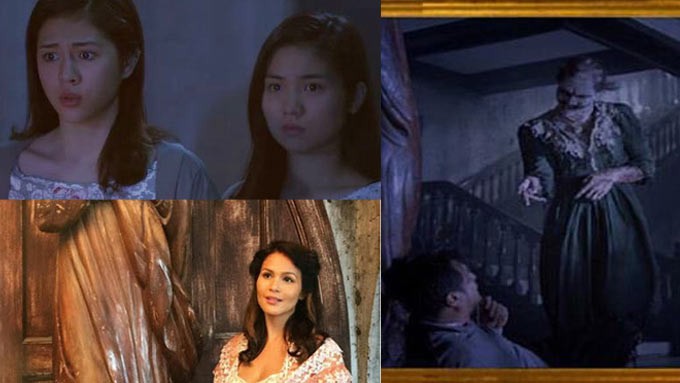 ---
The horror movie Haunted Mansion offers a twist-within-a twist that is refreshing to see in Philippine cinema.

This 2015 Metro Manila Film Fest entry stars Janella Salvador with Marlo Mortel and Jerome Ponce as her suitors at odds with each other. Lucky girl—but then again, her character named Ella has an unusual ability: she has a third eye that allows her to communicate with the dead.

Written and directed by Jun Lana, Haunted Mansion is a very good testament to his talent.
The premise is nothing new: A group of students go out of town to a haunted mansion and mystical forces at work make matters go from worse to worst. This is a straightforward horror film, of that there is no doubt. One can only imagine the immense challenge that the teenybopper ensemble cast posed to the production crew led by Direk Jun Lana.
The adults in the cast—Janice de Belen, Dominic Ochoa, Sue Prado, and Vangie Labalan, and Archie Adamos—lend legitimacy and grounding to the story—thus, we avoid teenagers running around and running away with the scenes in different directions. Some of the teen stars are obviously in the cast because of their good looks and popularity alone.
Direk Jun uses the horror movie standards--phantasms, smoke/fog, curtains flowing in the breeze, loud creepy sound effects, the element of surprise ("gulat")—all masterfully-timed to set the tone for scream-inducing fright scenes. And they are numerous here. The decibel levels are sure to be off the charts, in great occurrence at the movie theaters. Of course, some of them will probably also be due to Janella's fans cheering for her and her leading men.

Janella displays maturity well beyond her years as she portrays the reluctant heroine who must embrace the very ability that she has been supressing for so long. The 17-year-old actress is particularly outstanding in the seance scene wherein she gets possessed as well as her breakdown scene as she recalls the death of her father (Allan Paule).

Jerome Ponce and Marlo Mortel, however, did not convince us of the rivalry for Janella. Marlo lacks emotions in delivering his lines, and so does Jerome, though to a lesser degree. In the scene wherein she recounts her father's death, Janella is pouring her heart out but Marlo's expression is vacant as he listens to her recall a traumatic experience in her life.
ADVERTISEMENT - CONTINUE READING BELOW
Sharlene San Pedro displays acting chops honed from years in the business. She does not resort to hysterics, but doles out an even and even mature performance as Ella's best friend.

Ingrid dela Paz, as Ella's nemesis and the school mean girl, is annoying—as her character is exactly supposed to be.

It is interesting to watch the subplot set in the 1940s, which is set apart by its use of sepia tones. The brisk editing and pacing of the flashbacks give them an energy that make them among the highlights of the movie.
Iza Calzado and LJ Reyes are sisters from this bygone era, former inhabitants of the palatial home. Their story is told in non-linear fashion, providing another surprise element for moviegoers. Joem Bascon's real identity is initially made obscure but the payoff is well-worth the wait. All three deliver solid performances that far outweigh the acting of the young cast.
The computer-generated images are excellent. All of the ghosts look convincing and very, very frightening. The cinematography and special effects are excellent, especially impressive not only in the sparsely-lit horror scenes, but also during the flashbacks and during a pivotal extended scene that occurs amid a typhoon.
There are some questionable parts of the script. For example, it is unclear why a revelation by Ella would come at a certain point in the movie—and to her purported childhood friend at that, who would, presumably, know everything about her.
The reason behind the horrors is nothing new. These can be found in other Filipino, Asian, and even American movies. But Jun Lana directed his cast in a way that makes it all plausible in the world of the Haunted Mansion.
ADVERTISEMENT - CONTINUE READING BELOW
The ending is pure genius. Haunted Mansion takes the Filipino horror movie archetypes and uses them to the fullest. Already, this shows signs of becoming a hit in the tradition of Shake, Rattle, and Roll—also a Regal Films creation. In Haunted Mansion, nothing is what it seems.
This horror-suspense movie is one of the eight entries in the 41st Metro Manila Film Festival.

Haunted Mansion and the other entries will shown in cinemas nationwide starting December 25, 2015.

(To learn more about the MMFF 2015 entries, CLICK HERE)

Ed's Note: The "PEP Review" section carries the views of individual reviewers and does not necessarily reflect the views of the PEP editorial staff. 


[gallery id="8728"]