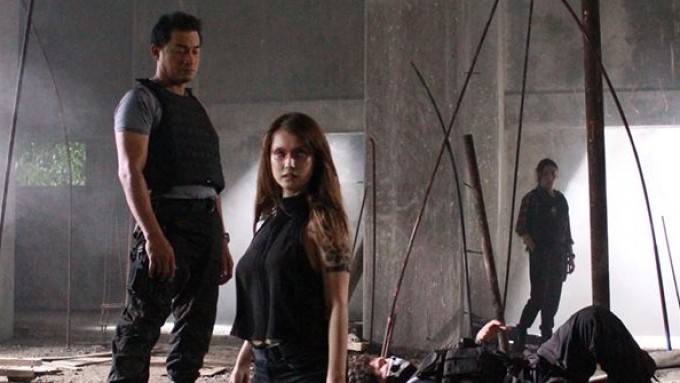 ---
The flaws in the narrative of Nilalang (The Entity) are made up for by the impressive action sequences, which are above par those seen in typical Pinoy movies.

The supernatural horror movie starts with a prologue that gives a short explanation written in both Japanese and Filipino.

This explanation should have been onscreen for a longer period to allow moviegoers to not only read but better understand the background and premise on which the movie is based.

This 2015 Metro Manila Film Fest entry opens with a scene set in Japan in 1602. Two brothers stumble upon a man now possessed by a demon named Zahagur. They engage in sword fighting and the amazing stunts directed by Sonny Sison set the tone for the impressive action sequences in the movie.
Flash forward to Manila in 2013 when Tony Cuevas, played by Cesar Montano, leads a huge SWAT team into an abandoned warehouse to corner and finally defeat a criminal, Nakazumi (played to perfection by Art Acuña) that they have long been tracking.
ADVERTISEMENT - CONTINUE READING BELOW
Again, the story moves to present-day Metro Manila, as Tony, a top National Bureau of Investigation agent, is baffled by the resurgence of the same modus operandi that they had attributed to the deceased Nakazumi. From the Special Crimes division, he works with his partner, Jane (played by Meg Imperial) and they are supervised by Col. Guevarra (Dido Dela Paz) to find out whether there is another serial killer.
The cinematography for most of the film uses the chiaroscuro technique, as there are very few scenes shot in the daytime. The tone is heavily influenced by Hong Kong and Japanese gangster movies. Director Pedring Lopez combines otherworldly elements with sleek editing and exemplary fight scenes. He also wrote the story and co-wrote the screenplay.
Since early this year, the appearance of popular Japanese adult-film actress Maria Ozawa in the movie has been hyped and overhyped to oblivion. She plays Miyuki, the daughter and heir-apparent of a Yakuza boss who is based in the Philippines.
ADVERTISEMENT - CONTINUE READING BELOW
Cesar Montano plays the strong but haunted NBI agent well. This is no surprise, as he has proven his mettle as an actor. He has good onscreen chemistry with Ozawa, who is convincing as a Yakuza member and a love interest for Cesar.

However, viewers who expect her to display shades of her former genre will be disappointed—this is a PG-rated movie, after all. There are two extended kissing scenes between her and Cesar, however.

Ozawa, maybe because she is allowed to speak extensively in both Japanese and English (with very little dialogue in Filipino), seems to be at ease in the role, even in the fight scenes where she wields a sword.

Meg Imperial, who is the third wheel, nursing a hidden attraction for the NBI agent, shows a lot of potential. She handles the action scenes well and is, in many parts, convincing.

Even in a special appearance/cameo as the girlfriend of Cesar, Aubrey Miles does not impress.
ADVERTISEMENT - CONTINUE READING BELOW
I cannot stress enough how impressive the fight scenes are, though heavily drawing from Chinese, Hong Kong, and Japanese action films.
Supernatural elements figure prominently in many Asian cultures, including the Philippines. Why the story needs to look overseas rather than in our shores may be an issue of casting or of a better appreciation of Japanese mythology. The premise is believable, plausible, and for the first part of the film, engaging.
One of the most impressive sequences is of Cesar's character driving after he has received very bad news, taken from behind him so that only part of his face can be seen through the rearview mirror. There is no dialogue, but he acts with the visible parts of his body to communicate his desperation.
After that, a scene of Cesar in the rain feels forced, especially since it could have also been delivered in the same non-verbal manner, but instead, there is some awkward monologue.
ADVERTISEMENT - CONTINUE READING BELOW
The story captures the attention and sweeps the viewer with it, until it gets confusing. Much of the dialogue is stilted and sometimes, completely unnecessary. Somewhere along the way, despite the good actors, the sleek editing, and the impressive fight scenes, the viewer gets lost in the narrative. As more issues and facts and disconnects crop up, more and more questions arise. What is left is a glossy shell that makes one wonder: what was the point?

The last sequence, however, is glossy and sleek and makes it all, at least visually, satisfying.
Nilalang is one of the eight official entries of the 41st Metro Manila Film Festival.

This and the other entries will shown in cinemas nationwide starting December 25, 2015. (To learn more about the MMFF 2015 entries, CLICK HERE)

Ed's Note: The "PEP Review" section carries the views of individual reviewers and does not necessarily reflect the views of the PEP editorial staff.


[gallery id="8352"]


ADVERTISEMENT - CONTINUE READING BELOW