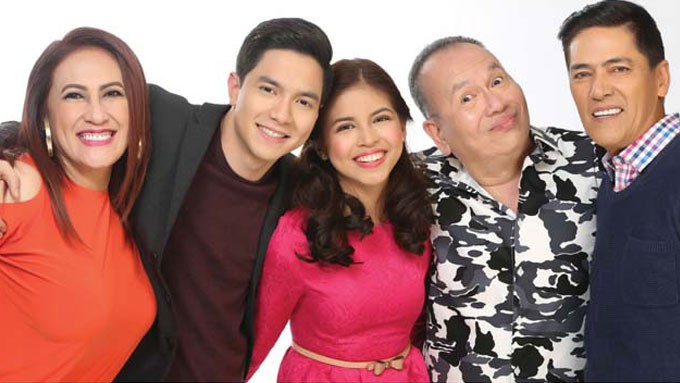 ---
Love—for the young and the young at heart—is a surefire hook for moviegoers, whether they're of the Metro Manila Film Festival (MMFF) variety or not.
My Bebe Love (#KiligPaMore) capitalizes on this universal feeling, not once, but twice. The first time is when Anna (Maine Mendoza in her movie debut) and Dondi (Alden Richards) catch sight of each other when they least expect it.
The second time is when Vito (Vic Sotto) and Cora (Ai-Ai delas Alas), Anna's dad and Dondi's aunt, respectively, start feeling something better than hatred for each other.
The two pairs belong to different generations. Thus, you see the yawning gap in their approach to relationships. The more senior pair seems eternally running out of time. So they act like teenagers in a hurry to get things done, all in one shocking night.
Alden and Maine, on the other hand, act like the more mature pair. They temper those kilig moments with more getting-to-know-you scenes that can put their elders' wham-bham way of dating to shame.
Anna and Dondi eat in a fast food chain and a restaurant, stroll together, sneak out in the middle of work to talk to each other, exchange text messages, etc.
They know they like each other, but bide their time in enjoying one another's company.
Perhaps it's because they are young and have all the time in the world, while Cora and Vito don't have that kind of luxury on their side.
ADVERTISEMENT - CONTINUE READING BELOW
Whatever it is, you see the same telltale signs of love: the kilig moments, the longing for each other's company, etc. Problem is, these kilig moments look awkward when seen in the face of someone who's a spring chicken no more.


SECOND LOVE STORY. That's because the filmmakers chose to play it safe. It's their money, after all. So they added a second love story to push the main one forward.
They wanted Vic and Ai-Ai's star power to work its magic on the more senior crowd while the AlDub (Alden and Yaya Dub a.k.a. Maine Mendoza) love team took care of their younger counterparts.
As we all know by now, it worked. My Bebe Love was number one in the box office when the MMFF opened on Christmas Day. And it continues to pack the theaters a day after it opened.
It matters not that the plot is predictable; the "coincidences" contrived, various commercials visible.


FAMILY CONFLICTS. What's important is that the phenomenal love team lights up the big screen with their "pabebe" wave and meaningful smiles. Maine speaks in the language of hashtags and connects with her young audience.
Oh, and she acquits herself well for a newbie in the movies. Maine's eyes reflect a whole range of emotions: joy, disappointment, shock, irritation, etc.
It also helps that family conflicts are real. Parents/guardians mean well, but are overprotective. They rub the young couple the wrong way.
But in the end, these young people—like most of their kind in real life— love their elders so. They worry for them. So the young ones turn the tables and act like their dad or aunt's parents when they "enjoy" themselves.
ADVERTISEMENT - CONTINUE READING BELOW
Watch My Bebe Love to entertain yourself, no more, no less. This way, you not only understand the shrieks and squeals as the movie draws to a close.
My Bebe Love is one of the eight official entries of the 41st Metro Manila Film Festival.

This and the other entries are currently being shown in cinemas nationwide.

(To learn more about the MMFF 2015 entries, CLICK HERE)
Ed's Note: The "PEP Review" section carries the views of individual reviewers and does not necessarily reflect the views of the PEP editorial staff.


[gallery id="9137"]