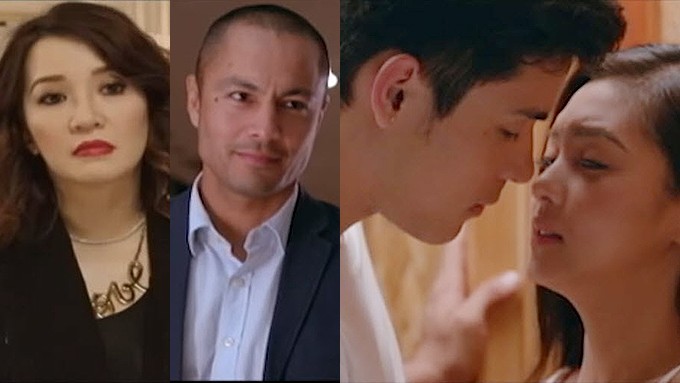 ---

Love, as they say, has many facets. But seldom are they connected to each other so closely the way it is in the 2015 Metro Manila Film Fest entry All You Need is Pag-ibig.
Anya (Kim Chiu) is the tutor of Jake (Bimby Aquino Yap), the son of Mel (Jodi Sta.Maria), who has a crush on her boss Eric (Ian Veneracion). The handsome boss is related to Anya in a way moviegoers should find out for themselves when they watch the film.
Corina (Pokwang) is Jake's lonely school teacher. She knows Anya, whose ex-sweetheart Dino (Xian Lim) seeks advice from Love (Kris Aquino), because her counseling show on TV supposedly untangles the problems of the lovelorn.
But Love can't seem to solve her own issues of the heart, even as she tells Dom (Derek Ramsay) that she has not given up searching for The One.
Only spouses Jaime (Ronaldo Valdez) and Loisa's (Nova Villa) lives seem to be totally detached from the movie's other main characters.
ADVERTISEMENT - CONTINUE READING BELOW
And yet, like the rest, they're caught—wittingly or unwittingly—in love's tender trap.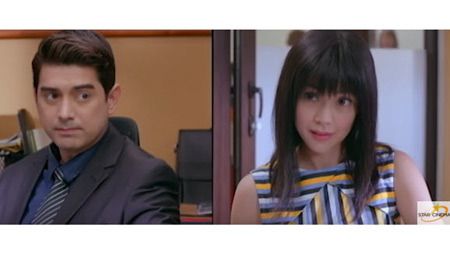 Ian Veneracion and Jodi Sta. Maria as Eric and Mel



DIFFERENT STROKES FOR DIFFERENT FOLKS. Since each of them has his or her own story to tell, he or she handles matters of the heart differently from the other.
ADVERTISEMENT - CONTINUE READING BELOW
Anya denies her feelings for Dino and pushes him away. Mel hides her feelings for Eric because he happens to be her boss, and he's in love with this glamorous girl.
Love is still looking for Mr. Right and bumps into the heartbroken Dom.
Decades of marriage have taken away the thrill in Jaime and Loisa 's union.
Corina pines for someone who cannot be hers.
As a nod to the social media generation, Mel and Eric, and the lonely Corina turn to the Net to speak their language of love.
The rest rely solely on face-to-face encounters, chance meet-ups (Love and Dom) and emotional collisions (Jaime and Loisa and Anya and Dino).
AYNIP director Antoinette Jadaone tries to inject humor in each of the pairs' romance through various strategies, like Dom's accidental problem in the Coron resort and Mel and Eric's sing-along scene in the car.
ADVERTISEMENT - CONTINUE READING BELOW
But the lady director succeeds only in the case of Jaime and Loisa, when the latter does something drastic to bring the magic back to their marriage.
The magic of love is irresistible, and all the pairs in the movie show this, even if they sometimes take it a bit too far.
For instance, why should you shout your special someone's name for all the world to hear, when it's more convenient and less disturbing to ask the customer service people to page him instead? Besides, the cellphone and private message tab on Facebook can go a long way in pouring out all those pent-up feelings of love.
And can't Mr. Right sneak in like soft music that wraps you in its sweet embrace instead of just popping up like a vision from a fairy's magic wand?


LESSONS LEARNED. Still, the movie has its plus points. You feel Anya's pain as she talks about her problem with her dad. You sympathize with Loisa as she calls out the unsuspecting Jaime about what she considers is a make-or-break issue.
ADVERTISEMENT - CONTINUE READING BELOW
Anya and Loisa's cases are wake-up calls to parents or spouses, respectively. They remind us oh so well that relationships are as fragile as can be, and are meant to be nurtured, whether you're 17 or 70.
All You Need is Pag-ibig is one light movie all right. But it's not all froth and romantic love.
It's also about working hard to keep the fire burning, and saving a person's self-esteem and future along the way.
As the movie shows, it matters not whether you're single or not.  What matters is that you know how to love.
It's one hell of a reminder, especially in this season of cheer.

All You Need is Pag-ibig is one of the eight official entries of the 41st Metro Manila Film Festival. This and the other entries are currently being shown in cinemas nationwide.
ADVERTISEMENT - CONTINUE READING BELOW
(To learn more about the MMFF 2015 entries,
CLICK HERE
)
Ed's Note: The "PEP Review" section carries the views of individual reviewers and does not necessarily reflect the views of the PEP editorial staff.