The Magic 8 finally announced by the Metro Manila Film Festival (MMFF) 2016 came as a big shock to both the film industry and the movie-going public.
The lineup veered from the commercial films that traditionally bring in big bucks at the Filipino-films-only festival set for December.
Days before the announcement, PEP.ph (Philippine Entertainment Portal) published the List of 27 films submitted as aspiring entries to MMFF 2016.
READ: PEP SCOOP: One movie disqualified from MMFF 2016
The list included these box-office draws from major film companies: Super Parental Guardians (Star Cinema); Enteng Kabisote 10 and The Abangers (Octo Arts Films, MZET Films, APT Entertainment); and Mano Po 7: Chinoy (Regal Entertainment).
All three big franchise films did not make it to this year's Magic 8.
Note that the MMFF 2016 Execom and Selection Committee did not disclose the film entries that did not make it to the eight official entries.
But it is no secret that Enteng Kabisote 10, Super Parental Guardians, and Mano Po 7 were vying for spots in this year's film fest.

Lead stars Vic Sotto for Enteng Kabisote 10, Vice Ganda for Super Parental Guardians, and Richard Yap for Mano Po 7
Asked about the buzz that the big franchise films were snubbed by the screening committee, MMFF 2016 Selection Committee Vice-Chair Joy Belmonte denied that any such thing happened.
"Hindi naman," Belmonte, who is also vice-mayor of Quezon City, said. "Kasi nandiyan naman ang Vince & Kath & James, Star Cinema rin naman 'yan.
"Walang snub-an diyan.
"It's just a matter of the process na dinaanan namin, at nagkataon lang na yun ang Top Eight talaga."
Belmonte revealed that she personally gave Enteng Kabisote 10 and Super Parental Guardians "very, very good scores."
She added, "Pero talaga, nung pinagsama, hindi talaga sila kasama sa Top Eight...
"I tried my best to [score entries based on] the criteria given to us, at ganun rin naman sa iba. Hindi naman kami nahirapan nung lumabas na yung eight.
"Let's accept na ganito talaga ang proseso at ito ang lumabas."
PEP.ph interviewed Belmonte right after her committee's press announcement of MMFF 2016's Magic 8.
The event was held at Club Filipino, San Juan City, Friday afternoon, November 18.
Chaired by Dr. Nicanor Tiongson (former MTRCB chair, Manunuri member, professor, author), with Joy Belmonte as vice-chair, the 2016 Selection Committee was composed of the following:
Ping Medina (award-winning actor), Lawrence Fajardo (writer, director, film editor), Mae Paner (actor, film director, political activist), Atty. Trixie Angeles (conservationist, legal counsel for the National Commission on Culture and the Arts)...
Alan Allanigue (station manager of DZRB Radyo ng Bayan), Crispina Belen (veteran entertainment columnist), and Alfred "Krip" Yuson (writer, poet, inducted to the Hall of Fame of the Carlos Palanca Memorial Awards for Literature).
Vice Mayor Belmonte was present during the press announcement, but did not join the panel interview that followed.
THE MAGIC 8. The top eight MMFF 2016 entries, in no particular order, included the following:
The eight official entries generally fell under films known as "indie," or independent films.
However, Joy Belmonte did not think any categorization applied to their selection process: "Sinusundan lang namin ang criteria na binigay sa amin ng MMFF Execom. Talagang sinusundan lang namin.
"Ang No. 1 criteria namin ay ang artistic excellence, quality, and technical excellence as well."
Nick Tiongson elaborated, "Alam na natin [na ang rules ng previous film fests ay] binabatikos na talaga dahil hindi siya in keeping with the original intention of the festival.
"So, it's to MMFF 2016 Execom's credit that they made that the decision na, 'Hindi, baguhin natin.'
"It takes courage to do that and, of course, may risk."
According to Krip Yuson, it was a matter of raising the bar for the film choices of moviegoers: "There's really no bias of any sort, individually or collectively, against any particular genre.
"Commercial films can also be done with excellent quality, creatively, and technically."
The Selection Committee was optimistic that moviegoers would appreciate the merging of mainstream and indie—sometimes referred to as "maindie"—films in the festival that will run from December 25, 2016 to January 7, 2017.
Tiongson explained, "Ang faith ko is that audiences now are no longer bakya. Wala na yun. We already have an audience that is media-savvy.
"It is wrong to dumb them down. Huwag natin gawin yun kasi condescending yun.
"Dapat, if we know what quality is, then let's try it. So, yung options nila ay mas mataas naman."
In a separate interview, Belmonte made a similar appeal. She asked the public to be open to films that have a place in a highly-anticipated annual festival like the MMFF.
"In terms of artistic excellence, I think they are all excellent. They're all fantastic movies," she said.
"Ako, siguro ang panawagan ko sa mga mamamayan, bagamat hindi sila ang mga traditional na napapanood sa MMFF, huwag natin i-stereotype ang ating mga sarili.
"Huwag natin ikahon ang ating mga sarili na ito lang talaga ang mga box-office hits.
"I think lahat sila potentially box-office hits. Very appealing rin."
MMFF 2016 entries lead stars Paolo Ballesteros for Die Beautiful, Eugene Domingo for Babae Sa Septic Tank, Hazel Perdid for Sunday Beauty Queen, Dominic Roque for Seklusyon, Rhian Ramos Saving Sally, Nora Aunor for Kabisera, Julia Barretto for Vince & Kath & James, and Joem Bascon for Oro
SELECTION PROCESS. In the panel interview in Club Filipino, Selection Committee Chair Tiongson explained that they held a number of screening sessions for his committee to view all 27 aspiring MMFF entries.
Tiongson explained that, for every screening, every member was given a score sheet, which Tiongson signed before submitting it to the keepers of the sheets.
He did not specify, however, if he was referring to independent representatives from an auditing firm or to the MMFF 2016 Execom.
The Selection Committee chair added: "One cannot say that there was anybody who influenced any other judge kasi hindi kami nag-uusap, e.
"Idya-judge namin ang pelikula na pinanood namin, tapos sa-sign-an ko as chair, then yun ang ginawang evaluation nung particular committee member na yun.
"They [keepers] kept all the results. Hindi nasilip ang mga results until that day, the deliberations, when they were averaged.
"Tiningnan namin at chineck namin against our individual ratings. In other words, tiningnan kung tama ang recording.
"Kung tama naman siya, ni-reaffirm na namin yung averages."
The Magic 8 they finally came up with, Tiongson said, was a "unanimous decision."
"Siyempre, pinakamahirap yung panonood ng mga pelikula," the Selection Committee chair added.
"Minsan, apat na sunod-sunod na pelikula ang kailangan mong panoorin. Medyo matagal ang panahon na iyon.
"Ang 'kinakatuwa namin, nung lumabas na ang aming individual scores, lumabas agad yung eight [entries].
"In other words, may consensus agad sa eight na yun."
Tiongson enthused, "From that point of view, napakadali nung naging proseso. Walang nag-object.
"I think we were all looking in the same direction. We were all concerned primarily with the quality of the film."
Two other Selection Committee members, Mae Paner and Krip Yuson, also said that there was a "unanimous decision" in the selected Magic 8.
Paner said, "It's not as though meron kaming dalawa o tatlong pelikula na nagta-tie, o feeling namin dun kami magde-debate. Wala kaming ganun.
"So, unanimous kami dun sa eight [film entries] sa first deliberation, at yung eight sa second deliberation.
"Hindi kami nagbago."
Yuson added, "Konting-konti yung parang ini-score mo yung film na napakababa, pero mataas yung [ibinigay na score nung] isa. Walang halos ganun. That's why very happy yung results para sa amin."
But Tiongson, Paner, and Yuson were vague on whether all eight selection committee members went through the tedious process of watching all 27 MMFF entries, or whether some members just viewed films already short-listed by the others.
ALLEGED PROCEDURAL LAPSE. Since then, PEP has received information that at least one director, Gil Portes, had an issue with the screening process, and was angered enough to cause a minor ruckus.
Portes's film, Moonlight Over Baler, was one of 27 films submitted to MMFF.
The backstory, according to an MMFF insider, is this: The Selection Committee had scheduled the screenings of the 27 films for its eight members. (The eight count includes the chair and vice-chair.)
However, on every one of those screening days, the eight members were never complete. Sometimes, one would be absent; sometimes, more.
Just the same, the Selection Committee moved on to the next big step: it made a shortlist of the winning eight.
This shortlist was chosen among the highest-rating films, as reflected on score cards of members who had seen the film.
Therefore, the shortlist was completed by the majority of the committee, but not by all eight members.
After making the shortlist, the committee scheduled another screening session for members who had not seen all 27 films.
But this time, viewing was limited to films already in the shortlist.
And because this was a separate screening session being set up, the films short-listed had to be called back in.
To get hold of the films again, the MMFF had to get in touch with the films' producers, which also meant that these producers now had an idea they could be in the shortlist.
Director Gil Portes also found out. And he discovered that Moonlight Over Baler, the movie he had directed, was not being screened for the second set of members.
He barged into a gathering of the MMFF group at Club Filipino yesterday and demanded, loudly, to know why his film was not being shown to committee members who had not seen it.
In response, the committee put up his film for screening.
In the end, Moonlight Over Baler did not make it to the shortlist.
But the points have been raised: Was it fair that some members of the Selection Committee were being made to watch only the short-listed films? Even if a film was not a top-rater in the other members' score cards, did not every one of the 27 deserve the respect of a screening?
The latest word PEP has gathered is that director Baby Nebrida, who entered Across the Crescent Moon, is now also questioning the Selection Committee shortlist.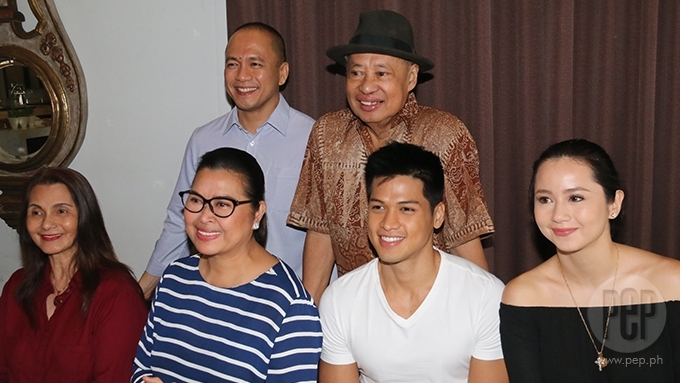 Moonlight Over Baler producer Rex Tiri and director Gil Portes with the main cast members Daria Ramirez, Elizabeth Oropesa, Vin Abrenica, and Sophie Albert
PICTURE-LOCK CONTROVERSY. Earlier, another point of controversy had hit MMFF 2016.
Two entries that made it to the Magic 8 had been submitted in their picture-lock stage: Erik Matti's Seklusyon and Avid Liongoren's Saving Sally.
The original MMFF 2016 rule, announced by the MMFF Execom on April 11, 2016, was that only finished films would be accepted.
Two months later, on June 29, this rule was reiterated by the MMFF Selection Committee.
Deadline for entries was originally announced as October 31. However, on October 26, the MMFF Execom, saying October 31 was a holiday, moved the deadline to the next working day, November 2.
Also on October 26, or eight days before the new deadline, the MMFF Execom announced a bigger and more controversial change: Finished films would be accepted, but so would picture-lock films.
This raised hackles in the industry.
Those objecting argued that, even if picture-lock versions were acceptable in international film festivals, the fact was that the MMFF 2016 Executive Committee had twice announced that it would accept only finished films.
Senator Vicente Sotto III, brother to Vic Sotto who starred in and co-produced the Enteng Kabisote entry, said that changing the rules midstream was unfair to those who worked doubly hard to meet the deadline.
The change of rule, he added, also gave rise to speculation that MMFF 2016 officials were bending over backwards to "accommodate" parties whose pictures were not in their finished stage.
READ: MMFF Execom addresses concerns about picture-lock versions of submissions
MMFF 2016 Selection Committee Chair Nick Tiongson was asked if entries in picture-lock stage affected their scores during the selection process.
Tiongson answered by saying that they judged each film entry in its entirety and according to criteria set by the MMFF 2016 Execom.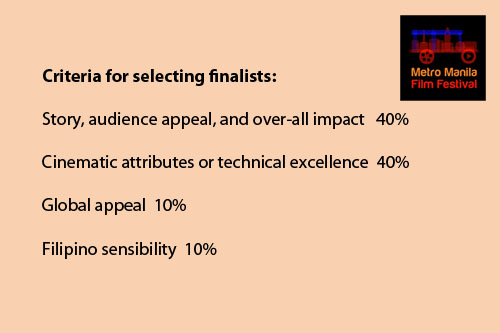 The Selection Committee chair elaborated, "Kung hindi mo tinapos yung pelikula mo, at yung pagka-incompleteness niya ay nakaapekto substantially dun sa pelikula, magsa-suffer [yung entry mo].
"At nag-suffer yung iba.
"Pero, meron din na pelikula na buo na siya pero ire-refine pa... Puwedeng ganun, hindi naman maaapektuhan masyado.
"So, depende dun sa degree of incompleteness. Of course, picture lock, hindi mo na mababago yung editing nun."
Film director and editor Lawrence Fajardo, one of eight members of the Selection Committee, opined that a film entry submitted in its picture-lock stage was not an issue for him.
"I think we judged it fairly kahit picture lock siya. Kasi yung Seklusyon, picture lock yun. Saving Sally din.
"Well, iba naman kasi kaming mag-judge. Ako, alam ko yung technical capabilities ng film. Makikita mo naman na talaga, e."
(To stay updated about the latest news about the MMFF, visit http://www.pep.ph/guide/mmff)