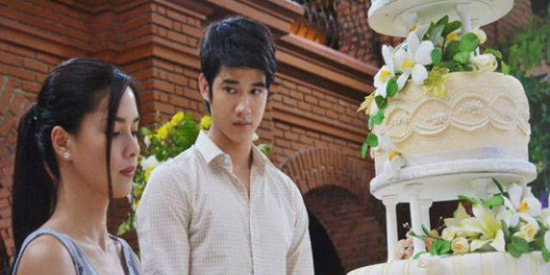 ---
Suddenly It's Magic is a mainstream romantic comedy film produced by Star Cinema. It stars Thai heartthrob Mario Maurer and Star Circle Quest 2005 grand champion Erich Gonzales.
Suddenly It's Magic is not a Department of Tourism-sponsored movie though it displays the beauty of Ilocos Norte in all its glory. A character in the movie also proclaims "It's More Fun in the Philippines," a statement that prompted Mario Maurer's character Marcus to visit the country and escape from his chaotic love life in Thailand.
He ends up in Laoag at the same hotel where expert cupcake maker and spurned bride Joey (played by Erich Gonzales) sells her products.
As if by magic, both characters – both betrayed by the love of their lives – coincidentally meet and inevitably fall in love.
There is little to dislike in Suddenly It's Magic.
The requisite i-hate-you then i-love-you dynamic between Marcus and Joey is depicted during the first part of the movie. Their stolen glances, their holding hands, the girl falling over the guy (literally and figuratively), and their sweet kisses all make the movie enchanting to watch.
Erich is more impressive when she is crying than when she is trying to be funny or cute.
Mario Maurer proves he's not just a model with drop-dead good looks, he can also portray a character with charming sensitivity. Movie audiences will not only get lost in his pool of brown eyes, they will similarly be moved by the authenticity in his performance as a lovelorn "pilyo," an actor who can't seem to balance his professional and personal priorities.
ADVERTISEMENT - CONTINUE READING BELOW
Also in the cast is Joross Gamboa who plays Joey's gay best friend. Joross is extremely engaging and funny to watch in this movie, proving he could have a very good career in comedy.
Joy Viado is hilarious as Marcus' Filipina housekeeper Chinggay. Her character is the one responsible for Marcus' decision to visit the Philippines – a detail that could be taken as the movie's ode to the blessings Filipino OFWs bring to the country.
Jestoni Alarcon, still young-looking despite playing Erich's governor father, has a brief but prominent role.
Dinky Doo, Ces Quesada, and Cacai Bautista all add to the film's entertainment value.
The movie also features Laoag's scenic spots as well as the Philippines' "fun" culture. The tranquil beauty and Buddhist tradition of Thailand is also depicted in this movie.
Mario Maurer is adorable as he performs, or at least tries to, a traditional Filipino folkdance. He also looks adorable as he tries to scale a bamboo pole for a Pinoy game of palo-sebo.
This movie makes use of incredible coincidences to highlight dramatic plot points. Is it an accident that Joey happens to be at the same hotel where her former fiancé is proposing to his new girlfriend? Is it by chance that while looking for the comfort room, Joey finds herself inside the press conference being held for Marcus and his onscreen love partner?
These forced maneuvers make the story less believable.
Although the movie employs several languages--namely Thai, English and Tagalog as well as the Ilokano dialect--to tell the story, these differences did not in any way make the movie less appealing.
ADVERTISEMENT - CONTINUE READING BELOW
Similar to other Star Cinema films where character realizations are explained lengthily near the movie's end, the same is seen in Joey's conversation with her father as well as Marcus' heart-to-heart exchange with his mother, causing the movie to lag towards the end. This makes it seem that the characters were delivering boring lectures and not dialogue.
Fortunately, the endearing qualities of the movie's main performers made Suddenly It's Magic a delight to watch.


Directed by Rory B. Quintos, Suddenly It's Magic has been graded B by the Cinema Evaluation Board.


Ed's Note: The "PEP Review" section carries the views of individual reviewers, and does not necessarily reflect the views of the PEP editorial team.