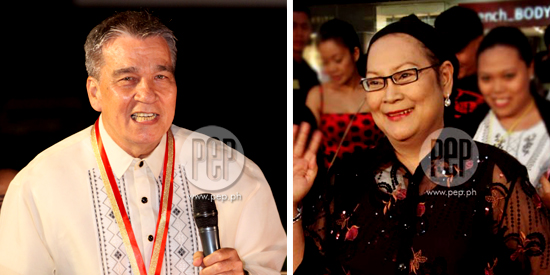 ---

This year's Cinemanila 2012 is shaping up to be another exciting
one for Filipino cinephiles, as it will offer buzzworthy foreign
movies and Filipino classics. The festival will run from December 5 to 11 at Market! Market! in Taguig City.


Festival founder and director Tikoy Aguiluz announced this in a pocket press conference last November 9 at a restaurant in Taguig
City.


The 14th edition of the annual film festival will feature a lost Mario O'Hara movie and give tribute to the late director Marilou Diaz-Abaya.


Many foreign films currently creating buzz around the world will also be shown, such as Michael Haneke's Amour, Kang Yi-kwan's Juvenile Offender, Tetsuaki Matsue's Flashback Memories, and Ramona Diaz's documentary about Journey vocalist Arnel Pineda.


In an interview, Direk Tikoy told PEP.ph (Philippine Entertainment Portal) that the line-up will be leaner, but the quality will be the same.


Screening the lost Mario O'Hara movie, for instance, is enough reason for Cinemanila's run this year. Mario O'Hara, a multi-awarded Filipino director, is best known for the movies Babae sa Breakwater, Babae sa Bubungang Lata, Bagong Hari, and Bulaklak sa City Jail.


O'Hara died on June 26 this year, at the age of 66. His last movie was the Cinemalaya 2010 entry Ang Paglilitis ni Andres Bonifacio.


Direk Tikoy said of the lost film [Pusang Gala], "It was Lav Diaz who found it. Yung producer ng Batang West Side, produced two telecine projects, when you produce a film, and send it to television. Ang pangalan nun, Director's Hour. So nakagawa siya ng dalawa. One was the Mario O'Hara film. The other one was a Jeffrey Jeturian.


"So shinoot nila, then when they tried to sell it to TV, binarat sila.
So sabi ni Mario O'Hara, wag na lang, hindi ko na lang ibebenta. Then they forgot about it. Binigay niya kay Joey Gosiengfiao. When Joey Gosiengfiao died, nakalimutan na bago siya namatay. Pagbukas ni Lav Diaz ng cabinet, nandun."


The film, titled Pusang Gala, has never been exhibited, so Cinemanila will be the first to screen it.


"Starring Janice de Belen, Ricky Davao, Yul Servo. Parang vehicle ni Yul Servo din, e. Good acting, good storytelling. Pero ang production value niya, low budget, parang pito-pito. Nilagyan na nina Lav ng subtitles. Exciting kasi never been shown, e. And then Mario O'Hara [film] siya," Direk Tikoy said.


DIAZ-ABAYA TRIBUTE. Cinemanila 2012 will also honor another director, Marilou Diaz-Abaya, who died on October 8 this year.


Diaz-Abaya is known for her award-winning movies such as Muro-Ami, Bagong Buwan, Jose Rizal, and Sa Pusod ng Dagat.
Direk Tikoy said it is only fitting that they give a tribute to the director.


He explained, "She was our director in focus in 2004. Second, she's one of the contemporary masters who is no longer with us. And then parang, you have to remember, when we gave her a director in focus program, she was there. Nag-Q&A, nag-seminar pa."


Several of her movies will be shown throughout the festival, including Karnal, Moral, Sa Pusod ng Dagat, and May Nagmamahal Sa 'Yo.



COMPETITION AND FEATURE. For this year's competition line-up, many directors have submitted entries but Direk Tikoy spent time to come up with a lean short list.


"Mauubos yung oras mo. Pi-preview ka, tapos at athe end of the day, out of hundreds, there are only ten that are outstanding. So matagal yung proseso. Kasi maski sino nga puwede nang gumawa, e," he said.


DIGITAL LOKAL ENTRIES. Only five movies made it to the Digital Lokal category: The Obscured
Histories and Silent Longings of Dagaluan's Children by Teng
Mangansakan, Supremo by Richard Somes, Ang Paglalakbay ng mga Bituin sa Gabing Madilim by Arnel Mardoquio, Taglish by Gym Lumbera, and Colossal by Whammy Alcazaren.


The Obscured Histories and Silent Longings of Dagaluan's Children is about residents in a remote fishing village in the Southern Philippines dealing with an armed conflict.


Supremo is topbilled by Alfred Vargas, who is cast as Andres Bonifacio. Set in 1896, this film depicts the life of Andres Bonifacio, leader of the rebel movement the Katipunan. Though ill-equipped and untried in the field of battle, the Katipuneros launch an offensive against a vastly superior Spanish military.
ADVERTISEMENT - CONTINUE READING BELOW

Ang Paglalakbay ng mga Bituin sa Gabing Madilim is set in Mindanao and stars Fe Virtudazo-Hyde and Perry Dizon. It tells of a boy's (Faidal) journey to safety after his parents are killed in a gun battle. On his way, overwhelming discoveries are made in his journey.


Taglish is about infidelity between two languages: Tagalog ang English.


Starring Mercedes Cabral and Lav Diaz, Colossal explores the complexities of grief and the process of grieving as understood through the myth of a Man as he ventures through shifting landscapes.


For the Young Cinema Shorts in Competition category, the entries are: Aurora, My Aurora by Janus Victoria, Ang Prinsesa, Ang Prinsipe at si Marlborita by Carl Papa, Kabilang Dulo by Bienvenido Ferrer III, and Unawa by Pamela Llanes Reyes.


The Documentaries in competition are: Harana by Benito Bautista, Ishma by Sari Dalena, Fukushima by Rey Ventura, The Bladed Hand by Jay Ignacio, An Alexis Tribute by Lav Diaz, and Give Up Tomorrow by Michael Collins.


"Kaunti ang line-up, pero I think the quality, hindi mawawala," Direk Tikoy said.


Cinemanila 2012 will run from December 5 to 11, 2012 at Market! Market! in Taguig City.