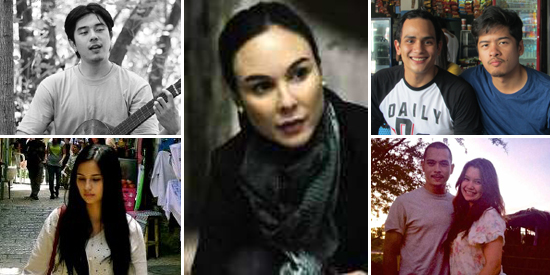 ---
Now on its 9th year, the Cinemalaya Philippine Independent Film Festival is scheduled to take place from July 26 to August 4, 2013. Moviegoers will have the option to watch the entries at the Cultural Center of the Philippines as well as select cinemas in Trinoma (Quezon City), Greenbelt 3 (Makati City) and Alabang Town Center.
In October 2012, veteran director-writer-production designer Mel Chionglo took on the responsibility of serving as the monitoring head of the annual film festival. He took over the position after Mr. Robbie Tan resigned from the position last year.

Direk Mel has previously helmed gay-themed films such as Sibak: Midnight Dancer, Twilight Dancers and Burlesk King.
In an interview with PEP.ph (Philippine Entertainment Portal), Direk Mel recalled how he became part of this year's Cinemalaya. "I committed myself...I think just before or around October when I joined the Selection Committee."
As part of the Selection Committee, Direk Mel was instrumental in selecting the entries that would compete in the 9th edition of Cinemalaya.

Chris Millado serves as the Cinemalaya festival director while Laurice Guillen remains the competition director.
ADVERTISEMENT - CONTINUE READING BELOW
A joint project of the Cinemalaya Foundation, CCP, and Econolink Investments Inc. of Mr. Tony Boy Cojuangco, Cinemalaya aims to "encourage and honor cinematic works of Filipino indie filmmakers – film works that boldly articulate and freely interpret the Filipino experience with fresh insight and artistic integrity."

Direk Mel told PEP that for the full length films, the total number of scripts submitted was 140 scripts -- 122 for the New Breed category, and 18 for the Directors Showcase category.

Ten finalists will be competing in the New Breed category this July. These are: The Diplomat Hotel by Christopher Ad. Castillo; Transit by Hannah Espia; Nuwebe by Joseph Israel Laban; Babagwa by Jason Paul Laxamana; Purok 7 by Carlo Obispo; David F by Emmanuel "Manny" Palo; Rekorder by Mikhail Red; Quick Change by Eduardo Roy Jr.; Debosyon by Alvin Yapan; and Instant Mommy by Leo Abaya.

Direk Mel narrates, "We initially had 120 plus submissions sa New Breed [category] and then it was narrowed down to 18. Then, based on the full script and the meetings, one-on-one meetings with the director, we came up with the finalists.

"Then we met with the filmmakers and we had a familiarization with the MOA [memorandum of agreement]. Around January, we announced that we meet with them again first week of January, and then later on, may MOA signing.

"Last March, a filmmaker said that he was having problems plus he had a scholarship, a U.S. scholarship. Si Richard Legaspi na ang entry was Primera Bella."

It will be recalled that last March 5, PEP Alerts announced that Primera Bella would no longer be part of Cinemalaya 2013 since writer-director Richard Legaspi decided to pull out from the New Breed section of Cinemalaya.

In a text message sent to PEP contributor Mell Navarro, Direk Richard said: "I found difficult to manage my schedule. I was chosen and given a chance to be one of the SCHOLARS of UNESCO Aschberg in Italy... Ayokong makupremiso ang film [I dont want to compromise the film]... Hindi ko matatapos ang film in 3 months and need to [leave] the philippines ng JUNE."



ADVERTISEMENT - CONTINUE READING BELOW
DIFFERENCE FROM ROBBIE TAN. Direk Mel continues, "That being the case, we have no choice but to look at the entries that were in the running. The one that replaced Primera Bella was Instant Mommy with Leo Abaya as director.

"We got official letters of pulling out. We asked them to, just in case there will be some kind of issue again, which we did not exactly want."

In last year's edition, a controversy erupted after the entry MNL 143 was disqualified from Cinemalaya because director Emerson Reyes insisted on having Alan Paule and Joy Viado as the lead stars.

(Read: Robbie Tan explains why MNL 143 was disqualified from Cinemalaya)
Direk Mel stressed that: "Robbie Tan did a very fine job all these years that he was involved in Cinemalaya.

"During my selection committee stint with him for about three years, he was always asking for my opinion, about the rushes. So, meron kaming working relationship din with Robbie sa Cinemalaya.
ADVERTISEMENT - CONTINUE READING BELOW
"Ngayon, sabi ko, ang ganda-ganda na ng ginawa ni Robbie all these years."

As a filmmaker, Direk Mel believes that his background as a director gives him a unique way of running the annual film festival that attracts thousands of moviegoers and numerous programmers from other countries.

"Ako naman, I'm a director. He's a producer, e. Ako naman, director so iba kaagad yung point of view ko…ang point of view ko, e, 'Sige, kayong mga director, I will give you all the allowances (laughs).

"I will be very patient and understanding, bilang… isa sa inyo.
"I think it's the duty of the monitoring committee to give you advice especially in the New Breed when it comes to casting and in terms of looking for financing.

"In some cases nga, I will not mention names, yung team namin naghanap pa kami ng magfi-finance [ng entry]."



HANDS-OFF POLICY IN CASTING. Since he believes in giving full freedom to filmmakers, the monitoring head admits that there were occasions when the directors did not follow his advice in choosing cast members for their entries.

"Yung sa casting naman, nagbibigay din kami ng advice. I will give them the advice ng diretso. I will show them, 'Eto dapat. Eto dapat, bagay sa role.' At saka dapat kahit papaano marunong nang umarte kasi siyempre mga baguhang director… Some of them took our advice, some did not," Direk Mel admitted.

What if the director disagreed with his advice?
ADVERTISEMENT - CONTINUE READING BELOW
"Well, I cannot say that you have to follow me…that you have to follow us. We just say, 'This is an advice. This is a suggestion. Take it or leave it.'"
He emphasized that as the head of the monitoring committee, he has to maintain certain standards of quality for all entries.
"This is not an ordinary festival of newcomers. Let's say, let's not talk about the Director's Showcase, but the New Breed. This is a competitive festival. So, when we ask them, when we give them advice, we ask for their cooperation, that means we want their films on an equal level...pantay-pantay kayo.
"All of these should be good. All of these should be in fighting form, di ba? Para wala silang masabi na hindi kami tumulong. Some of them need more patience or more… or more ability to talk to actors…negotiating with actors with their schedule, with their fees. Siyempre mahirap yun kasi bago sila, e. I could feel that some of them were having difficulties.

"Pero, director ka, e, dapat marunong kang mag-convince ng artista maski bago ka, di ba? [They should be able to say] 'Help me, I have a good project.' Some of them followed the advice. Some of them did not."

To sum up, Direk Mel stressed: "Hindi kami sumasaklaw sa freedom [ng director]. You are free but you have a responsibility to deliver on time.

"We can talk about your problems without encroaching on your freedom.

"Para itong deadline sa magazine.

"They have to understand that it is a festival of competing films. The intention of the monitoring committee is to ensure that you are competing on the same level of excellence.

"Ia-angat namin kayo kasi baguhan kayo. Ayaw namin madehado kayo."
ADVERTISEMENT - CONTINUE READING BELOW
Below is the list of ten official full length finalists of the NEW BREED category for 2013 (compiled by Mell Navarro):



BABAGWA (THE SPIDER'S LAIR)
Written and directed by: JASON PAUL LAXAMANA
Cast: Alex Vincent Medina, Joey Paras, Alma Concepcion, and introducing Kiko Matos. Starring: Nico Antonio, Chanel Latorre, Garry Lim, Raqs Regalado, Marx Topacio, and Sunshine Teodoro
Produced by: Quantum Films (of Joji Alonso) and Kamaru Productions (of Jason Paul Laxamana).
SYNOPSIS: An internet scammer falls in love with a rich old maid while trying to swindle her using a fake Facebook profile.

DAVID F.
Directed by: EMMANUEL QUINDO PALO
Written by: Liza Magtoto and Emmanuel Quindo Palo
CAST: Quester Hannah (American theater actor), Sid Lucero, Art Acuña, Rocky Salumbides, Mitch Valdez, Jess Mendoza, Mariella Castillo, Dax Martin, and Madeleine Nicolas (others being confirmed as of press time)
Produced by: Mr. Antonio P. Tuviera
SYNOPSIS: David F is written as a triptych with 3 short stories hinged together by the story of David Fagan, a real life historical character in the early 1900's. He is a black American who was a member of the American regimen that was sent by the US government during the Philippine-American war. He became famous (or infamous) when he deserted the US troops and joined the sides of the Filipino revolutionaries. He was declared as a public enemy of the US government when he led a series of battle with the Filipino revolutionaries against American soldiers. He was promoted as colonel under Emilio Aguinaldo and married a Filipina.
ADVERTISEMENT - CONTINUE READING BELOW
DEBOSYON
Written and directed by: ALVIN YAPAN
Cast: Paulo Avelino and Mara Lopez
Produced by: Voyage Studios, Quantum Films (of Joji Alonso), Alvin Yapan, and Alemberg Ang.
SYNOPSIS: Mando, a Bicolano devotee of Ina, Virgin of Peñafrancia, injures himself. He will be nursed back to health by a mysterious woman, Salome, living at the foot of Mount Mayon. They will fall in love with each other. Salome holds a secret that will devastate Mando's love for her; while Mando relies on his devotion to the Virgin of Peñafrancia to lift a curse that involves his life.
INSTANT MOMMY
Written by: Chris Martinez

Directed by: LEO ABAYA
Cast: Eugene Domingo, Rico J. Puno, Luis Alandy, Archie Alemania, Shamaine Buencamino-Centenera, Tuesday Vargas, Matt Evans, Alchris Galura, and Yuki Matsuzaki (Japanese actor).
Produced by: Quantum Films (of Joji Alonso), Kris Aquino, Leo Abaya, and Christopher Martinez.
SYNOPSIS: Story of a summer's journey of Bechayda amidst a highly visualized world where the video screen reigns supreme. Bechayda is a wardrobe mistress in TV commercials who pretends to be pregnant to keep her Japanese fiance.
ADVERTISEMENT - CONTINUE READING BELOW
NUWEBE
Written and directed by: JOSEPH ISRAEL LABAN
Cast: Nadine Samonte, Jake Cuenca, Anita Linda, Manny Castañeda, Mikael Liwag, and Barbara Miguel
Produced by: One Big Fight Productions (of Joseph Israel Laban), Ferdinand Lapuz, One Dash Zero, Monoxide Works, Ariel Bacol, and Derick Cabrido.
SYNOPSIS: Inspired by the actual story of one of the youngest mothers in Philippine history, Nuwebe follows the story of Krista who at the tender age of 9 got pregnant from the sexual abuse perpetrated by her own father… With an almost documentary style, the film follows the child's story as she demonstrates a level of resilience uncommon to her age. Her mother on the other hand is torn between her love for her child and her love for her husband.
PUROK 7 (pronounced as "Siyete")
Written and directed by: CARLO OBISPO
Cast: Arnold Reyes, Angeli Bayani, Julian Trono, Miggs Cuaderno, Krystel Valentino, Jean Judith Javier, Carlon Matobato, Olive Nieto, Karen Haniel, Max Celada, Aaron Ching, and Sheenly Gener.
ADVERTISEMENT - CONTINUE READING BELOW
Produced by: Rough Road Productions (of Carlo Obispo), Ms. Ana Liza Andrada, and Mr. Thop Nazareno.
SYNOPSIS: PUROK 7 is a countryside dramedy (drama-comedy) that follows 14-year-old Diana and her younger brother who live by themselves after their mother went abroad and their father lived with another woman. Set in a remote purok, the film features the light side of country lifestyle as the main characters take advantage of the fun and thrills of the town festival to take hold of their sweet childhood.
QUICK CHANGE
Written and directed by: EDUARDO ROY, JR.
Cast: Mimi Juareza, Junjun Quintana, Migs Cuaderno, Natashia Yumi, Felipe Martinez, John Relucio, Giggle Esmeralda, Francine Garcia, and Rolando Inocencio (others being confirmed as of press time)
Produced by: Almond Derla and Ferdinand Lapuz
SYNOPSIS: Dorina believes she is a lady incarcerated inside a male body. She's got herself a flourishing career, albeit in an illegal cosmetic surgery business. She is a mother figure to Hero, her eight-year-old nephew. She acts as a devoted wife to Uno. Between her job and her family, Dorina feels that she is one lucky woman. Until Uno falls in love with another tranny (transvestite).
ADVERTISEMENT - CONTINUE READING BELOW
REKORDER
Directed by: MIKHAIL RED
Written by: Mikhail Red and Ian Victoriano
Cast: Ronnie Quizon, Suzette Ranillo, Earl Ignacio, Mike Lloren, Joe Gruta, and Belinda Mariano
Produced by: Butch Jimenez, Simon Nicolas Jr., Suzette Ranillo, and Pamela Llanes Reyes
SYNOPSIS: REKORDER tells the story of a former 1980s film cameraman who now currently works as a movie pirate operating in present day Manila. He routinely smuggles a digital camcorder into movie theaters in order to illegally record films. One night he records something else... And the footage goes viral.
THE DIPLOMAT HOTEL
Written and directed by: CHRISTOPHER AD CASTILLO
Cast: Gretchen Barretto, Art Acuña, Mon Confiado, Joel Torre, Sue Prado, Nico Antonio, Abe Pagtama, and introducing Sarah Gaugler
Produced by: Quantum Films (of Atty. Joji Alonso) and Down Mavericks (of Christopher Ad Castillo)
SYNOPSIS: A disgraced reporter seeks redemption by leading his documentary crew to spend one night and tell the story of what really happened at the haunted and infamous The Diplomat Hotel (Baguio City).
ADVERTISEMENT - CONTINUE READING BELOW
TRANSIT
Written and directed by: HANNAH ESPIA
Cast: Jasmine Curtis Smith, Mercedes Cabral, Irma Adlawan, Ping Medina, and Marc Justine Alvarez
Produced by: TEN17p (of Paul Soriano)
SYNOPSIS: TRANSIT begins and ends in an airport during a father and son's transit flight from Tel Aviv to Manila. It tells the story of Moises, a Filipino single-dad working as a caregiver in Herzliya, Israel, who comes home to his son Joshua's 4th birthday. It was on that day that Moises, together with their Filipino neighbors, Janet and her daughter Yael, find out that the Israeli government is going to deport children of foreign workers. Afraid of the new law, Moises and Janet decide to hide their children from the immigration police by making them stay inside the house.