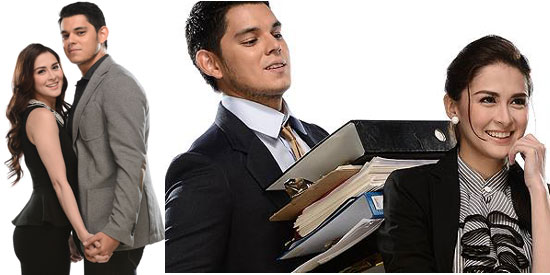 ---
Director Jade Castro's romantic comedy, My Lady Boss, invests on the good-looking pair of Marian Rivera and Richard Gutierrez. In this light-hearted office drama, the tried-and-tested onscreen tandem portray an unlikely couple who convince audiences that they are meant to be together.
That charming loveteam, plus genuinely funny moments and a strong supporting cast who play animated characters, make My Lady Boss quite an entertaining feel-good movie.
The Aloy Adlawan-written screenplay introduces the initially incongruous couple living un-stellar lives. Evelyn (Marian Rivera) is a stringent business manager who is called by her constantly terrorized staff "666" or "Evil"— a nasty wordplay on Evelyn Vallejo Lontoc's initials (EVL).
Evelyn is notorious for her by-the-book rules on punctuality and strict (bordering-on-heartless) observance of work ethics. The lady boss is not only pressured to manage a marketing team but also faces strict competition from the conceited, insecure and arrogant Henry Posadas (Rocco Nacino), the other business manager in that advertising and marketing company.
ADVERTISEMENT - CONTINUE READING BELOW

Evelyn's life changes drastically when she meets the brash, rich boy, Zach Estrella (Richard Gutierrez). The two get off on the wrong foot, which is unfortunate for the overconfident Zach because Evelyn happens to be the boss of the job he is about to apply for. Although his overbearing demeanor and false sense of entitlement get on Evelyn's nerves, Zach gets employed after a terrible interview with her.
Evelyn is forced to hire him since she's desperate for someone on her team to compete with Henry Posadas. Zach's employment is timely because he joins them just when they are about to compete with Posadas' project group. Initially, Evelyn and Zach engage in fierce backbiting while Zach tries to adjust to Evelyn's ways.
As the story unfolds, Zach's need to prove himself to his family after failing several times in putting up his own business becomes known. Prior to his employment in Evelyn's team, Zach's disastrous attempts to become a businessman lead him to bankruptcy. His stern grandfather (Ronaldo Valdez) is forced to pay off his debt, on condition that Zach work as an employee for at least a year.
ADVERTISEMENT - CONTINUE READING BELOW
My Lady Boss becomes amusing the moment Zach learns of Evelyn's life outside work. Zach sheds his arrogance upon finding out Evelyn's breakup with her boyfriend (Tom Rodriguez) of almost six years, as well as Evelyn's dedication to provide for her overdependent family.
Even more interesting is when Evelyn astonishes her staff as she fails to make it to work one morning after four years of perfect attendance. And so, Zach goes to her home and chances on Evelyn breaking down in front of her family. Evelyn is both enraged and hurt that none of these complacent, even opportunistic, loved ones notice she's having a bad day.
The scene shows a hilariously shaken Zach, who realizes he shouldn't be there, as well as a vulnerable Evelyn. It's one of the standout scenes where Marian truly shines.
The incident changes Zach and Evelyn's relationship. The next few scenes show Evelyn still trying her best to run the show at work, while rediscovering herself through the help of a bucket list of things she really wants: learn to dance, skydive, kiss someone else, get drunk.
ADVERTISEMENT - CONTINUE READING BELOW
Evelyn eventually falls for Zach who guides her in letting loose and making the most out of life. The scenes could be laugh-out-loud at times, even cheesy, but the chemistry between Richard and Marian would always show.
The story twists and turns further when Evelyn and Zach question each other's sincerity, especially when their secret office affair takes a toll on their professional relationship.
POWER TEAM-UP. Marian is a satisfactory choice as a female boss. Evelyn's character allows the actress to demonstrate versatility in portraying a brutally frank character who reveals her gentle and compassionate nature when faced with personal conflict.
My Lady Boss also shows Marian's knack for comedy and drama. Marian is noticeably in her element and now more than ever has become at ease in front of the camera.
Being around Marian, especially in their most romantic scenes, works to Richard's advantage. It is mostly Marian's leading-lady appeal that feeds the "kilig" moments in the film. When Zach recognizes his failure to show his sincere intentions for Evelyn, Richard's portrayal of a man who realizes his lack of commitment falls short. Richard would have his moments in the film, especially when he tries to be funny and candid, but his stiffness can be felt throughout his performance.
ADVERTISEMENT - CONTINUE READING BELOW
Among Jade Castro's works (Zombadings, Endo, My Kontrabida Girl), My Lady Boss is one of the filmmaker's less remarkable works. While the signature humor is there along with the strong characterization, Direk Jade's latest film is devoid of the wit and originality in his stronger works.
Even so, My Lady Boss works because of the power team-up of Marian and Richard, backed by the supporting cast who add color to the story. Standouts include Rocco Nacino, who shows promise in playing an antagonist, as well as Benjie Paras' performance as the all-knowing janitor whose loyalty could be easily bought by bribery. Rocco is effectively annoying while Benjie's comic timing is downright disarming.
Other actors in the film are Tom Rodriguez, Maricel Laxa, Jackie Lou Blanco, Pinky Amador, Sandy Andolong, Ronaldo Valdez, Dion Ignacio, Ruru Madrid, Matet de Leon, Sef Cadayona, Regine Tolentino, Jace Flores and Petra Mahalimuyak.
ADVERTISEMENT - CONTINUE READING BELOW
My Lady Boss opens in Philippine cinemas starting July 3, 2013. Produced by GMA Films and Regal Films, My Lady Boss is graded B by the Cinema Evaluation Board.



Ed's Note: The "PEP Review" section carries the views of individual writers, and does not necessarily reflect the views of the PEP editorial staff.