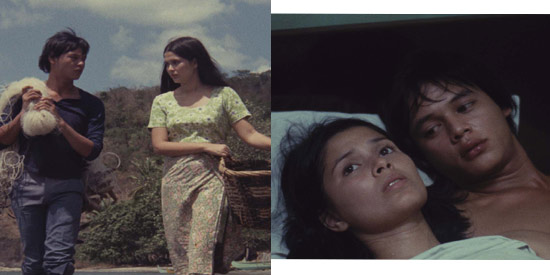 IMAGE Courtesy of the FDCP
---

The recent restoration of Maynila: sa mga Kuko ng Liwanag is a testament to its masterfulness. Although its surviving print had deteriorated, its thematic quality continues to be relevant today.

Maynila: sa Mga Kuko ng Liwanag is one of the most important Filipino movies in history. It is Filipino auteur Lino Brocka's magnum opus—one that underlines his political activism and penchant for using oppressed characters who gradually reach an awakening.

Preserving films in the Philippines has been a daunting task. In fact, many important movies are now lost. This is also the reason why the negatives of Maynila: sa mga Kuko ng Liwanag gradually deteriorated, gaining tears, scratches, warps, visible marks, and halos over time.

The digital restoration was completed in May 2013, through the help of Martin Scorsese's World Cinema Foundation, the Film Development Council of the Philippines, and under the guidance of Mike de Leon, the movie's director of photography.

The 1975 movie tells the story of Julio Madiaga (Bembol Roco), a young man from the province who comes to Manila to look for his girlfriend Ligaya Paraiso (Hilda Koronel) who went to the city months before him. Julio thinks Ligaya may be in danger, because she was merely recruited to work as a maid but all efforts to contact her proved futile.

But looking for Ligaya is not easy. Julio struggles to live on his own by working in odd construction jobs, bunking up with friends, and even navigating the city's skin trade.

Maynila: sa mga Kuko ng Liwanag was produced during Martial Law, when the Marcos regime was promoting Manila as a dream city. Their brand of improvement, though, was to ignore the rampant poverty in the city.

Brocka's vision, therefore, is a brave one. The film shows what the Marcos regime wanted to hide: Manila's poor living in decrepit conditions, forced to work in exploitative jobs that fail to pay a living wage, and at times even resorting to prostitution to survive.

This vision is what makes Maynila: sa mga Kuko ng Liwanag relevant decades later. The issues it raised in 1975 are still present even up to now—Manila's poor still live in makeshift houses beside creeks, good jobs are still scarce, and many still work as prostitutes in order to eat.

Watching the film again is a little chilling, because it could have been shot at this moment. Julio Madiaga can exist in our time, and he won't be out of place.

This is why Maynila: sa mga Kuko ng Liwanag deserves to be restored. A timeless film like this is worthy of being preserved and viewed by everyone.


Lino Brocka's newly-restored Maynila: sa mga Kuko ng Liwanag (1975) will have its theatrical opening in select SM Cinemas starting this Wednesday, August 7. The film will have its run in the following SM Cinemas: SM North, SM Megamall, SM Manila, and SM South.


The film was directed by Lino Brocka, considered to be one of the greatest directors in Philippine history. He was the first Philippine director to enter into the prestigious Cannes Film Festival with his film Insiang (1978), while Maynila: sa mga Kuko ng Liwanag is the only Filipino film to make it to be included in the film anthology 1,001 Movies You Must See Before You Die.


ADVERTISEMENT - CONTINUE READING BELOW