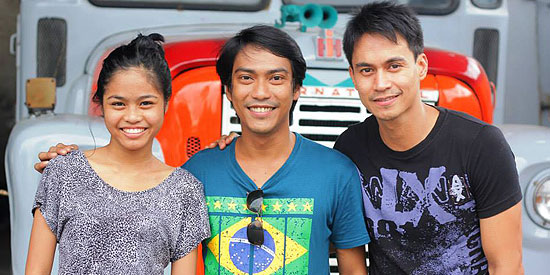 ---
Purok 7 validates that even a small-budget movie—like in the case of independepently produced films—can still become a quality piece.
The story is set in Purok 7, a small community in a far-flung province, which has yet to come to terms with the modern world, it seems.
In this impoverished little community, live two siblings, 14-year-old Diana (Krystle Valentino) and younger brother, Julian (Miggs Cuaderno).
Their mother went to China and served as a domestic helper in search of a better life for her family.
The absence of Diana's mom prompted her father, Ogie (Arnold Reyes), to live in with a woman (played by Angeli Bayani) in the more populated part of the purok. Now building his second family, Ogie detaches himself from Diana and Julian.
The two were left to live on their own in their small hut that stood alone in the middle of the fields.
Amidst this difficult situation, Diana and Julian still see the world through the eyes of children: they still manage to laugh, have fun, and in Diana's case, feel puppy love with the arrival of Jeremy (Julian Trono), her childhood friend, who came for a short vacation.
However, reality bites as the siblings have to deal with their their growing problems: their deteriorating relationship with their father, their adjustment to their father's mistress, and the struggle to remain hopeful after their mom was wrongfully accused of a crime she did not commit and was given a death sentence in a foreign land.
Directed by Carlo Obispo, Purok 7 was shot in the director's hometown in Tarlac.
It successfully depicts rural life, the poverty, the way of life and even the controversies that these far-flung places are not spared.
But amidst all these trials, it effectively shows the inherent human compassion and the genuine concern for one's fellow human being, which is common among people in rural areas.
ADVERTISEMENT - CONTINUE READING BELOW
Carlo—the recipient of the Young Cinema Competition's Best Short Film and Ishmael Bernal Award for Young Cinema for 123 in 2011—has written and created a very heartwarming and light movie, which also tackles the current plight of OFWs.
It raises social awareness about the situations of OFWs in an entertaining, refreshing manner, without beeing too heavily dramatic.
He was able to interject the right emotions, and his film elicits the right reactions from viewers, like in moments of laughter and moments that would tug at the heart.
If the ending feels a little short-changed, it is probably because that is how indie movies sometimes end—there is an unresolved finale for an after-effect even when the film is over.
The strength of this movie lies in its simplicity of depicting the way of life of residents of Purok 7.
And like a good movie, Purok 7 still manages to remain with you even after going out of the cinema.
Written and directed by Carlo Obispo, Purok 7 is one of the entries competing in the 2013 Cinemalaya Philippine Independent Film Festival.


The 9th edition of Cinemalaya will run until August 4, 2013. Entries are being screened at the Cultural Center of the Philippines, Greenbelt 3, Trinoma, and Alabang Town Center.

Ed's Note: The "PEP Review" section carries the views of individual reviewers, and does not necessarily reflect the views of the PEP editorial staff.