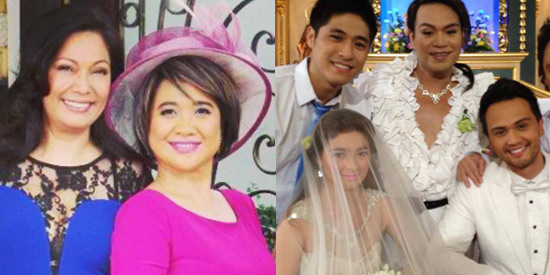 ---
Momzillas is one of the rare movies wherein we get to see Diamond Star Maricel Soriano strut her comedic skills after a long hiatus from doing comedy films. She was previously seen in the Jose Manalo and Wally Bayola-starrer D Kilabots, Pogi Brothers, Weh where she had a cameo role.
Now, Maricel Soriano is the star of this Wenn Deramas film along with newly touted "Rough Diamond Star" and a current comedy royalty: Eugene Domingo. The two are cast as feuding mothers to soon-to-be-married couple Andi Eigenmann and Billy Crawford, with mostly hilarious results.

Maricel plays the mother of Billy while Eugene is cast as the mother of Andi.

Maricel and Eugene are almost always at each other's throats because it turns out that they both fell in love with the same man in the past (played by Christian Vasquez). In an effort to bring the two feuding women closer, their children arrange for them to go on a cruise but Maricel and Eugene end up being marooned on an island.
Momzillas proves Maricel Soriano is indeed back and she never lost her comic talent despite her lengthy absence in the genre.
It is also a testament to Eugene Domingo's versatility and endless well of creative silliness.
Being a Wenn Deramas movie, it seems a requirement for characters delivering a punch line to speak in high decibels and move in over-exaggerated fashion to elicit a laugh or to maintain the audience's attention. Momzillas makes use of this style to the hilt. Though this technique worked in the first half of the movie, it became tedious and annoying as the film wore on. It also snuffed out any spontaneity that could have naturally come from the lead stars.
Ironically, the most hilarious moments in Momzillas came from low-key scenes with dialogue not calling attention to itself. These elicited solid giggles more than airy and short-lived guffaws. Candy Pangilinan also drew hysterical reactions when she delivered snappy lines in deadpan fashion.
ADVERTISEMENT - CONTINUE READING BELOW
At times, the laughs had to be wrung out from situations that Maricel and Eugene were put in. Being expert comediennes that they are, they managed to carry the scenes through despite the lackluster material they had to put up with, specifically in the second half of the movie where the humor was not adequately sustained.
There is also a hint of old movies weaved in the plot that makes one remember black-and-white Sampaguita flicks during the 1950s and 1960s. Whether this was an homage or an easy way to keep the story moving made the film predictable.
As the young couple who made the amusing battle between the two Momzillas possible, Andi Eigennman and Billy Crawford play second fiddle to the performances of the two female leads. It is unfortunate their characters were not given similar room to grow as the love story of the couple served only as prop to make the friction between Maricel and Eugene's characters interesting.
It would have been a hoot if Billy's natural comedic side was explored more in the movie.
Fans of the Diamond Star could find her performance and popular "taray" mannerisms reminiscent of the Maricel Soriano they have grown to love. Non-fans, on the other hand, might find her style overused, if not outdated.
Momzillas is more like a comedy party than a movie. It is a mixture of the old, the new, Wenn Deramas' style of funny, illogical scenes and special effects done not just to elicit laughs but to poke fun at itself.

One could argue that Momzillas is a clichéd remake of popular comedy movies.

Fortunately, the comedic talents of Eugene and Maricel made the film worth watching. It is decent entertainment for both kids and adults.

Ed's Note: The "PEP Review" section carries the views of individual reviewers, and does not necessarily reflect the views of the PEP editorial staff.


ADVERTISEMENT - CONTINUE READING BELOW