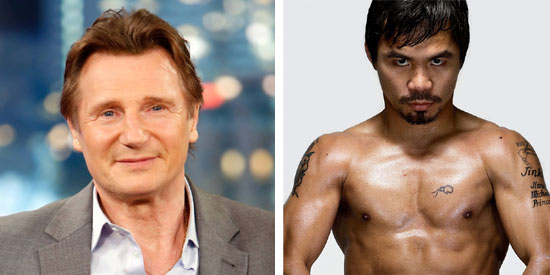 ---
I went into the screening of the documentary Manny fully convinced that I knew everything I needed to know about Manny Pacquiao, the "Pambansang Kamao" and the man who was once called the Pound-for-Pound King. After all, I am Filipino and I have lived in the era of this adulation of the boxer who has been credited with uniting his countrymen through his boxing matches. But I was wrong.
The film is a very engaging narrative of the rise and, some would say, fall of the modern-day hero. With extensive archival footage and photographs, in-depth interviews with Manny and the people around him, it weaves together an excellent story. Never mind that maybe, by virtue of being Filipino, I am biased for this story.
The structure of the story is like a well-crafted work of fiction. Yet, it is not all rosy and positive. Of course, it discusses the now-cliché reality of how a young man is forced to work in the very tough and dangerous world of boxing to support his family. It also juxtaposes the rural provincial life with the overcrowded and confusing city life. As a good, engaging story, it reveals conflicts in the form of challenging situations as well as challenging characters in the boxer's life. It's not all rosy at the top!
Aside from his rise to fame as a boxer, the film also delves into Manny's myriad of pursuits. The most hilarious, the part that elicited the heartiest laughter, was that which dealt with his foray into the music industry. A close second is the depiction of his foray into acting.
It was admirable how much access the crew had into the life of Manny. They not only scored interviews with key players, but also captured very candid, very frank commentary and situations as only those that are fully immersed in a documentary subject could.
ADVERTISEMENT - CONTINUE READING BELOW
The musical scoring and editing are remarkable. They elevate the documentary to high levels. We are swept along with every ebb and every wave of Manny's very dynamic life.


Liam Neeson serves as an omniscient narrator, as opposed to the first-person narrative of Pacquiao that gives us a more intimate peek into how he thinks. His low drawl was perfect for the narration.


The Irish actor commands authority not only because of the timbre of his voice, but also because he is a boxer as well. He was an amateur senior boxing champion as a youngster in his province in Ireland. Thankfully, acting took a hold of his heart and steered him in another direction.


Liam Neeson has previously voiced two documentaries, as well as lent his voice to TV shows like The Simpsons and animated features such as The Chronicles of Narnia.
One minor point: I would have preferred that they did not have Manny do some of the narrations in English. It just felt more authentic when he was speaking in Filipino—and much more so in the very few statements he made in his native Bisaya.
This movie, all two hours of it, is not merely a compilation of Manny's achievements and pitfalls, but a very well-crafted chunk of his life in full sound and color. I believe that it is a draw not only for the many celebrity "cameos" but even for non-Pacquiao fans or those that have scant knowledge of him. At the core, it is a portrait of everyman: a man who struggled, succeeded, fell, and struggles to come up on top again. It is a human interest story that is worthy of the big screen.


Manny will have its world premiere in the South by Southwest Film Festival and Conference in Austin, Texas.


It is included in the Documentary Spotlight category of the festival, which will take place from March 7-15, 2014.


(Read: Manny Pacquiao movie, narrated by Liam Neeson, will have world premiere in Texas)


The documentary will be shown in Philippine cinemas starting March 12 and will be distributed by Solar Entertainment Corporation.


ADVERTISEMENT - CONTINUE READING BELOW

Ed's Note: The "PEP Review" section carries the views of individual reviewers and does not necessarily reflect the views of the PEP editorial staff.