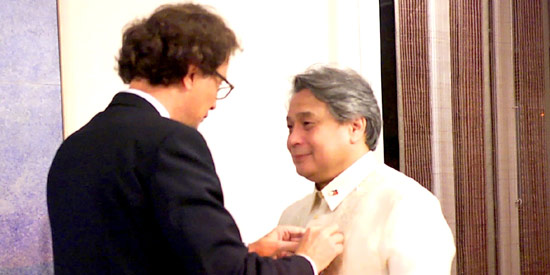 ---
Film Development Council of the Philippines chairman Briccio Santos was recently bestowed by French President François Hollande with the honor of being inducted into the Légion d'Honneur.
The French Legion of Honor is one of the highest distinctions conferred on an individual by the French government. The title given to an inductee is Chevalier dans l'Ordre de la Légion d'honneur.


Filipinos who were inducted in the past include the late President Corazon Aquino, General Carlos P. Romulo, and journalists Teodoro Benigno and Max Soliven.
Last October 24, the conferment ceremonies were conducted by France's Ambassador to the Philippines, His Excellency Gilles Garachon, in his home in Makati City.
Gathered at the small and intimate event were the family and friends of both Mr. Santos and Ambassador Garachon, film enthusiasts, and their guests.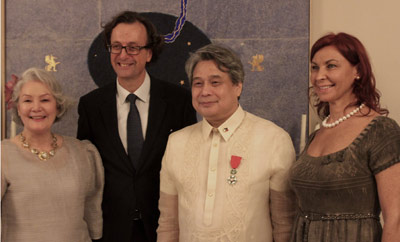 Mercedes Prieto Santos, Ambassador Gilles Garachon, and FDCP Chairman Briccio Santos


His Excellency Ambassador Garachon said: "The Legion of Honor is the oldest French medal; it's in fact a knighthood."
ADVERTISEMENT - CONTINUE READING BELOW
In 1802, French Emperor Napoleon Bonaparte created the medal, today considered the highest ranking French Medal of Honor.
Ambassador Garachon praised Chairman Santos as "a man of passion, a man of creation, a man who always wants to do something more, new, unusual."
The ambassador also said, "Cinema is creation. It is about human feelings, human histories, about our lives. This is the kind of cinema that Briccio is fighting for, and we French are extremely sensible to that."
A statement from the French Embassy said that France, known to be the birthplace of cinema, strongly commends the works and achievements of Mr. Santos and recognizes his efforts in the development and promotion of the Philippine cultural identity through cinema—specifically, the preservation of film heritage through the creation of the National Film Archives of the Philippines.
For his part, Briccio conceded that the honor was a recognition, not just for him but for the country, which is continuously working to bring culture to the forefront of national consciousness.
In his acceptance speech, Briccio said: "...in the 19th century, France embraced and welcomed our national hero Jose Rizal, who took refuge in Paris along with the Luna brothers, the reformist Ventura and other Filipino patriots as they emulated the ideals of the French revolution.
"It was at this time that Jose Rizal conceived and finished his Noli Me Tangere.
"And during our revolution in 1986, France was again one of the first countries to recognize the election and government of late President Corazon Aquino.
ADVERTISEMENT - CONTINUE READING BELOW
"France was always there standing by us when it mattered most."
The Film Development Council chairman ended his acceptance speech with: "Thank you for this honor, you have my deepest assurance that I will do my very best to be worthy of the distinction that your country, through you, have bestowed on me tonight."