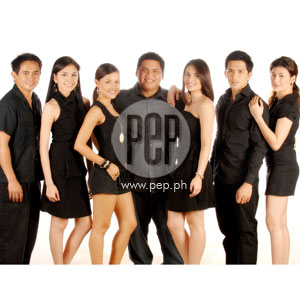 ---

Regal Entertainment brings together today'sbiggest and most sensational teen stars from the two giant TV networks (ABS-CBNand GMA-7) to star in the 9th sequel of its horror series Shake,Rattle and Roll.
Mother-and-daughter producersLily Monteverde and Roselle Monteverdeo-Teo will screen the three-part Shake, Rattle andRoll 9 on Christmas Day as their entry for the 2007 Metro ManilaFilm Festival.
Shake, Rattle and Roll 9 features threesegments with only one mission: to make audiences scream during the festive holidays.
The first episode, "Christmas Tree," tellsthe bone-rattling story of a family who spends a Christmas break at theirgrandmother's house after recovering from a painful tragedy. As they happilycelebrate their warm reunion, the eerie Christmas tree inthe living room watches them with unblinking, bloodthirsty eyes, waitingfor the right moment to turn each family member into its grand Christmas feast.
Director Paul Daza marks "Christmas Tree" ashis feature-film debut. He also co-wrote the script of this segment withFairlane Raymundo and Enzo Valdez. Nash Aguas (2006 MMFF Best Child Actor)plays the brave Stephen who discovers the key to stop the Christmas tree. Other who complete the cast are John Prats, John "Sweet" Lapus, Nash Aguas, Gina Alajar,Tonton Gutierrez, Boots Anson Roa, Sophia Baars, and Lovi Poe.
The second episode, "Bangungot," spins adaunting horror-suspense thriller about unrequited love. Young and beautifulMarionne (Roxanne Guinoo) is helplessly in love with the ultra-serious Jerome(Dennis Trillo) who is already engaged to Florence (Pauleen Luna). As Marionnedecides to confront Jerome, a red-cloaked phantom traps them both into a twilight- zone nightmare that leads to an unexpectedfatal twist.
ADVERTISEMENT - CONTINUE READING BELOW
Director Michael Tuviera (Lupin, ThePromise, TXT, Shake Rattle and Roll 8: "LRT Episode") will helm the firstteam up of Dennis Trillo and Roxanne Guinoo for the silver screen. Also joiningin the cast are Pauleen Luna, Jaymee Joaquin, Jayson Gainza, and newcomerAndrea Torres.
For the spine-chilling finale, "Engkanto"tells the uncanny tale of a teenage gothic band heading for a gig in a remoteprovince. Unfortunately, they find themselves lost in a forest, forcing them totake refuge in an abandoned resort. Unknown to them they have trespassed the territory of the stunningly tempting Engkanto (Katrina Halili) who hasmenacingly bound them in an inescapable deathly spell.
Screenwriter Andrew Paredes brilliantly teamsup with horror filmmaker, Topel Lee (Shake Rattle and Roll 8: "YayaEpisode," Ouija,) to drive viewers in an unrelenting horrific ride.Engkanto's cast includes Matt Evans, Mart Escudero, Melissa Ricks, JewelMische, Felix Roco, Sam Concepcion, Jojo Alejar, Hector Macaso, and KatrinaHalili.
This latest reincarnation of Shake, Rattleand Roll is filled with astounding visual effects that will take thefrighteningly macabre and grotesque stories to a whole new level.
Shake, Rattle and Roll 9 begins itshaunting on Christmas Day 2007 together with Regal's two other Metro ManilaFilm fest entries: Bahay Kubo and Desperadas.