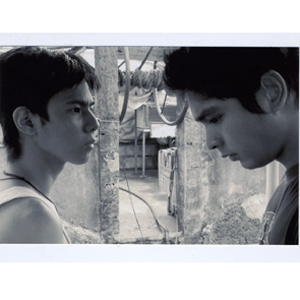 ---

A young boy desperately wants to own a set of drums,another young man needs money for the abortion of his girlfriend, and another fellow would kill just for the thrill of it—these are the characters whocomprise Adolf Alix Jr.'s digital film Tambolista.
Accomplished in just 14 shooting days, this gritty film features the dilemma of a young boynamed Jason (Jiro Manio) who desperately wants to own a set of drums. Taken fromthe root word tambol, the Tagalog word for drum, the filmfocuses on one boy's simple dream of owning a set of drums that costs P28,000.


Tambolista was written by Regina Tayag, which she created 10 yearsago for the Film Developmentcontest in 1995. As director Adolf read the script, he found that the story wasvery deep and dark. He only needed to update the story to include the use ofcell phones and other minor details so that the setting would be in modern-dayManila.


ADVERTISEMENT - CONTINUE READING BELOW
Cinema One, ABS-CBN's 24-hour Tagalog movie channel, aims toproduce films that are made by Filipinos to showcase local talent, creativity,and ingenuity. With this mission, Cinema One has become a venue for young andtalented filmmakers to get their break in the industry. Now on its third year,the annual Cinema One Originals Digital Film Festival will feature five filmsthat are in line with this year's theme, "Ang Kuwento ng Pinoy sa BuongMundo."
Tackling the issues of poverty, guilt, and redemption, Tambolistais set in the slums of Manila and shot in various locations such asQuiapo and Recto. It captures the lives of three men struggling withdeprivation and survival. Tambolista will prove that indeed "every beat counts"when it comes to pursuing one's passions and dreams in life.
Tambolista (2007)
Director: Adolf Alix, Jr.
Cast: Jiro Manio, Coco Martin, Sid Lucero, Ricky Davao, Susan Africa, AnitaLinda, Fonz Deza, Simon Ibarra
Line Producer: Arleen Cuevas
Writer: Regina Tayag
Associate Line Producer: Maxie Evangelista
Director of Photography: Albert Banzon
ADVERTISEMENT - CONTINUE READING BELOW
SYNOPSIS. For 14-year-old Jason (Jiro Manio), nothing is more fulfilling than playing the drums. It is one thing he loves,and his passion—to play his own set of drums.
However, unlike the constant, regular beat of the drum, lifeis a series of disconnected parts, sometimes skipping a beat or going too fast.
His brother Billy (Coco Martin) discovers that hisgirlfriend is pregnant and needs to raise money for an abortion. Pablo (SidLucero), their buddy, is kicked out of the house, jobless and carries a secretof his own.
As Jason tries to help Billy raise the money, he is caughtup in a web full of betrayal and violence. He may finally be able to get hisdrums but will it worth it?
Now, every beat counts.
Adolf Alix, Jr.'s Tambolista is one of thefinalists of the 2007 Cinema One Originals that will be shown on November 30 toDecember at Trinoma Mall, Quezon City, and Glorietta 4 in Makati City.


The other finalists are RicoIlarde of Altar, Jerrold Tarog of Confessional, and LawrenceFajardo of Prinsesa. Co-directorsVeronica Velasco and Pablo Biglang-awa collaborated for the entry MalingAkala.


ADVERTISEMENT - CONTINUE READING BELOW
Thefilms were produced by Creative Programs Inc. (CPl), one of the subsidiaries ofABS-CBN. The 2007 Cinema One Originals project celebrates its third year withan awards night on December 1 at the Grand Ballroom of the Renaissance Hotel inMakati at 7 p.m.



Trailer courtesy of Cinema One