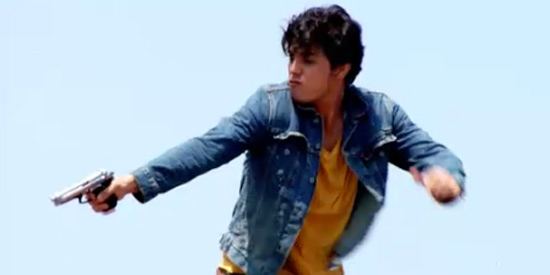 ---
Violence is never justified.
This is the main premise of 2013 Metro Manila Film Fest New Wave entry, Saka Saka, topbilled by Ejay Falcon and Joseph Marco.


This action film is being screened from December 18 to 24, 2013 at SM Megamall Cinema 7 and Glorietta 4 Cinema 1.

Based on real-life political killings in Abra, the story of Saka Saka succeeds in raising the alarm on the prevalence of violence, especially during election period in the Philippines.
In the movie, it is disturbing to witness the senseless waste of human lives. It is also chilling to see how far some people would go in order to quench their desire for power.
BASED ON REAL INCIDENTS. In some provinces of the Philippines, politicians give tracts of land to political assassins who tend to the land, hence the term saka saka.


(Read: Ejay Falcon shoots love scene with Kathleen Hermosa for Saka Saka, indie film about political assassins)


The film begins by showing the quiet, solitary life of an expert hitman or saka saka (played by Baron Geisler) who lives with his two kids Alex and Abner.
Baron's character is seemingly content cultivating a small piece of land while his children collect coal as a source of income.
It is in stark contrast to his real job, which is to assassinate Governor Rontilla's political rivals.
One night, however, Baron's character gets killed by the governor's enemies, leaving Alex and Abner traumatized but determined to avenge their father's death.
This unfortunate turn of events seals the kids' fate to become saka sakas (political assassins) just like their father.
GOOD CHARACTERIZATION. Ejay Falcon and Joseph Marco, who portray brothers in the movie, clearly portrayed the contrasting personalities of their characters.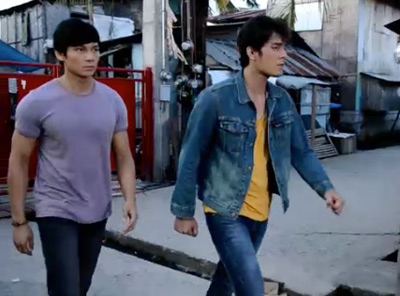 Joseph Marco (left) and Ejay Falcon are cast as brothers in the action flick Saka Saka
Ejay, as the grown-up Alex, becomes a hardened hit man who wouldn't think twice about getting the cruel job done.
ADVERTISEMENT - CONTINUE READING BELOW
At the same time, he feels strongly about owing a debt of gratitude to Governor Rontilla, to the point that he's willing to kill anyone who'd betray the ruthless governor.
Joseph, as the grown-up Abner, on the other hand, gets to continue his college studies, after much prodding from Alex.
As it is, Abner has always been soft-hearted and doesn't really have the makings of a hit man.
But this also paves the way for Abner to fully realize the governor's evil ways as well as the wrongness of a saka saka's way of life.
The difference in ideologies of the two brothers proves to be one of the vital conflicts in the movie.
ACTION-PACKED SCENES. True to its promise of reviving the action genre in Philippine cinema, Saka Saka showcased Alex (played by Ejay) engaging in face-to-face shootouts, mass killings, and brutal torture of his victims.
For me, the most savage part was when he tortured his fellow saka sakas past their limits. It is terrifying to see Ejay's transformation as an expert hitman with an utter lack of conscience.
Such display of explicit violence is quite hard to watch, which should serve as a warning to those who are planning to watch this R-16 movie.
While Ejay is quite good at doing stunts for shoot out scenes, the aspiring action star still needs to improve when it comes to hand-to-hand combat.
Saka Saka happens to be his first time to do action scenes for a movie (although he did shoot action sequences for the ABS-CBN teleserye Dugong Buhay) and I am optimistic that Ejay will do better in the future.
Another disturbing scene in the movie shows how easy and instinctive it is for the young Alex to just decide to end another person's life.
ADVERTISEMENT - CONTINUE READING BELOW
It emphasizes the sad plight of the marginalized sector in the society and shows how kids can become desensitized to violence because of the punitive environment they grew up with.
Will Alex and Abner ever find redemption in the only way of life they've ever known?
Saka Saka is a relevant socio-political film that deserves to be seen not only this Christmas season but throughout the year.


Ed's Note: The "PEP Review" section carries the views of individual reviewers, and does not necessarily reflect the views of the PEP editorial staff.