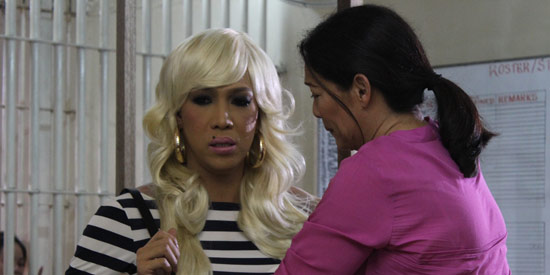 ---
Touted as the first Filipino movie where one actor portrays four characters, Girl, Boy, Bakla, Tomboy does not disappoint.


Vice Ganda, a daily fixture on our TV screens, has managed to suspend our disbelief, almost convincing us that indeed four different actors are portraying the characters of Girlie, Mark, Peter, and Panying.
The four are quadruplets separated at a very young age. Girlie and Peter end up with their rich father in the United States (played by Joey Marquez) while Mark and Panying stay with their mother in the Philippines (played by Maricel Soriano). A comedic riot ensues when health issues force their parents to reveal their family's secret.
Mark and Panying were left in the province with their mother, and Mark openly resents his siblings who enjoyed a better life in the U.S. It's ironic to see that something as serious as finding a liver donor for one of them is what gives Vice's characters the chance to exchange hilarious tirades. Never mind that there are a few predictable gag lines.
To portray his character Girlie, Vice previously revealed his "pegs" to be co-star Ruffa Guttierez and socialite Paris Hilton. The comedian succeeds in molding this character after them. You'll find Girlie's exaggerated American accent slightly irritating at first but you'll get used to it once the punchlines start coming.
Panying (Vice's tomboy character) and Peter, while their characters are vital to the story, take less of the spotlight. It's worthy to note Panying's mannerisms which are similar to those of Aiza Seguerra, earlier mentioned by Vice as one of his tomboy character pegs. It is evident that Vice studied his pegs well but he managed to put his own interpretations to effectively differentiate his take on the quadruplets.
Diamond Star Maricel Soriano shows her acting prowess by turning brief dramatic moments into performances truly worthy of that Best Actress award. For a minute or two, viewers may actually forget that they are watching a comedy film.


During the December 27 awards night of MMFF 2013, Maricel bagged the Best Actress award.
ADVERTISEMENT - CONTINUE READING BELOW
To top off the movie's great casting, Kiray Celis, Xyriel Manabat, JM Ibanez, and Rhed Bustamante who all play Maricel's adopted children, prove they are also quick on the draw, exchanging witty lines among themselves or with any of Vice's characters.
All in all, Girl, Boy, Bakla, Tomboy delivers four times the laughter it promised from the get-go, so you can afford to overlook its flaws such as the plot hole involving the health condition of one of the quadruplets or the sighting of the rough edges of Vice Ganda's prosthetic breasts.



Ed's Note: The "PEP Review" section carries the views of individual reviewers, and does not necessarily reflect the views of the PEP editorial staff.



(To learn more about this entry, visit PEP's MMFF 2013 microsite HERE)