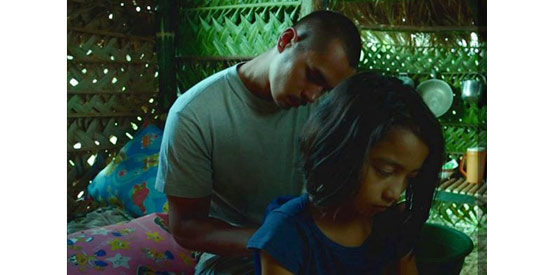 ---

Jake Cuenca and Barbara Miguel are the only Filipino artists nominated in the 4th Queens World Film Festival to be held in New York.

Jake Cuenca is nominated in the Best Actor Male category for his portrayal of an abusive father in the indie film Nuwebe.

Barbara Miguel, on the other hand, was nominated in the Best Actor Female category for bringing life to Krista, a young girl made pregnant by her own father. The nine-year-old child star actress is the only child star nominated in the said festival.

Nuwebe is also nominated in the Best Narrative Feature category and it earned for Joseph Israel Laban a nomination in the Best Director Narrative Feature. The drama film was Direk Joseph's entry to the New Breed category of the 9th Cinemalaya Independent Film Festival.

In the official website of the Queens World Film Fest, the film is described as follows: "Nuwebe is inspired by the actual story of one of the youngest mothers in Philippine history. Krista was just 9 years old when she became pregnant. Her mother believes that she was impregnated by malevolent supernatural creatures called 'nuno sa punso' but the real story will prove to be more complicated than it seems."

The 4th Queens World Film Festival is scheduled to take place from March 4-9, 2014 at Jackson Heights, Long Island City.


Last September 2013, Barbara won Best Actress in the 8th edition of the Harlem International Film Festival in New York.



NUWEBE ALL OVER THE WORLD. After competing in New York, Nuwebe is slated to compete in the Feature Film Competition section of the 13th Rome Independent Film Festival.

It is the lone Philippine entry in the said film fest that will take place in Rome, Italy from March 16-23, 2014.

Nuwebe will compete against five other films namely:

Paradise Cruise directed by Matan Guggenheim (Israel/Germany)
Return To Zero directed by Sean Hanish (USA)
Tempo Girl directed by Dominik Locher (Switzerland)
The Girl From The Wardrobe directed by Bodo Kox (Poland)
Wounded (La Herida) directed by Fernando Franco (Spain)


The incest drama will also be competing in the CinemAsia Film Festival to be held in Amsterdam, The Netherlands from April 1-6 as well as the Festival Cinematográfico Internacional del Uruguay to be held from April 10-20 in Montevideo, Uruguay.
ADVERTISEMENT - CONTINUE READING BELOW