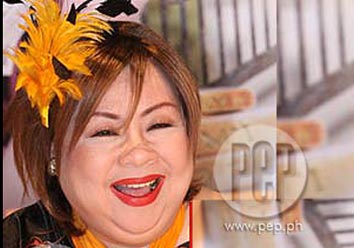 ---
Comedienne Nanette Inventor has proven that talent, professionalism and dedication to the craft can sustain one's career in the long run.
Currently, Nanette is busy dabbling into a lot of different things that exhibit her gifts as a performer, comedienne, and actress.
Nanette just wrapped up shooting for two upcoming movies: Filemon Mamon and Beauty in a Bottle.
In Felimon Mamon, she plays the role of the lola of the lead character with the traditional view that being fat is synonymous with being healthy.
"My character believes that the best way to everyone's heart is through the stomach," says Nanette of her role. "She, however, changes her ways in the process."
In Beauty in a Bottle, on the other hand, she is cast as the rich balikbayan matron mother of lead star Tom Rodriguez, who is about to get married.
"Wholesome yung character ko," shares Nanette. "And I believe that 'beauty is skin deep.'"
Nanette also reveals that she is still developing new materials for her stand-up gigs, including further improving her hit impersonation of Janet Napoles (Nanet Nafoolish). She is also set to launch her new character Dr. Beki Belat, slated for a KPub The Fort run.
"I also am working on a super heroine character," says Nanette with a giggle. "And, a beauty queen character!"
The comedienne is also busy doing shows here and abroad.
"Praise God for gracing me with the gift of entertainment," expresses Nanette. "Through this, I can touch lives. I remain grateful."