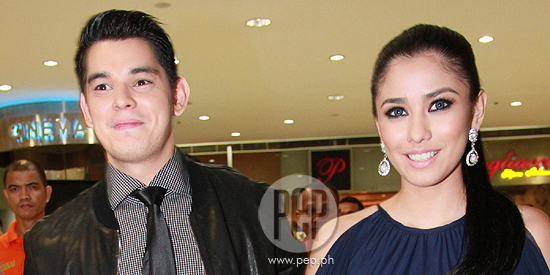 ---

Overtime, topbilled by Richard Gutierrez and Lauren Young, turns out to be a dark comedy.
In the film's trailer, there's no hint of the funny scenes that await moviegoers.
It is mainly projected as a suspense-thriller, wherein the romantic tryst between two newly-acquainted online chatmates suddenly turns into a nightmarish encounter.


THRILLER. In Overtime, Lauren portrays the role of Jody, a hardworking, albeit, asthmatic secretary in a pharmaceutical company.
Early on the film, it is established that she's hard-pressed for money due to her ailing mother and dependent father.
Hence, she's forced to hold on to her job despite the bad reputation of her boss.
As a spectator, one can't help but anticipate the impending danger in her messed-up family and work life not only because of Jody's ill-fated situation but also due to the background music that practically spells doom.
This aids the element of suspense coupled with the use of close-up shots to focus on objects that are significant in developing the story.
ADVERTISEMENT - CONTINUE READING BELOW
One such example is the biscuit tin where Jody keeps her stash of money for emergency.
It makes you think why the character still looks stressed when she has already found the means to pay for her younger brother's (played by Renz Valerio) tuition.
Add to Lauren's flair for drama, the film delivers a dread feeling of suspense and the need to find out what will happen next.
COMEDY. Richard, on the other hand, takes on the role of Dom, who turns out to be a psycho with a sense of humor.
Although Richard seems to be trying hard to look the part of an enraged terrorist, he manages to make you laugh with his unexpected witty remarks in what's supposedly a dire situation for his victims.
But there are still cringe-worthy moments every time Richard's character hurts the people around Lauren.
Overtime is comprised of good supporting cast members that hype up the comic events in the film.
ADVERTISEMENT - CONTINUE READING BELOW
Expect loads of laughter from certified comedians Baerwin Meily, Roadfill Sparks, and Mitch Valdez.
Some of the must-see funny scenes include the first encounter of Mitch's character (a retired policewoman) with Richard as well as Bearwin's (officemate/suitor of Jody) confrontation with Richard.
With its dark comedy theme, Overtime is certainly a nice change from the usual drama or romantic movies that's usually headlined by Richard and Lauren's generation of stars.
Overtime revolves around Jody, a seemingly-innocent working girl who finds a bomb attached to her body after a midnight tryst with her online pal, Dom.
Can she survive the clutches of Dom, who used her as a means to accomplish a greater danger involving the people around her?

Find out in Overtime directed by Wincy Ong and Earl Ignacio. Now showing in theaters nationwide.
Overtime is given an R-13 rating by Movie and Television Review and Classification Board (MTRCB).
ADVERTISEMENT - CONTINUE READING BELOW