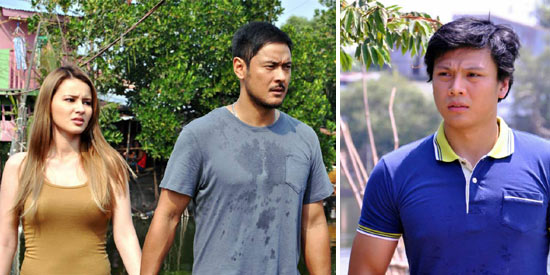 ---
The indie film Kamkam (Greed) is likely to hook viewers from start to finish.

Viewers are given little room to breathe as tension between the lead character Johnny (Allen Dizon) and the local barangay authorities flares up, drama between Johnny's wives and Sitio Kamkam's barangay officials simmers, and conflict between Johnny's first & second wives versus his third wife explodes. The trouble also intensifies between Johnny's eldest female daughter (Joyce Ching) and son (Lucho Ayala) along with their respective boyfriend and girlfriend.
Add to that, the impending war between illegal residents of the sitio against the City Mayor and Philippine National Police, and it is almost impossible to turn your head away from the screen.
If Kamkam were a teleserye, the non-stop onslaught of confrontational scenes is the perfect way to keep audiences glued to their seats.

But being a film, the continuous emotional battering has the tendency to leave viewers callous witnesses to Johnny's and the characters' fate. It is similar to hearing a noisy next-door neighbor's private argument turn to a loud public fight: you can't help but stop, look and listen out of curiosity, not necessarily because you care.
One of the most authentically poignant scenes features Sitio Kamkam dwellers locking their arms together to stand up against the police assigned to demolish their illegal homes. It required little dialogue yet audiences were able to empathize with the residents. The scene perfectly captured the feelings of helplessness and futility against the greed of the "powers that be." It is also a scene where director Joel Lamangan's advocacy shines through.
Allen Dizon competently portrayed the role of Johnny: a man struggling to provide for his three wives and a slew of kids by engaging in illegal activities.
Jean Garcia and Sunshine Dizon as Johnny's first and second wives, respectively, look appropriately harried and hurried as the women who always have to beg for Johnny's attention, yet are satisfied enough to be given crumbs.
ADVERTISEMENT - CONTINUE READING BELOW
Jackie Rice (as Johnny's latest wife and "flavor of the month") is a revelation, not just because of her daring scenes but, more importantly, for the depth and maturity that she showed.

Director Joel Lamangan was impressed by Jackie's performance and sensitivity, even venturing to claim, "...she should be given more roles that will challenge her…She is an actress."
Elizabeth Oropesa, as Johnny's doting mother, managed to make a minor character a memorable one.
Also memorable was Jaime Pebanco's portrayal of Arthur, a gay thug (or "baklang siga") who is loyal to Johnny despite the latter's treatment of him as a pawn whose sole responsibility is to fulfill Johnny's wants and needs.
Kerbie Zamora is appealing and tragic as the ex-boyfriend and true love of Jackie's character.
Kamkam captures contemporary societal problems with accuracy, given today's fascination with the culture of corruption.

However, the film's attention-grabbing style seems better off as a TV-movie rather than an independent film.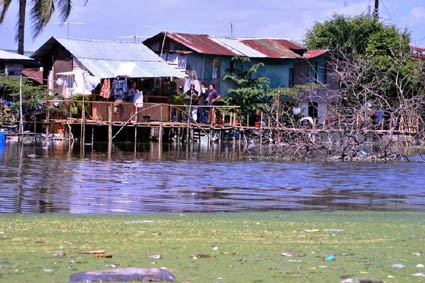 Last May, the location used for the shoot—Barangay Aplaya in Kawit, Cavite—was razed down by fire, five days before Kamkam had wrapped up.


Written by Palanca-award winner Jerry Gracio and directed by Joel Lamangan, Kamkam is graded A by the Cinema Evaluation Board. The film has an R-16 rating "Without Cuts" by the Movie and Television Review and Classification Board.


The film will be seen in selected cinemas nationwide starting July 9, 2014.



Ed's Note: The "PEP Review" section carries the views of individual reviewers, and does not necessarily reflect the views of the PEP editorial staff.