There is constant debate about the difference between mainstream and indie film sensibilities. As a result, films become categorized as either mainstream or indie, as though one were better than the other. One of the finalists for the 2014 Cinemalaya Independent Film Festival, Mariquina blurs the distinction between mainstream and indie. Quite simply, Mariquina is a good movie.
Unlike the former Philippine First Lady, Imelda (played by Mylene Dizon) is indifferent towards shoes. They remind her of her difficult relationship with her shoemaker father, Romeo (played by Ricky Davao). Growing up, all of her shoes were handmade by him. Now a mature woman, she learns of his death. She searches for the perfect pair of shoes for her dead father. The deeper she searches for the perfect shoes, the more she finds herself.
The screenplay, written by Jerrold Tarog, is well-crafted. It is hard not to compare Mariquina to Jerrold's other screenplay, last year's Cinemalaya film Sana Dati. In both films, the scenes alternate between the past and the present. The bulk of the story takes place in the past, and the story is told mostly in flashback sequences. Both films have a somewhat thin present story arc that culminates in an event.

Also, the protagonists of both films behave in a way that seems strange for the occasion. In the case of Sana Dati, the bride-to-be played by Lovi Poe, is getting married, but she feels apprehensive about her decision. She spends most of her wedding day in the company of her ex-boyfriend's brother.

In Mariquina, the event is a funeral. Instead of grieving and planning her father's funeral arrangements, Imelda seems unmoved. She focuses on finding the perfect shoes for her father instead. In both films, the audience gradually understands the characters' unexpected actions by learning about their past.
This alternative structure is quite effective in Mariquina. By gradually revealing Imelda's back story through flashback sequences, the audience remains hooked until the end of the movie when the past catches up to the present story and culminates in an emotional resolution.
Both films also use shoes as a metaphor. In the case of Mariquina, the handmade shoes Imelda's father gives her, symbolizes the anger she feels for him. By finding the perfect shoes for her father, she gradually lets go of her anger and finds closure.
The actors portray their roles very well. Ricky Davao shows Romeo as both a tragic hero and a failure. He valiantly tries to keep his shoemaking business intact while his relationship with his daughter crumbles. He is a flawed character, yet it is hard not to root for him. In one particular scene, he eavesdrops on teenage Imelda (Barbie Forteza) as she talks on the phone with her estranged mother, Leonor (Che Ramos). He hears his daughter lament about how miserable she has been. He starts crying, and the moment is so real, it is heartbreaking. It is the moment when a father realizes that he has failed.
Mylene Dizon also portrays Imelda well. Her character doesn't reveal much, but you can sense the sorrow masked by her seemingly cold demeanor.

Barbie Forteza is a revelation. She shines in her portrayal as teenage Imelda. In the scene where she is waiting at a Chinese restaurant, you feel her vulnerability when she realizes that her mother has left her. Barbie's scenes with Tita Tess (Bing Pimentel) are quiet but dramatic. Both actors navigate through the subtle rivalry their characters share.
Che Ramos also delivers a nuanced performance as Leonor, the shy and stoic wife. She hides her pain behind her sweet smile. Her scenes with Bing Pimentel are so quiet and contained that they are like a bomb waiting to explode.
The actors' fine performances are a testament to Direk Milo Sogueco's talent as a director. Direk Milo's shots tell a story. The superb cinematography of Sasha Palomares shines through. Every shot is well composed and beautifully lit. In one particular scene where Romeo is making leather shoes, the mundane scene is elevated into something sentimental and extraordinary. The scene effectively communicates Romeo's passion for making shoes.
Production design Aped Santos recreates the period just after the fall of the Marcos' dictatorship and the beginning of the Aquino administration. The production design, hair and wardrobe reflect that era in a way that is not cartoonish. The make-up is equally laudable. The subtle and realistic-looking make-up helps Ricky Davao and Bing Pimentel look like older versions of their characters.
Jerrold Tarog's musical score is like another character. It reveals what the characters are feeling. A simple wordless scene such as when Imelda is driving her car becomes bittersweet because of the music.
While watching the film, it is hard not to get swept away by the emotion elicited by the music, the acting, and the well-shot scenes. But it seems there are lapses in the characters' journey. It is hard to track Imelda's journey to understand why she finally forgives her father. Also, why isn't she racked with guilt over her father's suicide? Is she justified in hating him in the first place? Is Romeo in fact a good husband or a bad one? Why does he kill himself? These questions may have been purposefully left unanswered, but in doing so, the characters become less believable. It feels as though the characters sometimes act in a way that is cinematic but not necessarily realistic.
Overall, Mariquina is a beautifully shot film that tugs at the heartstrings.

Directed by Milo Sogueco, this film is an official entry to the New Breed category of Cinemalaya X.


Mariquina is being screened until August 10 at the Cultural Center of the Philippines, Trinoma, Greenbelt 3, Ayala Fairview Terraces and Alabang Town Center.


(To learn more about the Cinemalaya 2014 entries, CLICK HERE)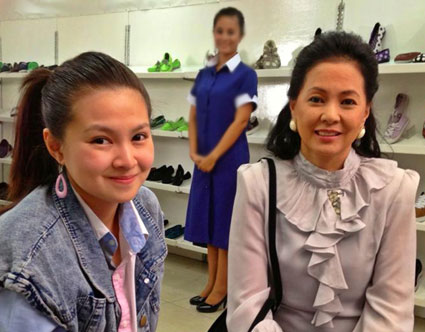 Barbie Forteza (left) is cast as the young Imelda in Mariquina; she is joined in this photo by co-star Bing Pimentel



Ed's Note: The "PEP Review" section carries the views of individual reviewers, and does not necessarily reflect the views of the PEP editorial staff.