Jasmine Curtis reveals that two malls refused to hold block screenings for their horror film Maledicto.
Through her Twitter account, Jasmine wrote: "Two malls in Taguig declined our block screenings because apparently they don't screen local films anymore."
Maledicto, which also stars Tom Rodriguez, is the first-ever Filipino film produced by Fox Philippines.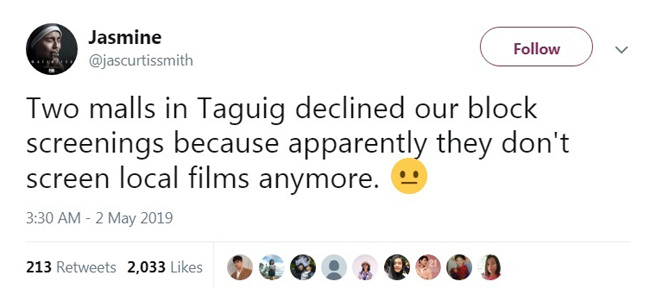 Netizens sympathized with Jasmine and one even described a similar incident with a different mall.
"I also inquired at a small mall here in Pasig and they added me to their email list. I receive info on movies to be shown in advance and there are no local films on the lists :("
In response, Jasmine wrote, "Ang lungkot."

The Maledicto actress also retweeted the post of a netizen comparing the way theaterowners treated Hollywood movies and Filipino films.
A Twitter user using the handle @andgetanaquin wrote:
"international films: 24 hrs/ all cinemas
"local films: mall hours/ minsan wala pa maski isa."

The GMA-7 actress appealed to Pinoy moviegoers to support their film. She retweeted the photo of a netizen indicating that Maledicto is the lone Filipino movie that dared compete against Avengers: Endgame in the Philippine box office.
Jasmine then wrote on her Twitter account:
"Help us stay in cinemas til the weekend pls it's a really tough fight but I promise you that it's worth the watch"
In Jasmine's current movie project, Maledicto, she plays Sister Barbara, a nun endowed with a spiritual gift, or charism.
She is also a teacher, and she believes that one of her students, Agnes (Miles Ocampo), is possessed with evil spirits.
Sister Barbara seeks the help of Father Xavi (Tom Rodriguez), a priest who's also a former psychologist and skeptical exorcist.
When asked about the meaning of the movie's title, Jasmine explains that the word Benedicto means "blessed" in Spanish.
"'Bene' means good, 'male' is bad," she said. "So yung 'dicto,' in Latin, it means meaning 'to say' or 'to speak.'
"So para kang nagsi-speak ng something bad, mga ganyan, or something that's not to be spoken of, mga ganyan.
"So doon na nagsimula yung parang, 'Anong hindi dapat namin pinag-uusapan sa pelikulang 'to? Ano yung horror doon sa kuwento?'"
Last December, Jasmine avoided having her movie, Maledicto, compete with her older sister Anne Curtis's starrer, Aurora.
Maledicto and Aurora, which are both horror flicks, were submitted for competition in the 2018 edition of the annual Metro Manila Film Festival (MMFF).
But only Aurora made the cut, and it went on becoming the third top-grossing entry.
Maledicto, on the other hand, opened on Labor Day, May 1, 2019.
Even if her movie had been an MMFF 2018 entry, Jasmine said in an interview with PEP.ph (Philippine Entertainment Portal) that it won't pose a problem with her and her Ate Anne.
"Sa amin kasi wala lang siya," Jasmine explained. "I mean, parang, mas iniisip lang namin not so much the festival.
"But more of, 'O, at least, sabay tayo dito sa Pilipinas. May work ka, may work din ako. At pareho pa work natin.' Mas more of gano'n."
Jasmine added that she and her sister are more concerned about spending time with their parents, especially their mother Carmen, who's based in Australia.
"Unahan kung sino makaka-Pasko ni Mama sa Australia," she said. "Mas nado'n yung competition namin—na kay Mama at saka kay Daddy—kaysa trabaho."
Jasmine and Anne flew a week apart last March to the Australian city of Melbourne to be with their Mama Carmen, who had an operation at that time.
Jasmine admitted, though, that she and her sister teased each other about a would've been possible MMFF showdown.
"Si Ate kasi mapang-asar," she said, laughing. "Pero more than anything, loving siya. Support lang talaga siya."
For instance, when the GMA-7 teleserye, Sahaya, premiered on March 18, Anne, an exclusive ABS-CBN star, promoted it via Twitter because Jasmine played an important role during its pilot week.
Recommended Videos