Sagip Pelikula. It has become completely necessary in this day and age. But what is it?
This landmark campaign under ABS-CBN Film Restoration is spearheaded by Leo Katigbak and was recently awarded an International Gold Quill by the International Association of Business Communicators in Vancouver, Canada, one of the few Asian entries to make it this 2019.
This marks the second time they've gotten this award, the first being in Toronto, Canada.
Leo credits that winning this award the first time, an Excellence Award at that, is in large part due to the partnership with Piolo Pascual.
Piolo as a superstar celebrity lent his status to Sagip Pelikula's campaign, a feat no one else thought to replicate anywhere else.
Since 2011, over 180 Filipino movies have been digitally remastered by the film restoration project Sagip Pelikula.
Leo points out that now, more than ever, Filipinos need Sagip Pelikula, "Bakit tayo, sa pelikula natin, pag pop culture references, di tumatawa ang mga tao, kasi di nila alam o di sila familiar, like di nila kilala si Tony Falcon na si Agent X-44?"
The fictional character, a sort of James Bond of the Philippines, was played by actor Tony Ferrer in the 1960s.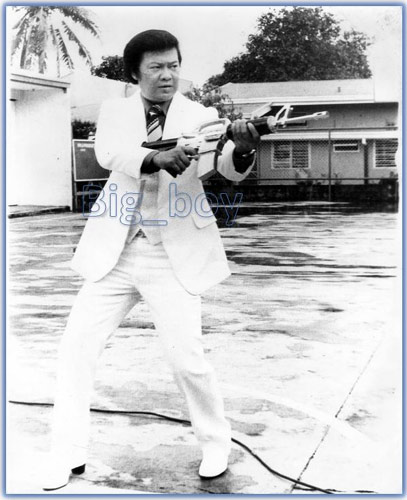 Tony Ferrer portrayed a spy named Tony Falcon aka Agent X-44 during the 1960s
Awareness to keep pushing for what Sagip Pelikula does is of prime importance, because while celebrity-driven campaigns help, people need to first understand why a budget, sometimes in the millions, is spent on restoring films old and not so old (pre-digital 2000s specifically). People need to get on-board with the concept of film restoration, which unlike other materials, does not have a budget in the millions to spend on marketing.
With these challenges notwithstanding, chief among them public interest, restoration costs, state of source material for restoration, and complicated music rights issues.
Directors such as Laurice Guillen and Chito Roño have told Leo that they understand, especially since IP (intellectual property) was not as valued back then, as the ABS-CBN executive explains, "Mas gusto nila ginagawa namin para mapanood ulit ng tao para hindi sila makalimutan."
So what does it mean to rescue films and restore them? Sagip Pelikula has its roots in 1994 when the ABS-CBN Film Archives started to preserve and restore.
Costs back then were prohibitive, Leo recalls, "Like Oro, Plata, Mata, kaya lang, wala pang digital noon. It would have been analog restoration. At the time, it would have cost us P25 million and it would not be as clear as it is now."
But by 2011-2012, the first successful restoration of Himala in digital form came out. The campaign of Sagip Pelikula was then branded as they were looking for a central theme or a handle to help with the project—the name made it easier to promote and communicated the point correctly and directly.
Sagip Pelikula has immense value in a world increasingly consumed by "free" content online and a click away habit. They offer quality content with richer, cultural meaning.
For Leo, "It's unique, as most restoration and most archives, once restored, it returns to the vault. For me, pag nirestore ang pelikula, irestore mo para mapanood ng tao. Restoration is only half of the process, the other half is getting it and communicating it to the people, reproducing it."
With each film restoration costing around 3,000 hours of work, which means multiple teams of about 60 people total working simultaneously to finish one film. As an example, Misteryo sa Tuwa was originally estimated to go for 30,000 hours costing about P40 million.
Misteryo sa Tuwa was the 1984 film starring Johnny Delgado, Ronnie Lazaro, and Ama Quiambao.
PROCESS OF FILM RESTORATION
Print and reel storage for restored films has been a major concern, because films from the '50s, '60s, and so on are sometimes housed abroad. Newer films made between 2005-2012 can take just 200-500 hours of restoration.
One of the team members of Sagip Pelikula, Julie, gave a quick overview of how a film is restored: a film specialist first examines the source material, usually a person who is familiar with the film industry from back then.
They inspect for repairs and cleaning marks before the material is scanned onto film, becoming a digital form starting with HD then 4K. Color grading is the next step where each film, frame by frame, is fixed. The most time-consuming part comes after, where frame by frame, scratches, holes, and other impurities are cleaned. All of the films from the '90s and below have the most scratches and molds, naturally. Restoration artists devote their time to this, painstakingly and lovingly.
At this point, the quality checker previews, making sure sound and visuals match. With any of these steps, if mistakes are still found, the process goes back to the point which needs to be fixed.
Audio syncing and preparing the film with subtitles are part of the last steps.
Directors and cinematographers of the original film are similarly invited to join the process of film restoration.
An avid supporter, Direk Carlitos Siguion-Reyna has sat down during the film restoration process of his films, sitting in for the audio and picture cleaning. Marilou Diaz-Abaya also sat in when Karnal was restored.
This is another reason why Sagip Pelikula screenings cannot also be done for free, as respect has to be paid to the intellectual property rights of the original filmmakers. Money was put into restoring, as much as money was put into making the material in the first place.
Restored films, while they may be legally reproduced, cannot be simply downloaded or screened for free. Someone has to foot its bill.
Leo explains that in terms of exposure, multiple and consistent timing is key whether it be in micro-cinemas, special screenings in major theaters like Rockwell and Ayala Malls where Sagip Pelikula gets one-week guaranteed showings.
Ideally, Leo's plan involves, "Regular theater showings and as part of campus tours. Hopefully, the gradual introduction of movies builds an audience na steadily will follow the restored movies. We need critical mass."
The academe, one would think needed no convincing, but they are the ones who have the challenge of making sure an auditorium is filled up, exposing the students to restored films, old and new.
Leo is also aware of how far down the food chain restored films are when it comes to theater distribution, "I know I am not a top choice, so I have to work harder, to be creative in promoting it, communicating it through new trailers, new posters."
He hopes that their modern, millennial gimmicks will catch the attention of the young people while keeping the poster that appeals to the original generation that saw the movie in its time.
Platforms such as iWant, iTunes, and Amazon Prime help in recouping costs of restoration as much as Sagip Pelikula tries to maintain the original aspect ratio the way it was shot, whether in the '70s, '80s, and so on.
Leo says that another challenge is when source material is missing, "A lot of the copies haven't survived but ideally, all of those should be preserved also."
He narrates one instance when a Vilma Santos Darna film became a horror flick. This happened in Thailand where the material was edited. It turned out that Valentina—and not Darna—became the focus.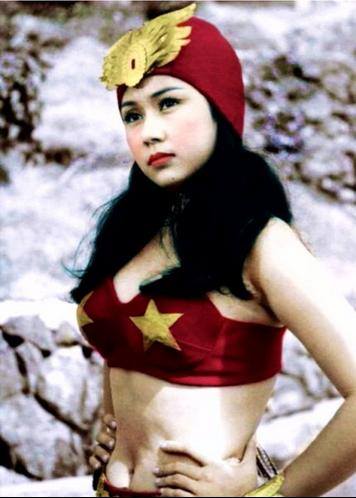 Vilma Santos brought life to Darna in several movie adaptations
With Sagip Pelikula, Leo reiterates that they are not limiting the definition of classics and what can be restored, "All of the Star Cinema... Like One More Chance, that is a modern classic, iconic."
He also does not want to be exclusive, restoring only films that won in film festivals or were given local awards.
For Leo, films that made money in the box office need restoration too, stating as an example Wenn Deramas movies, "They may not win awards but there is a reason why they are big blockbusters. Bakit sila nagwork, ano ang natamaan niya na nerve sa Pilipino. Minsan ang mga filmmakers, nakakalungkot, pag sinabi nila 'kasi ang masa' in a very condescending look at the audience... Remember, itong mga taong eto, nagbayad para mapanood yan. You cannot look down on these people. It's a matter of personal taste. Yes, yours can be the best art film, e, bakit walang nanood?"
Sagip Pelikula hopes to be inclusive by giving a more accurate lens of movies that reflect on the identity, the situation of the Filipino, masa and all included, "People are voting with their money, there must be a reason why that movie is important to them. To me, important na you restore those."
For Sagip Pelikula, they value restoration from the context of the film, like understanding how a film became a hit, as Leo explains, "They were all hits at a particular time for a reason."
He even gave Dolphy's moniker as the King of Comedy as an example, "Much of his work surviving is when he was older. But, Captain Barbell, John en Marsha, his works when he was younger, when we showed this, you should have seen the people, young kids and old, tawa sila ng tawa. Kaya siya King of Comedy, kung may [Charlie] Chaplain sa America, tayo may Dolphy. Di makalimutan ng tao, ibang klase magpatawa si Mang Dolphy."
Or take Himala, where people know the lines and it has become such a popular meme.
Or the Nora Aunor-starrer Minsa'y Isang Gamu-Gamo, to which Leo says, "Doon nakita yung kuntexto kung saan galing ang linya [ni Nora na] 'My brother is not a pig.' So there is value in seeing the actual context where lines come from."
Foreign film festivals have always placed more value on Filipino movies by requesting the classics for screenings, or Venice Film Festival calling to ask for premieres of restored films. Movies like Ganito Kami Noon, Paano Kayo Ngayon (1976) and Nunal sa Tubig (1976) also get constant requests.
"Fukuoka Film Festival has asked for them," reveals Leo, "Kakatuwa, foreign countries, sila nakaka-appreciate ng luma nating pelikula."
Leo wishes this trend to be carried locally, "Yung ganoon interes abroad sana maging ganoon din interes ng kabataan natin sa Pilipinas sayang, e, there is so much we can be proud of sa ating film legacy."
RESTORATION OF FILIPINO FILMS
Renowned Hollywood filmmaker Martin Scorsese previously worked with the Film Development Council of the Philippines to restore Lino Brocka's Maynila.
The restoration of Maynila was spearheaded by Oscar-winning filmmaker Martin Scorsese, the man behind the World Cinema Project (formerly World Cinema Foundation).
Scorsese is the director behind Taxi Driver, The Departed, Shutter Island, and The Wolf of Wall Street.
In fact, Scorsese said in a video shown at the Philippine premiere of Maynila held at the University of the Philippines-Diliman in 2013: "We were thrilled when the opportunity came to restore Manila, one of Brocka's greatest films."
Participation from the Pinoy celebrities involved in the original film also creates constant awareness.
In the case of Ikaw Pa Lang ang Minahal, starring Maricel and Richard Gomez, it helped that Maricel went to the restored film premiere and did an audio recording of the commentary.
Leo says with a smile, "Nakakatuwa, the actors are no longer required to do anything to promote it. But the fact that they go and promote is something very, very important."
Lucy Torres and Richard Gomez likewise showed their support when the restored Hihintayin Kita Sa Langit was premiered. Batang PX stars Zsa Zsa Padilla and Patrick Garcia went to UP Diliman for the premiere. Sana Maulit Muli's Aga Muhlach and Lea Salonga showed their support as well, with Lea even tweeting about it.
Leo adds that with Lea's strong social media presence, she would break the poster or teaser material ahead of Sagip Pelikula for maximum impact. Milan's Iza Calzado, Claudine Barretto, and Piolo Pascual all showed up for the premiere too.
U.S.-based Hilda Koronel, whenever she finds out that any of her old movies are being shown, shares the information and details on her social media. Leo can't thank artistas enough for attending the restored films' premieres, even when they aren't part of the film. He says support from Ria Atayde and Angel Aquino, to name a few, has been appreciated.
Bad Bananas sa Puting Tabing was able to premiere at the 2019 Cinemalaya Film Festival, while Bilanggong Birhen was shown in micro-cinemas. Misteryo sa Tuwa and Bulaklak ng City Jail all got Cinema One Originals premiere red carpet events. The QCinema International Film Festival also contracted some free to the public showings of Malvarosa and Biyaya ng Lupa.
When Magic Temple premiered in Rockwell, Julian Hernando flew in from the U.S., and the films expanded to two cinemas because of overflow.
WHAT FILIPINO MOVIES WILL BE RESTORED?
For 2019 with spillover to 2020, about 20 movies including Star Cinema movies like Minsan Lang Kita Iibigin and Kailangan Kita will be released.
Other movies include Tinimbang ang Langit starring Kuh Ledesma and Christopher de Leon; Tisoy by Ishmael Bernal starring Christopher de Leon; and Soltero starring Pio Castro and Jay Ilagan, the last movie from experimental cinema.
Fans can look forward to the digitally remastered version of the Richard Gomez-Dawn Zulueta movie Saan Ka Man Naroroon (1993).
Two more Carlitos Siguion Reyna movies and two more Dolphy movies are in the lineup.
Classic films undergoing film restoration are from LVN Pictures such as Manuel Silos' Biyaya ng Lupa (1958), the original Ibong Adarna (1941) directed by Vicente Salumbides, Gregorio Fernandez's Malvarosa starring Charito Solis (1958), and Lamberto Avellana's Anak Dalita starring Rosa Rosal (1956).
And until film restoration, storage, and its screening becomes a law to be enforced, even with the presence of a National Archives, it is up to the stakeholders in both public and private capacities to keep rescuing our culture as captured in film through the ages.
As Leo has shared, it is in our shared interest to keep these films in shape and pass them on to the generations after us so that through these films, they will glimpse a slice of life for when that film became relevant to the Filipino public—adding better understanding of our shared cultural identity as a nation.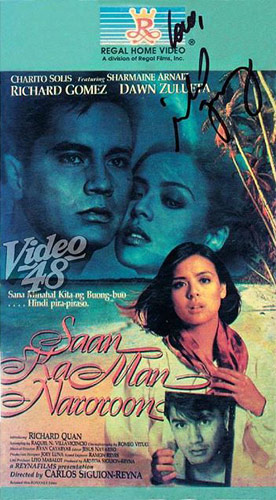 The Richard Gomez-Dawn Zulueta movie Saan Ka Man Naroroon is one of the restored Filipino films to be shown in the future.