Jasmine Curtis-Smith seems unfazed by some netizens' slurs about the Metro Manila Film Fest (MMFF) entry Culion.
On December 27, 2019, Jasmine posted a series of photos from the film on her Instagram page.
Her caption read (published as is), "Our community in @culionfilm [heart emoji]

"Out in theatres now. [smile emoji] And if it isn't, ask your local cinema and make sure others help demand for it, too so that they screen us there! [heart and film frames emoji]"
While her post earned a lot of positive comments, the 25-year-old actress chimed in when an Instagram user named @haps_pup_pups replied (published as is), "And these actors and actresses support animal cruelty."

The netizen mentioned "animal cruelty" to hint at the controversy that Culion director Alvin Yapan got embroiled in during the screening of his MMFF 2017 entry, Oro.
Oro showed a scene that Yapan described as "a practice among ruralfolk where dogs are part of their foodfare."
Despite the fact that Oro's producer Shandii Bacolod made it clear to the Philippine Animal Welfare Society (PAWS) that no animal was harmed or killed for the 2017 movie, it appears that some moviegoers haven't gotten over the director's animal cruelty issue and continue to despise him up to now.
Steering clear of the issue, Jasmine retained her composure and answered the basher, "@haps_pup_pups Hi there [waving hand emoji]. While I totally understand where you and everyone else posting about this is coming from, please let it be known that our film's storyline has nothing to do with that.
"If people are not ready to forgive the past, it's okay (maybe one day or maybe never; it's subjective), but let's not hinder the beautiful story of the island, Culion, from being heard and know across the country.
"The power of unity, strength in hope and faith that the residents embodied during a time when all else failed—medicine and support, shows so much of our identity as a culture facing struggles.
"Let's try to focus on that. [heart emoji]"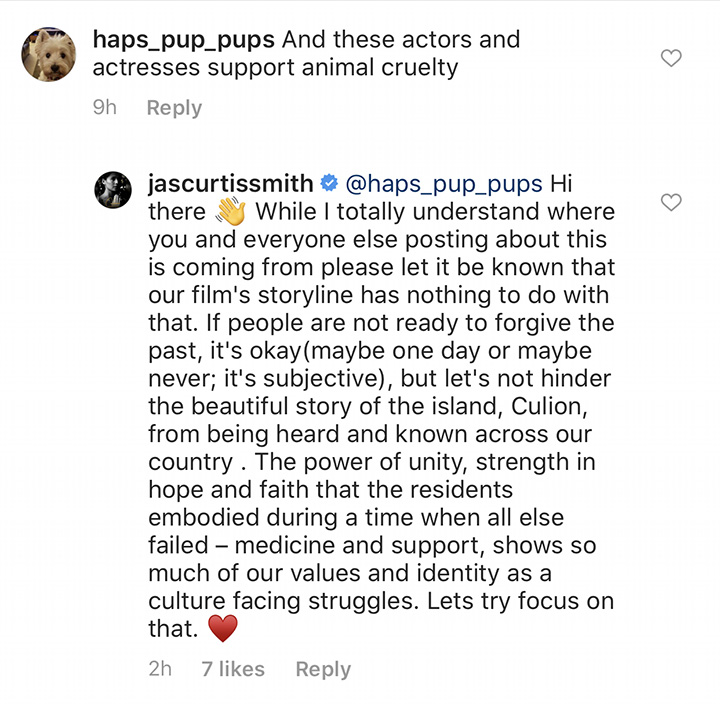 CULION'S CRUELTY-FREE STORYLINE
Other netizens were quick to respond that indeed, Culion's storyline does not include any scene where an animal was abused.
Although like @haps_pup_pups, they too feel strongly against Yapan for allegedly "killing two dogs" during the production of Oro.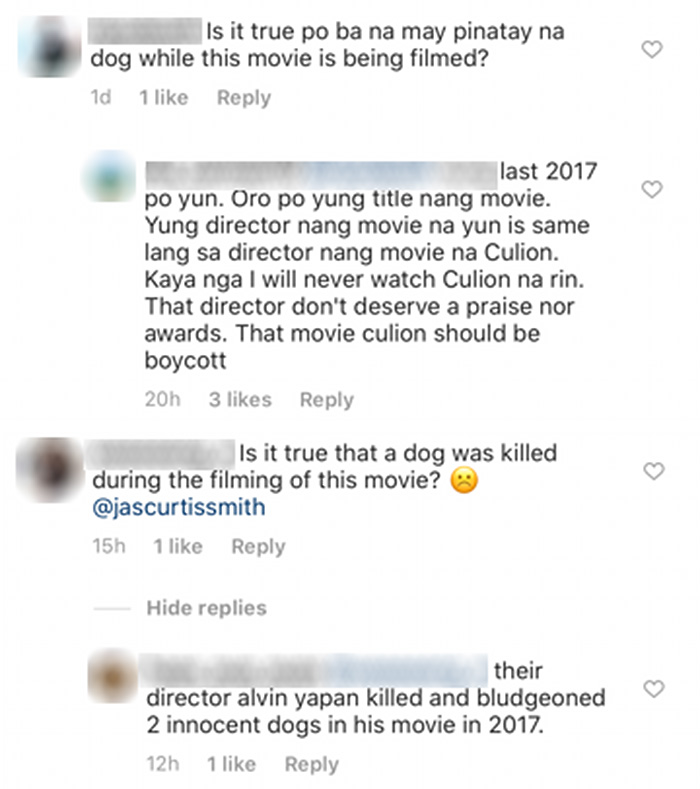 Jasmine also gave a synopsis of Culion's animal cruelty-free plot at the Culion cast party held on December 23, 2019 at Filinvest City in Alabang, Muntinlupa City.
"Ang istorya niya ay tungkol sa pagmamahalan, sa pag-asa, sa mga challenges na pinagdadaanan ng mga tao sa islang iyon.
"Pero more focused sa mga kwento ni Ditas, Anna, at Doris," she tells PEP.ph (Philippine Entertainment Portal) and other members of the press present at the event.
She continued, "Ako don si Doris, ang pinaka-bata sa mga magkakaibigan na punung-puno ng pag-asa pero unfortunately, towards the end of the film, something breaks that hope at mahihirapan siya.
"It changes the way she thinks, kung paano ang pamamalakad niya sa buhay niya. Similar to kung anong pinagdadaanan natin ngayon as a country, as individuals, marami tayong hinaharap."
Culion won Best Performance by an Ensemble during the MMFF Awards Night held on December 27, 2019 at the New Frontier Theater in Cubao.