President Rodrigo Duterte has officially announced travel restrictions as part of the "community quarantine" in Metro Manila.
Earlier tonight, March 12, Duterte addressed the nation amid the rising cases of coronavirus disease or COVID-19 in the country.
The Philippines raised Code Red Sub-Level 2 on the COVID-19 threat.
TEMPTATION ISLAND
During his speech, Duterte uttered the line: "Magsayawan na lang tayo."
This reminded netizens of a similar line from the Filipino movie Temptation Island. The film revolves around four beauty queens who are stranded on a deserted island when their ship capsizes.
There have been two versions of Temptation Island released in the past: the 1980 version directed by Joey Gosiengfiao and the 2011 movie directed by Chris Martinez.
Marian Rivera, Lovi Poe, Rufa Mae Quinto, Solenn Heussaff, and Heart Evangelista played the lead characters in the 2011 film that was shot at the Paoay sand dunes of Ilocos Norte.
One of the highlights of the movie is the dance scene of the stranded ladies in the middle of a hot desert.
"Buti nga may sounds tayo, e," quipped Solenn's character, referring to the radio that continued to function even when their ship went down.

Lovi's character said smugly, "Well, of course. I have everything."
"Walang tubig. Walang pagkain. Walang signal. Sumayaw na lang tayo," declared Marian's character.
This prompted the four ladies (played by Marian, Solenn, Lovi, and Heart) to get up and dance seductively in the middle of the desert. Meanwhile, the maid character of Rufa Mae remained seated while listening to the upbeat song.
Towards the end of their dance, Solenn's character suddenly attacked the character of Lovi. The two girls ended up pulling each other's hair and rolling around in the sand. Meanwhile, Marian's character kept on dancing.
Netizens were reminded of the dance scene in Temptation Island when Duterte said the line: "Magsayawan na lang tayo."
Here are some of their hilarious tweets: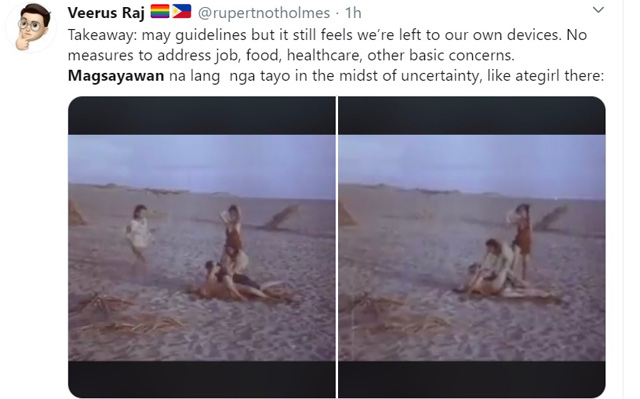 In the original 1980 version, the character played by Azenith Briones told the other stranded girls: "Walang tubig, walang pagkain. Di magsayaw na lang tayo."
Here's a clip of the original dance scene:
@pawawawofficial @peabopogi

Petition for Poison Wednesdays: Magsayawan Nalang Tayo to happen. https://t.co/8r4M8C3ia4

CHAROT!

— FABGELOU$ (@fabgelous) March 12, 2020
Remember when Marian Rivera and Heart Evangelista danced together in Temptation Island?
Here's the dance scene in the 2011 version: