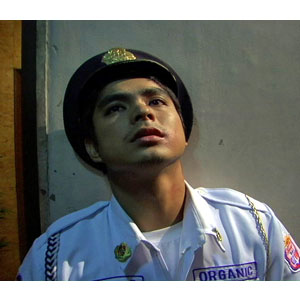 ---

No, Condo is not another pre-selling spree for a new condominium tower. It is the first film breaking out of the digital box from a new band of filmmakers. It is currently being screened at IndieSine and will run until February 1.
Coco Martin topbills this movie as an idealistic security guard named Benjamin Castro Jr. Nicknamed Benjie, he guards a condominium in Quezon City where the tenants are all identified just by the number of their unit. Condo gives viewers a perspective on the life of a security guard and the people that he interacts with during his duty.


According to executive producer and director Martin Cabrera, the title Condo served as a working title at first. He narrates, "As early debates among the producers went on as to what actually will the final title be, we all realized that Condo nicely wraps everything up for the material in a thematic way. Condo as a title lends both literal and figurative strokes to the film."

Benjie encounters a whole new universe of people in his new post. It is a condominium after all, a small community of neighbors and strangers all under one roof. To Benjie, everyone's faces are attached to their door numbers, doors that are always closed and are rarely open. No one really cares about him. And Benjie only cares about his job even if it is the same tired routine. The building and the job have become his perfect refuge.

The first part of the movie is slow-paced, as if emphasizing the monotonous routine of a security guard. Every night, Benjie makes his rounds in the seven floors of the condominium, which always ends up with the roofdeck where the pool is located. He becomes paranoid when he finds that the gate of the roofdeck is left unlocked. Benjie becomes even more suspicious when he sees a uniformed guard patrolling the premises but immediately vanishes when he chases after the mysterious person.
ADVERTISEMENT - CONTINUE READING BELOW

With a mysterious intruder haunting his territory and a phone call coming from an empty unit taunting him, Benjie fears for the perfectly lonely world he's built around himself. In the end, he discovers that the answer to the mystery lies not very far from his own shadow. Will he embrace it? Or will the mystery be lost on him forever?

Coco Martin is truly an acting chameleon. After playing a gay nurse in Nars and a street-smart pickpocket in Tirador, Coco fits the bill of a dedicated security guard who throws himself at his work to escape his inner demons and conflicts. Even without dialogue, he can speak volumes through his expressive eyes alone.

Coco is supported by the solid performances of his fellow cast members Arnold Reyes, Diana Malahay, Avi Siwa, Chx Alcala, Vice Ganda, Jao Mapa, Love Thadani, and Perla Bautista.


Condo is produced by a new group of filmmakers who are bound by a collective passion about the craft. Aloy Adlawan leads the crew as writer and producer of their first offering. Martin Cabrera directs the film. Jeyow Evangelista brought his camera to the set as cinematographer, Rona Lean Sales sat down as editor, while Raymund Cruz coordinated the production management.