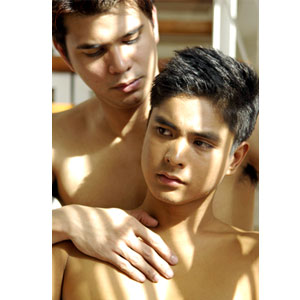 ---

Dubbed as indie cinema's matinee idol, Coco Martin willonce again topbill an independently produced film that takes a peek into therelationship of two men. He was last seen in the indie film Condo,which was directed by Martin Cabrera.


In Daybreak,Coco plays the role of a boatman who becomes sexually and romantically involvedwith another man played by Paolo Rivero. Thetwo men have one night to decide whether or not to continue their same-sexrelationship.
In an interview with PEP (PhilippineEntertainment Portal), Coco describes his passionate love scenes with hisco-actor. "May lovescenes kami ni Paolo Rivero na bigay na bigay," say Coco. "Walang sinabiyung sexy scenes ko sa Masahista. Dito, talagang halos hubo't hubadna. Ang love scenes, hangga't maaari, hindi na namin dinaya."
Daybreak will have exclusive screenings onFebruary 13 and 14 at the University of the Philippines Cine Adarna (formerlyUP Film Institute).


The regular run follows on IndieSine from February 20-26.
Daybreak (2008)
Written by Charliebebs Gohetia
Directed by Adolfo B. Alix Jr.

Production Designers: Tonee Acejo and Jerome Zamora
Cinematography: Albert Banzon
Executive Producer: Noel Ferrer
Line Producers: Arleen Cuevas and Maxie Evangelista

Cast: Coco Martin, Paolo Rivero



SYNOPSIS. Daybreak happens entirely in one place: a rest house inTagaytay and only with two characters. Their dramatic conflict—to breakup or continue their love affair—takes place in a single night. William(Paolo Rivero, Live Show) and JP (Coco Martin, Masahista) allowus to know their biggest lies and the biggest truths...two people loving eachother, clinging to each other, betraying each other—testing the fragility oftheir feelings.
ADVERTISEMENT - CONTINUE READING BELOW


Memories and dreams, truths and lies, fears and desires, betrayal and honesty,love and hate are all intertwined in one night.


Behind the veil of words, they are drawn to each other, but will sunrise bring this intimacy to an end?