Julia Montes makes the big leap by playing the complex and daring female lead in Star Cinema's initial offering for 2015, Halik sa Hangin.
The actress, who turns 20 on March 19, began her showbiz career as a child performer in a variety of TV dramas and in the gag show Goin' Bulilit.
She was then tapped to play the contravida role of Clara in the hit remake of the classic soap about teenage sibling rivalry, Mara Clara, and the leading lady of Coco Martin in ABS-CBN's popular teleserye Walang Hanggan.
Now, in Halik sa Hangin, Julia brings to life the character of Mia Generoso, whose story is the movie's focus.
A few months before Mia turns 18, her father (Jett Pangan) dies. She goes to Baguio City to live with her mother (Ina Raymundo), her stepfather (Edu Manzano), and her half-brother (Miguel Vergara).
Mia misses her father terribly that she finds it hard to fit into her new home, despite her mother's sympathetic efforts and her half-brother's irresistible cuteness.
Good thing, Mia seems to be friendly enough to have made new pals, like Alvin Paredes (JC de Vera), who, it turns out, sees her as more than a friend.
Then Mia meets a mysterious young man—he just appears and disappears; and he's always dressed in black leather jacket over white shirt, scarf, and denim pants—whom she gets to know as Gio Brauner (Gerald Anderson).
Mia is smitten by Gio's romantic gestures (he teaches her to play the guitar and brings her roses) and protective ways (he rescues her from bad guys and helps her overcome her fears).
She feels she has found in Gio her knight in shining armor who will rescue her from her incurable loneliness and deathly sadness.
But Mia's family and friends are alarmed that she has become secluded—and deluded—in her own imaginary world.
In the end, she has to decide what matters most to her and where her heart truly is.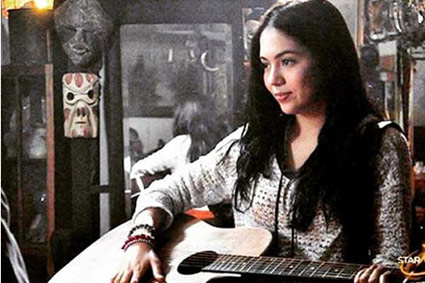 Julia, the actress, shows great commitment and earnestness in playing the character of Mia.
She elicits sympathy in expressing Mia's love and devotion to her father, a struggling musician who could hardly provide for his only child, and how Mia's life crumbles after his passing.
She makes the viewer feel Mia's emotional stages of entering into the territory of romantic love—apprehension, excitement, caution, bliss—until reality bites.
She shines the brightest in the pivotal scene where Mia is suspected to becoming a mental case, and Mia has to convince everybody that she's telling the truth.
But Julia could've done much better, especially towards the movie's ending, if director Manny Palo and screenwriters Enrico Santos and Patrick John Valencia opted to make a psychological suspense-thriller rather than a ghost love story.
Then again, Halik sa Hangin has been pegged to the song of the same title, which was a finalist in the multimedia songwriting contest Himig Handog Pinoy Pop (P-Pop) Love Songs 2014.
The song, penned by David Dimaguila and performed in the competition by Ebe Dancel and Abra, is about a short-lived romance.
In the movie, Mia's first romance is indeed short.
Julia's co-stars do laudably well, too.
Gerald Anderson, as Gio, continues to show that he's still one of the most exciting and talented leading men today.
Though JC de Vera's role, as Alvin, is underwritten, he still gives his all, and manages to make all his appearances essential to the development of the story and in getting to know Alvin and Alvin's relationship to Mia.
Ina Raymundo, as Mia's mother, is given a key emotional scene that reminded viewers of her past acting successes like in Jeffrey Jeturian's Tuhog.
It's refreshing to see Jett Pangan, as Mia's father, tackling not a theater piece but a film role, and the vocalist of the iconic rock band The Dawn is brilliant in both mediums.
Edu Manzano, as Mia's stepfather, and Buboy Garovillo, as a priest, make their few scenes matter.
Child actor Miguel Vergara, as Mia's half-brother, is a scene stealer! He's definitely on his way to making more projects, maybe even star in his own movie or teleserye.
The expressive face of Jasmine Curtis-Smith, in a special role as Gio's ex-girlfriend, speaks volume in narrating a vital backstory.
The rest of the cast playing Mia's friends—Miles Ocampo, Markki Stroem, Devon Seron, Maris Racal, and the twins Fourth and Fifth Solomon—add youthful energy in the movie.

Halik sa Hangin director Manny Palo went for brisk storytelling, but there are still parts in the movie that slowed down the pace.
One culprit is the use of too many narrative expositions that come almost one after the other.
True, those flashback scenes help explain how Mia and Gio had been shaped by their respective family history, but the effect is counter-productive.
There are too many giveaway clues about Gio's real identity that made the revelation in the end feel anti-climatic.
Watch out, too, for one big mistake that involves Mia's Vespa scooter.
Halik sa Hangin is generally a well-acted, ably written, and beautifully photographed movie.



Ed's Note: The "PEP Review" section carries the views of individual reviewers, and does not necessarily reflect the views of the PEP editorial staff.