Ninja Party can be described as a sexually-charged, coming-of-age drama based on a frequently hushed about rumor about upper-class youth organizing orgies with anonymous partners.

It is one of the five films competing in the newly established Sinag Maynila film festival, which is ongoing until March 24 in selected SM cinemas.

Through this indie film, Filipino moviegoers are offered yet another one of Jim Libiran's portraits of Filipino contemporary culture.

This time, he depicts top female students of an elite Catholic-run high school who face slut­shaming when rumours spread about their participation in a secret orgy.
The week-long festival, spearheaded by Solar Entertainment mogul Wilson Tieng, with the help of Cannes award-winning director Brilliante Mendoza, seeks to open the perception of audiences here and abroad about socially relevant issues deserving of attention.

Direk Jim, known for helming the breakthrough film Tribu (Cinemalaya Best Film of 2007), devises an utterly familiar world of rich high school students dipping their toes in the sordid realities of sexual exploration, despite their juvenile values conflicting with each other.


THE GOOD. Perhaps it is already known that Direk Jim was once the famed erotic writer Xerex – well-received for his creatively vivid and imaginative narrations of sexual encounters of common, everyday people. That said, this film feels like one of the stories he failed to publish but was saving for bigger, more profitable spectators.
The former broadcast journalist doesn't disappoint in this department. The sex scenes (though subtly edited to meet the R-16 rating), are rich in sound with enough skin to make your pants grow (so to speak). The story is based on an urban legend about upper-class, coño girls organizing sexual soirees with boys from different schools. They partake in naked soirees while wearing masks; hence, the title.
Dealing with supposedly underage characters, Direk Jim is careful in finding the right facets of each person's sexual vulnerability while using the age-old "high school rivalry/drama" archetype as a fitting backdrop.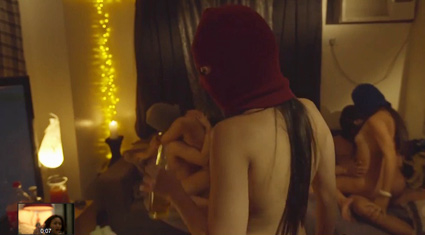 THE BAD. Direk Jim admits that he is a sort of "Trogdolyte" (read: prehistoric) when it comes to analyzing girls. He relied on female friends and colleagues (namely screenwriter Iris Lee) to flesh out the characters and bring the story to life.
Much like what he did in his two previous efforts, Tribu (2007) and Happy Land (2010), Direk Jim chooses to use actors that are of the same social class and upbringing as the characters they are trying to portray.

Ninja Party is topbilled by Annicka Dolonius (Ang Nawawala), Julz Savard (PBB Teen Edition and ex-MYX VJ), Elora Espano (Katipunan), and newcomer (and perhaps the best of the "underage" bunch) Bea Galvez.
This casting dynamic worked remarkably well with Tribu (using real-life gangsters in Tondo) but the same cannot be said about Ninja Party. The material did not present enough room for the actors to be natural (though Ms. Dolonius did show some fiery promise) and the story lacked enough meat to sell us the plot and get us interested in what these girls are going through. Instead, the sexual awakening (which, we assume, serves as the film's main theme) feels a tad too processed.


THE VERDICT. Ultimately, Direk Jim's biggest mistake here is that he presented Ninja Party as a coming-of-age drama, instead of a comedy. In this way, the message can be sent across more effectively as the material already teeters towards that direction anyway (could have been a worthy Asian counterpart of American Pie).

The strong supporting cast (the beautiful yet underused teacher, the scarily authoritative Mother Superior, and the strikingly gorgeous Teresa Loyzaga as the jet-setting rich mom) presents the opportunity to survey the story deeper (why not have Mother Superior express her subdued sexual urges? She already showed that hint early in the film). Instead, the narrative only made these actors look like mere caricatures.
We get the idea – what these girls are organizing (orgies with anonymous partners), how they are doing it, and most importantly, why. But considering the purpose of the film festival it is a part of, Ninja Party falls short in making any of these truths relevant in any way.

High school girls are having sex with high school boys, sure. The question, however, is "are we, the grownups, supposed to be worried about this?" By the time the credits roll, the film's answer, well, is more of a "not really".
Ninja Party presents a topic with enough bravado that we might be able to squeeze it in conversations over beer with friends. The journalist in Direk Jim Libiran shines through as he asks the audience to look at these portraits he's holding up; but then only joins them as they stare at it – whether in confusion or in awe. Unfortunately, though, the effect only triggers a worthy-enough discussion – but not exactly a necessary one.


Ninja Party is one of five films featured in the 2015 Sinag Maynila film festival scheduled to run until March 24 at the following branches: SM Megamall, SM North EDSA, SM Manila, SM Fairview, SM Southmall, SM Mall of Asia and SM Aura.

The other films of Sinag Maynila include Paul Sta. Ana's Balut Country (about the heir to a duck farm who must decide between selling the property or saving the loyal caretakers), Zig Dulay's Bambanti (the search for a missing watch instigates the painful quest for the truth), Lawrence Fajardo's Imbisibol (revolving around four Filipino migrant workers in Japan) and Remton Zuasola's Swap (about a young father torn between solving a crime and committing another crime to save his son).


(Read: PEP EXCLUSIVE: Annicka Dolonius agrees to shoot orgy scene for indie film Ninja Party)

(Read: PEP Guide to Sinag Maynila 2015)
Ed's Note: The "PEP Review" section carries the views of individual reviewers, and does not necessarily reflect the views of the PEP editorial team.