The mega-rich are the target of Swedish director Ruben Östlund in his latest film, the satirical black comedy Triangle of Sadness.
A winner of the Palme d'Or at this year's Cannes Film Festival, the film is in the running for an Oscars nomination—a campaign that continues to gain momentum as it makes the rounds in cinemas worldwide.
The Philippines is the film's latest stop, making its debut as the opening movie in this year's QCinema International Film Festival.
DOLLY DE LEON'S REMARKABLE PORTRAYAL
Triangle of Sadness is on the radar of Pinoy cinephiles for a good reason: the movie stars Filipino actress Dolly de Leon not in a minuscule part, but significantly.
How significant? Well, Dolly's name has been floated as a potential Oscars nominee for best-supporting actress.
Slug Mag called Dolly's performance a standout, writing that "her dryness and expert comedic timing bring exactly the right amount of salt."
Punch Drunk Critics described Dolly's take on her character, Abigail, "commanding and hysterical."
Clayton Davis from The Variety mentioned Dolly in his Oscar predictions for potential best-supporting actress winner, writing, "She's the standout from the film and my theory is if you love the film, she's likely your favorite part."
Triangle of Sadness also stars Harris Dickinson, Zlatko Buric, Henrik Dorsin, Vicki Berlin, Woody Harrelson, and Charlbi Dean, who, unfortunately, passed away on August 29 this year at the young age of 32.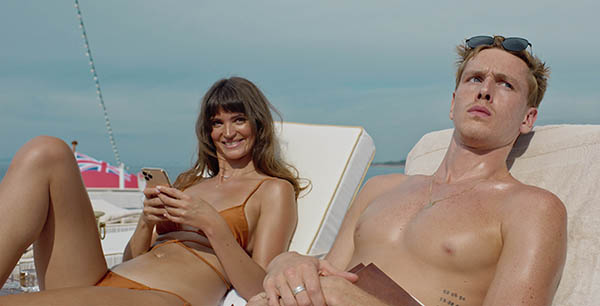 SYNOPSIS
Triangle of Sadness comes in three acts, with parts one and two establishing the superficiality of high society presented in clichés and caricature representations of the wealthy.
And what better way to show this than with a motley crew of characters that include models-turned-influencers, an old Russian oligarch, a lonely tech start-up founder, rich retirees, and gold diggers, all gathered in a luxury yacht?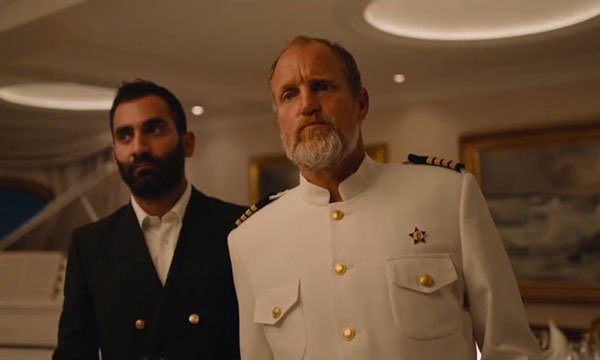 Social inequality couldn't be more glaring: the rich run the show inside this yacht, with the lowly crew at their disposal, readily available to fulfill their whims and caprices should they wish to be served and entertained.
Poetic justice comes not in the nicest of ways visually, and the film serves it up with humor and extreme grossness for good measure.
After a disastrous, seasick-filled evening at the ceremonial Captain's Dinner, a few passengers and crew found themselves isolated on a remote island.
This is where Dolly's characterization of a toilet manager named Abigail takes the wheel in part three.
Stripped of luxuries and amenities, the elite's vulnerability shows more than ever, and its dependence on those below them becomes desperately pronounced.
Abigail, who is gifted with survival skills, recognizes this and pounces to grab this rare leverage afforded her.
Abigail tells her fellow castaways, "In the yacht, toilet manager; here, captain."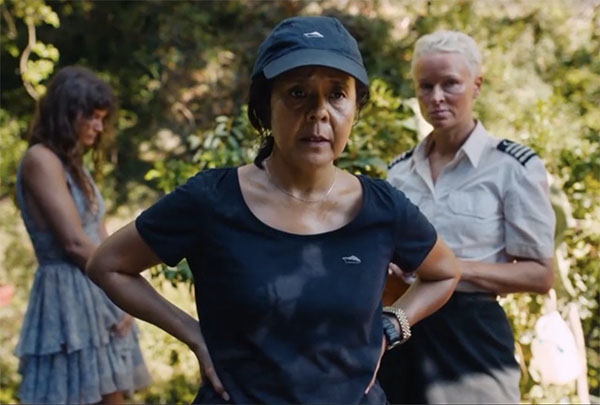 What's in it for her?
The reversal of roles is quite telling.
In the fight for survival, the fittest holds the upper hand regardless of social and economic stature.
But absolute power corrupts, and humans, as history has repeatedly taught, are not good at relinquishing control once they have it.
REVIEW
Triangle of Sadness slaps viewers with humans' insatiable greed sugarcoated with wit, alluring visuals, and filth for shock and entertainment.
Some critics express misgivings about the narrative's third act, viewing it as "sloppy", "meandering," and forced just to push the film's message.
However, one may argue that the latter part gives the narrative the gravitas it needs to drive home its point.
Sure, the wild, chaotic sequences in the yacht are amusing and very much symbolic of the absurdity of the affluent. But that would make for an anti-climatic finish.
For all its worth, Triangle of Sadness is a highly entertaining piece of cinema work not bereft of substance.
Some scenes might come across as off-putting, riddled with satire, political ramblings, dark witticisms, and toilet humor to grab viewers' attention. But isn't that all part of the agenda for films in the black comedy genre?
Beneath all that stench, however, is a valid message that spews uncomfortable social truths.
Triangle of Sadness hits local theaters nationwide on November 30 courtesy of TBA Studios.
The PEP REVIEW section carries the views of individual reviewers, and does not necessarily reflect the views of the PEP editorial team.