"Chewie, we're home."

This declaration was made by Harrison Ford's character, Han Solo, in the second teaser trailer of Star Wars: Episode VII — The Force Awakens. Han can be seen addressing his co-pilot and friend Chewbacca.

Members of the Philippine press and select guests were among the first to watch the sci-fi trailer when it was screened during the live simulcast held at the IMAX Mall of Asia during the wee hours of April 17.

The Star Wars panel of the exclusive celebration in Anaheim, California was shown in only 35 cinemas across 23 countries, including the Philippines.

Filipino fans were given the privilege to see live on screen the director of Star Wars: The Force Awakens, JJ Abrams, who also hosted the panel along with Lucasfilms President Kathleen Kennedy.

The Force Awakens is set 30 years after the events in the 1983 movie Return of the Jedi.

Carrie Fisher and Mark Hamill are reprising their roles of Princess Leia and Luke Skywalker, respectively, while Harrison Ford will reprise his role of Han Solo.

To sum up, Star Wars: Episode VII — The Force Awakens revolves around a scavenger, a Stormtrooper and an X-Wing pilot.


Here are 10 revelations made during the international event dubbed as the 2015 Star Wars Celebration:



1. Harrison Ford gets praised for his "heroic" pilot maneuver

Director JJ Abrams commended Harrison Ford, who has been a licensed pilot for nearly two decades, for making a forced landing that did not create any unnecessary damage to people's homes.

"He is more of a hero in that move than in any of his movies," said Abrams about the 72-year-old actor who is also known for playing Indiana Jones on the big screen.

It will be recalled that last March, Harrison made a crash landing on a California golf course when his vintage airplane suddenly stalled.

Producer Kennedy joked: "The amazing thing about Harrison is that he's the only person who could make an emergency landing on a golf course in front of two doctors."

Harrison was unable to attend the attend since he was at home, recuperating from his plane crash injury.

They fully expect Han Solo to be "actively involved" as they near the movie's airing date on December 17, 2015.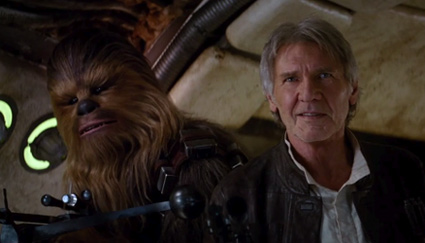 2. Director JJ Abrams initially turned down the project.

When asked to recall his reaction when he was approached to direct The Force Awakens, he initially said "No!"

Abrams explained, "I have been doing sequels and I wanted to break away from that."

"I said no partly because it was an incredibly daunting thing, partly because my family had a plan of what we were going to do the next year...But once we were sitting there talking about what would come next, what it could be... I found myself having this conversation with [Kennedy], and it was impossible to say no."



3. Daisy Ridley plays a scavenger named Rey

The British actress says about her character: "Rey is a scavenger in a ship graveyard on the planet Jakku. She's completely self sufficient and solitary, until she meets another character."

A May 2014 report from mirror.co.uk speculates that Rey is the daughter of Han Solo and Princess Leia but this was not addressed during the Star Wars panel.








4. Oscar Isaac is cast as an X-Wing pilot named Poe Dameron

Oscar Isaac isn't shy about describing his character: "He's the best freaking pilot in the galaxy, that's who he is. He's been sent on a mission by a certain princess and he ends up coming across Mr. John Boyega's character and their fates are forever intertwined."







5. John Boyega as Finn, the guy wearing a Stormtrooper outfit

How will moviegoers get to meet Finn?

John Boyega discloses, "We find Finn and he's in incredible danger. The way he reacts changes his life, and launches him into the Star Wars universe in a unique way."

Since he is seen in the trailer wearing a Stormtrooper outfit, Boyega is asked if he is actually a Stormtrooper or pretending to be one. He looked at Abrams and silently nodded, prompting the director to playfully smack him as if to warn the actor about giving away spoilers.








6. A new planet called Jakku is introduced.

A lot of Star Wars fans believed that the desert planet shown in the trailer is Tatooine, the two-moon planet that has been used extensively in the past. However, the filmmaker confirmed that the setting is a new planet called Jakku.



7. Abu Dhabi is described as an "incredible" location.

How was it like shooting in Abu Dhabi?

"It was incredible, it was about 128 degrees. Star Wars is as much a Western fairy tale as anything else," Abrams points out, eliciting cheers from the crowd.








8. Meet BB8, the new rolling-ball droid.

Instead of relying on CGI, the producers decided to make an actual rolling droid, which "made it better for the actors and better for the movie," as noted by Abrams.






9. Old cast members meet new blood.

One of the highlights during the Star Wars panel was gathering on stage the original cast members with the new lead stars of The Force Awakens.

Carrie Fisher (who played Princess Leia), Mark Hamill (who played Luke Skywalker), Anthony Daniels (who played C3PO) and Peter Mayhew (who played Chewbacca) were all upbeat as they faced fans of the epic franchise.

A special moment was given to Anthony Daniels who has been part of all six movies of this sci-fi movie.

"It's is quite amazing. It's 40 years since I first met George Lucas and quickly became part of a team that made this crazy little film... Now there's even more of you, three generations, who love this story. And of course, 3PO and myself have survived six films. The future? Who knows?"

Carrie, whose character was descibed as the Diplomat Princess, acknowledged the fact that there is a need for more female characters in Star Wars. "I liked being the only one when I was 19. But now I need some backup."

Will she be bringing back her infamous hair buns or her iconic "metal bikini" slave outfit?

"The buns are tired now, so we're probably not going to have futuristic buns, but we'll have an alternate thing that you'll be very into—which is not the metal bikini, I promise!"


10. As a final treat, the second teaser trailer of Star Wars The Force Awakens was finally shown to the public.

The one minute-40-second trailer contains footage that fans have been waiting to see since the first teaser was released in November last year.

One of the most memorable images from the trailer is that of Darth Vader's melted mask.






Fans would also remember that they have heard these exact same lines from the 1983 movie Return of the Jedi.

It is from the speech of Luke Skywalker when he tells Princess Leia that Darth Vader is his father.

"The force is strong in my family. My father has it. I have it. My sister has it."

However, a new line has been added: "And you have the power, too."

Is Luke Skywalker addressing his child?

What will be the characters played by Andy Serkis, Gwendolyn Christie (of Game of Thrones fame), and Oscar winner Lupita Nyong'o (of 12 Years a Slave fame)?

These are some of the questions left unanswered from the Star Wars panel.

For fans of Star Wars: Episode VII — The Force Awakens, December 17 can't arrive soon enough.