Hollywood actor Paul Bettany will soon meet his Filipino fans in Manila.

The English actor, who was cast as the monk assassin Silas in The Da Vinci Code, will visit the Philippines for the first time to attend the 2015 AsiaPOP Comicon Manila.

Former Game of Thrones star Jason Momoa and Colton Haynes of the TV series Arrow will also be headlining the Comicon to be held at the World Trade Center this September.

Paul Bettany first made waves in films such as A Knight's Tale, A Beautiful Mind, Wimbledon, and Dogville.

He became a hit in the Marvel Cinematic Universe for his voice role as J.A.R.V.I.S. (Tony Stark's artificial intelligence system) in the Iron Man movies and as Vision, an android superhero, in Avengers: Age of Ultron. In 2016, he will reprise his role as Vision in Captain America: Civil War.

Bettany is just among the few actors to play more than one character in the Marvel Cinematic Universe. In an interview with Business Insider, Bettany said if it wasn't for director Joss Whedon, he might not have played Vision on the big screen.

"They [Marvel] have a rule that you're not allowed to play more than one character in the Marvel universe. So, they broke the rules. They bent the rules slightly for me because Joss really wanted to bring the Vision into the film world, and he really wanted me to do it," he said.

As one of the notable English actors to date, Bettany has been bestowed several awards including Supporting Actor of the Year from the London Film Critics' Circle for the film, A Knight's Tale; Best Actor from Evening Standard British Film Award for the Heart of Me; and Best British Actor for Wimbledon, to name a few.

Pinoy fans will have the chance to see Paul Bettany in person at AsiaPOP Comicon Manila from September 19 to 20 at the World Trade Center.

For more info and event updates on APCC Manila 2015, please visit asiapopcomicon.com, like APCC Manila on Facebook www.facebook.com/apccmanila), and follow on Twitter @AsiaPOPComicon.

Prices are set at P500 (one-day pass), P800 (two-day pass), and P1,000 (three-day pass) and will give the ticketholder access to stage activities, performances and the main show floor.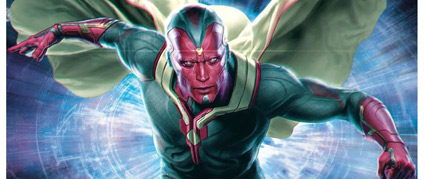 Paul Bettany as Vision in Avengers