This weekend, Filipinos will be able to personally see Paul Bettany (aka Vision of Age of Ultron); Nathalie Emmanuel (aka Missandei Game of Thrones); Chad Michael Murray (of One Tree Hill and Agent Carter fame); Colton Haynes (of Arrow and MTV's Teen Wolf); and pro wrestler Bill Goldberg.

Since we want you to make the most out of the event, here are 10 things you shouldn't miss at the fun-filled event ongoing from September 17-September 20 at the World Trade Center in Pasay City.

Here's your PEP Guide to the international comic and pop culture convention that is targeted to movie and TV fans, cosplayers, toy collectors, and


10 Reasons Why You Shouldn't Miss Asia Pop Comicon Manila 2015
1. See Hollywood stars in the flesh!


Get up close and personal with your favorite Hollywood stars namely Paul Bettany of The Da Vinci Code and Age of Ultron; Nathalie Emmanuel aka Missandei of Game of Thrones; as well as Chad Michael Murray of One Tree Hill and Agent Carter.

Pro-wrestler Bill Goldberg (who appeared in the movie The Longest Yard) will also join the roster of stars. Teen heartthrob Jeremy Shada (aka Finn of Adventure Time) and his band Make Out Monday will also perform a new song just for Filipinos.




Jeremy Shada
2. Cosplay and get a chance to win the USD10,000 prize
The Cosplay Authority Global Challenge (The CAGE) offers a grand prize of USD10,000 for the cosplay competition that will take place this weekend. The board of judges is composed of world-renowned cosplay experts, including international prop and costume maker Bill Doran, cosplay superstar Alodia Gosiengfiao, Philippine cosplay photographer Jay Tablante, global cosplay phenomenon Vampy Bit Me and America's Next Top Model Cycle 12 alumna Allison Harvard.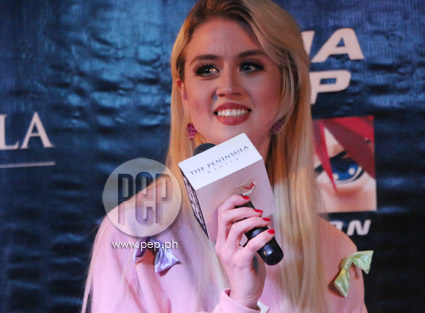 Allison Harvard


3. International Cosplayers will strut their stuff.


Dress up like your favorite characters together with internationally acclaimed cosplayers LeeAnna Vamp (aka "The Ghoul Of Your Dreams"), Monika Lee and Riki "Riddle" Lecotey. Both Monika and Riddle were part of SyFy's reality show Heroes of Cosplay.


4. Renowned toy artists will showcase their creations.

Watch professional toymakers talk about their passion in making toys. Designers like J'Ryu and Simone Legni, co-founder and creative director of Tokidoki, will talk about their artistic diary. Also present are mixed media artist Amanda Louise Spayd and sculptor/painter Chris Ryniak, who will impart knowledge on creating pop masterpieces using objects (living and non-living) as both medium and inspiration.


5. Meet comic book artists.


American comic book artist and writer David Mack, creator of New York Times best-selling Kabuki graphic novels and writer/artist of Daredevil; and David Yardin, the Marvel comic genius who did the promotional artwork of Guardians of the Galaxy and Avengers: Age of Ultron, will head to Manila to meet with Pinoys.


6. Get discovered for your artistic talent.

Show off your drawing and artistic skills and you just might be recruited by DC and Marvel headhunters. Attending the APCC 2015 are DC Entertainment's senior vice president, Hank Kanalz and Marvel's vice president of International Development and Brand Management, C.B. Cebulski.



7. Enjoy a showcase of Pinoy global talents.
Meet our very own comic book artist Whilce Portacio, who will share his 30 years of creative journey in the comic book industry. The Cavite-born comic book artist is known for his work on The Punisher, Uncanny X-Men, Iron Man, and Spawn. He is also recognized for co-creating the character Bishop with John Byrne and Jim Lee.


8. Toys for the big boys (and girls)!

Get to see toys, toys and more toys from Comicave Studios, DC Comics, FOX, Hot Toys, LEGO, Marvel, and Star Wars.



9. Expect great deals.


Great stuff is up for grabs with discounts. Indulge in special screenings, one-of-a-kind toy and character exhibits, comic books, action figures, toys, collectibles and anything that will satisfy your pop culture cravings. Exhibitors include 88GamePub, Ban Kee Trading Inc., Filbar's, Garena, Hero TV, National Bookstore, Perry in Disguise, Swatch, TeeTurtle, and tokidoki.


10. See exclusive content from Captain America: Civil War.


On Saturday (September 19), a trailer of Captain America: Civil War will be exclusively screened at the World Trade Center. Pinoy fans will have the chance to witness never-before-seen scenes from the Chris Evans superhero movie that is slated to open in cinemas by 2016.


For more info and event updates on APCC Manila 2015, please visit asiapopcomicon.com, like APCC Manila on Facebook www.facebook.com/apccmanila), and follow on Twitter @AsiaPOPComicon.

Prices are set at P500 (one-day pass), P800 (two-day pass), and P1,000 (three-day pass) and will give the ticketholder access to stage activities, performances and the main show floor.
APCC 2015 Schedule.


September 18 (Friday):


September 19 (Saturday):

September 20 (Sunday):