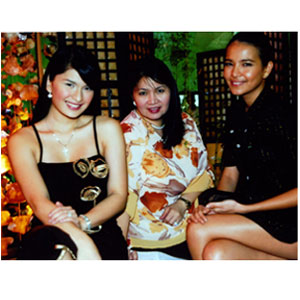 ---

The movie Botelya stars veteran actresses who bringlife to a fictional story about three mothers who express their love throughgentle touch. Written and directed by Manny Palo, with production design byManny Morfe, Botelya is a feast for all the senses. It casts some of thecountry's most seasoned actresses such as Anita Linda, Caridad Sanchez, BootAnson Roa, Angel Aquino, Alessandra de Rossi, Katrina Halili, and Rosa Rosal ina rare cinematic appearance. Actors included in this movie are Marco Alcaraz,Paolo Paraiso, and newcomer Christian Moses del Rosario.
The story begins with a teenager named JD (Christian Moses)who comes across an old green bottle of Johnson's Baby Oil at a yard sale. Theyoung man tries his best to uncover the story behind the bottle and in theprocess, discovers startling revelations about his own family history. Hispursuit of the truth also brings together two mothers whose lives are linked bytheir common love for a son.
Through the movie Botelya, viewers will see howdifferent mothers separated by years and divergent social conditions areactually united in being selfless and in giving unconditional love to theirchildren.
A young mother named Pining (played by Katrina Halili) raises hernewborn son on her own while her husband fights valiantly against the Japaneseforces. While evacuating their town she is forced to give up her son to astranger to ensure his safety. Decades later Pining is an old woman (played byCaridad Sanchez) who regularly visits the seashore where she last saw her son.


Pining never learned that her son was in the care of Rosing (played byAlessandra de Rossi) who named the young boy "Julio." When he becomes a young man, he is entranced by the beauty of Mameng (Pauleen Luna), the townmanghihilot who becomes his wife.


Eventually, Mameng and Julio bear a child named Beth(Angel Aquino). Her husband Sammy (Paolo Paraiso) decides to work and pursue abetter life in Saudi Arabia but he ends up falling in love with another woman.Beth then becomes a single mother to her son, JD.


ADVERTISEMENT - CONTINUE READING BELOW
Botelya will be shown for free in key cities andmunicipalities in the Greater Manila Area through a Roving Cinema that will beparked in town plazas and baranggay halls. This cinema on wheels is meant toexpress the core message of the movie: a mother's gentle touch, indeed, giveslife and healing.
Produced by Johnson's Baby Oil, this movie aims to promotethe company's advocacy of touch therapy or infant massage as a key ingredientin a child's overall development. Through the movie Botelya, J&Jhopes to inspire mothers of young children to make touch therapy a regular partof their child care regimen.