You'll get a sense of Everyday I Love You's quiet charm the minute it starts.

It doesn't at once promise a grand romantic flick but instead invests in its characters' back stories. In the end, it rewards moviegoers with a persuasive and resounding love story. They say there is beauty in simplicity and Mae Cruz-Alviar's film demonstrates just that.
A stunning lass from Negros, Audrey (Liza Soberano) devotes her life taking care of her lover Tristan (Gerald Anderson) who has fallen into a coma after getting into a car accident. She is dedicated to documenting each day in a camcorder, in the hopes of showing it to Tristan when he wakes from his slumber.

Meanwhile, Ethan (Enrique Gil) is an ambitious TV producer who dedicates his life to work and becoming successful. A no-time-for-distractions kind of guy, he is bent on proving himself, this being the effect of a tough childhood.
Ethan, although highly competent, fails to prove his boss that he is worthy of a promotion due to his lack of compassion for his subordinates. He is thus sent to Bacolod to produce a show where he crosses paths with Audrey who easily catches his attention.

Their fortuitous meeting on a highway in Silay, Negros—with Aubrey filming her mini-project while on her scooter—instantly gives Ethan a concept for his show: "Silay Scooter Girl."

Convinced she is the key to his promotion, Ethan tries to persuade Audrey to be the titular host. Audrey is hesitant at first, knowing the conservative and laid-back Tristan would disapprove despite her big dream of becoming a TV show host. When funding for Tristan's hospitalization arises, however, Audrey finally agrees.
The plot gains strength when Ethan and Audrey tag team to produce the show. Along the way Ethan learns to care for those around him, particularly showing concern for Audrey. On the one hand, Audrey shines as the show's host, helping her gain confidence and get to know herself better. The film becomes emotionally-charged when the two leads develop feelings for each other, gradually complicating their lives given the circumstances they are in.
Everyday I Love You doesn't make things difficult for itself. It remains focused and grounded on its premise, reinforcing it with a coherent plot, great performances, and the formidable chemistry between its two leads.

While it can't help but resort to the romantic genre formula, it doesn't make use of cheap ploys. It instead portrays love in a genuine and pure way, making Everyday I Love You such a joy to watch.
While Enrique Gil confirms that he is by now adept at leading man roles, it is Liza Soberano who particularly stands out—which isn't to harp on her beautiful face on screen. She is a natural who displays the right restraint, pleasing to watch all the more since she doesn't try too hard.

The two leads enjoy strong support from other cast members including Liza Lorena (as Lovey or Lola Vivian) and Aiko Melendez (as the mother of Liza's character).

Gerald Anderson, who deviates from his conventional leading man roles in this film, makes for an effective third party. Even though his character is technically the boyfriend, he incites anger when he steps in and meddles in the blossoming romance between Ethan and Audrey.

Despite its annoying choice of title, all in all, Everyday I Love You matters as a romantic film—convincing, uncontrived, and a salient reminder of why falling in love, despite the consequential hurts, is a triumphant experience to have.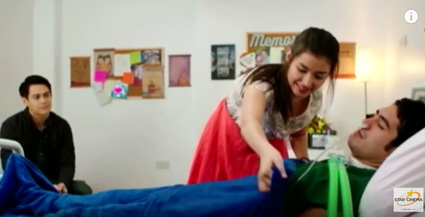 PEPsters, what can you say about the Gerald-LizQuen movie?

Share your thoughts in the comments section below.


Ed's Note: The "PEP Review" section carries the views of individual reviewers, and does not necessarily reflect the views of the PEP editorial team.