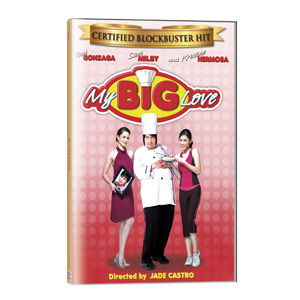 ---

Star Cinema opened 2008 with My Big Love, a romanticcomedy starring a chef with a big heart (not to mention a big belly).
Topbilled by Toni Gonzaga, Sam Milby and Kristine Hermosa, MyBig Love is directed by Jade Castro of Endo fame. Fans could hardlyrecognize Star Magic hunk Sam Milby when he donned a fat suit for his role asChef Macky.
My Big Love is about the budding romance betweenMacky (Sam Milby) and Aira (Toni Gonzaga). Macky is an obese chef who is dumpedby Niña (Kristine Hermosa), the girl of his dreams. Embarrassed by his size,Macky asks Aira, a personal trainer, to help him lose weight in hopes ofwinning Niña back. As it turns out, he starts falling in love with Aira, butshe is set to go to Japan to earn extra income for her family. When Aira comesback from Japan, Macky has already lost a great deal of weight, thus earningthe perfect physique that would please Niña, who is now his girlfriend.
ADVERTISEMENT - CONTINUE READING BELOW
Will Aira be weighed down by falling in love with Macky?
The original DVD of My Big Love is now available inrecord bars nationwide.
Also available from Star Home Video: the Metro Manila FilmFestival 2007 top-grosser, Sakal, Sakali, Saklolo starring thenow-engaged couple Judy Ann Santos and Ryan Agoncillo, and Vhong Navarro's SupahPapalicious.