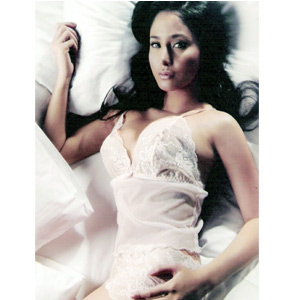 ---

A member of the maiden batch of StarStruck, KatrinaHalili was just No. 8 in GMA-7's talent search. Since then, Katrina has shownthat she has that X-factor that sets her apart from her other batch mates suchas Nadine Samonte, Yasmien Kurdi, and Jennylyn Mercado.
According to the Chinese, the number 8 is considered a luckynumber because its fluid, infinity shape is believed to bring fortune andprosperity. Katrina even told the press during her July 22 presscon, "Di po ba, yung No. 8 suwerte po 'yon? Siguro, suwerte lang po talaga ako."
Last Tuesday, Katrina was formally welcomed to the Octoartsfamily by the company's president Orly Ilacad. During the event, the top honchoof the film outfit hailed Katrina as the Miss X of this generation.
Twenty-eight years after the movie premiered in the country,Miss X will be seen again on the big screen with Katrina reprising therole of Ms. Vilma Santos.
"Marami nang attempts in the past to do Miss X,"reveals Gil Portes, the director of the original movie who will also helm theremake. "A lot of people were considered pero hindi matuloy-tuloy. Then OrlyIlacad recommended her to me and I said I'll consider her. This modern MissX will tackle the prostitution of Asian women in Amsterdam."
In the original version, Vilma became a prostitute in Amsterdamwhen she was victimized by an illegal recruiter. In the 2008 remake beingwritten by former FHM editor-in-chief Erik Ramos, Katrina is one of thehookers working for the porn website called Miss X: Oriental Porno Princess inAmsterdam.


Miss X will be shot in Amsterdam probably late October or earlyNovember. It is expected to be released in February 2009.
When asked if Katrina's version will be more daring thanVilma's portrayal of the role, Direk Gil said, "Hindi namin masabi. Pero wehope to surpass Vilma Santos's Miss X, kelangan naman kasi mapipintasanninyo kung hindi maganda ang pagkakagawa ng pelikula. Yung Miss X niVilma Santos was also the story of two people in Amsterdam. But this time, siMiss X talaga ang sentro ng pelikula, sa kanya talaga iikot ang kuwento. We hopeto equal or to surpass the other Miss X."
ADVERTISEMENT - CONTINUE READING BELOW
Another film that is included in Katrina'stwo-year-five-picture contract is the 2008 Metro Manila Film Festival entry OneNight Only. According to film director Joey Reyes, who will helm this film,Katrina will play the mistress of a congressman. The movie will focus on the 12hours spent by the characters inside a motel from 4 p.m. to 4 a.m.
"It's about different characters converging inside a motel.It's a movie using a sex story as an angle," explains Direk Joey.
One Night Only is one of the eight films competing inthis year's MMFF.